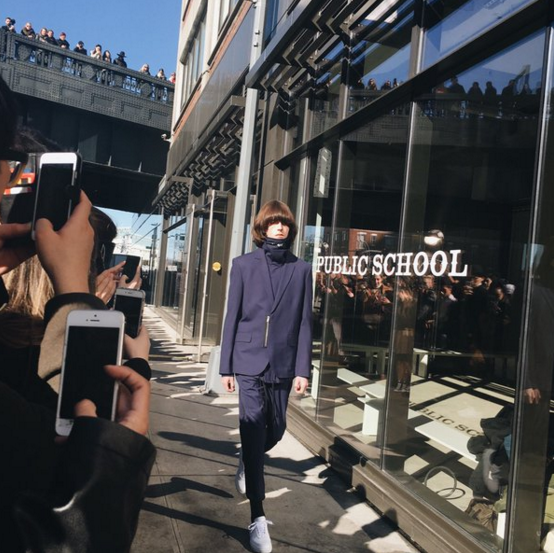 There was so much to discuss at the Public School fall 2016 showing. For example, there were 50 lucky members of the public who got to view the show (albeit from the outdoors, where the models took a quick spin behind barricades). The collection, which included wide-brimmed hats and Air Jordan sneakers, was in line with the Public School DNA, but it was wiser than usual.
The Tuesday morning show followed the announcement that Public School had hired its first president, Anthony Landereau, a former VP of global sales for women's accessories at Marc Jacobs. Dao-Yi Chow and Maxwell Osborne chose to create the leadership role to expand their business stateside and internationally, but also to allow them to focus on the creative side of things. And likely, spend more time at DKNY, where the duo are creative directors. Mr. Landereau's previous experience includes gigs with brands such as Kenzo and Polo Ralph Lauren, in addition to a stint at Saks Fifth Avenue. According to WWD, Public School rakes in annual sales somewhere between $4 and $5 million, with growth rate pegged at 30 percent each year, so now is definitely the time to focus on what lies ahead.
This dedication to the future was clear in the fall collection. Through a mix of casual garb–often in the form of a skirt and pant combo–and formal suiting, Mr. Chow and Mr. Osborne were flexing their design muscles. There were blurred camo print bombers and parkas, which are doubtlessly going to be a hit among shoppers. A black leather jacket with a white triangle print and a basic denim jacket were nothing special, but again, are bound to be best sellers.
The quiet champion of the range was definitely the anorak. In suede it was slick and cool, in a wavy quilted version it was street savvy. It was even layered over a denim tunic in a sleeveless iteration and paired with textured trousers, in a delightfully avant-garde silhouette.
That layering popped up as a theme, with turtlenecks appearing underneath button-ups, all tucked under a jacket. Not only is this a smart way to beef up the brand's offering, but it also allows for a number of entry points for customers. Those who can't spring for the wool bomber with toggles can likely afford an effortless turtleneck top.
Though the outerwear market was weak this past winter, there was still a nice variety of jacket weights from Public School. The design duo offered coats that can be worn when the thermostat hovers in that awkward mid-40s temperature. After all, the plight of the modern designer is one against global warming.