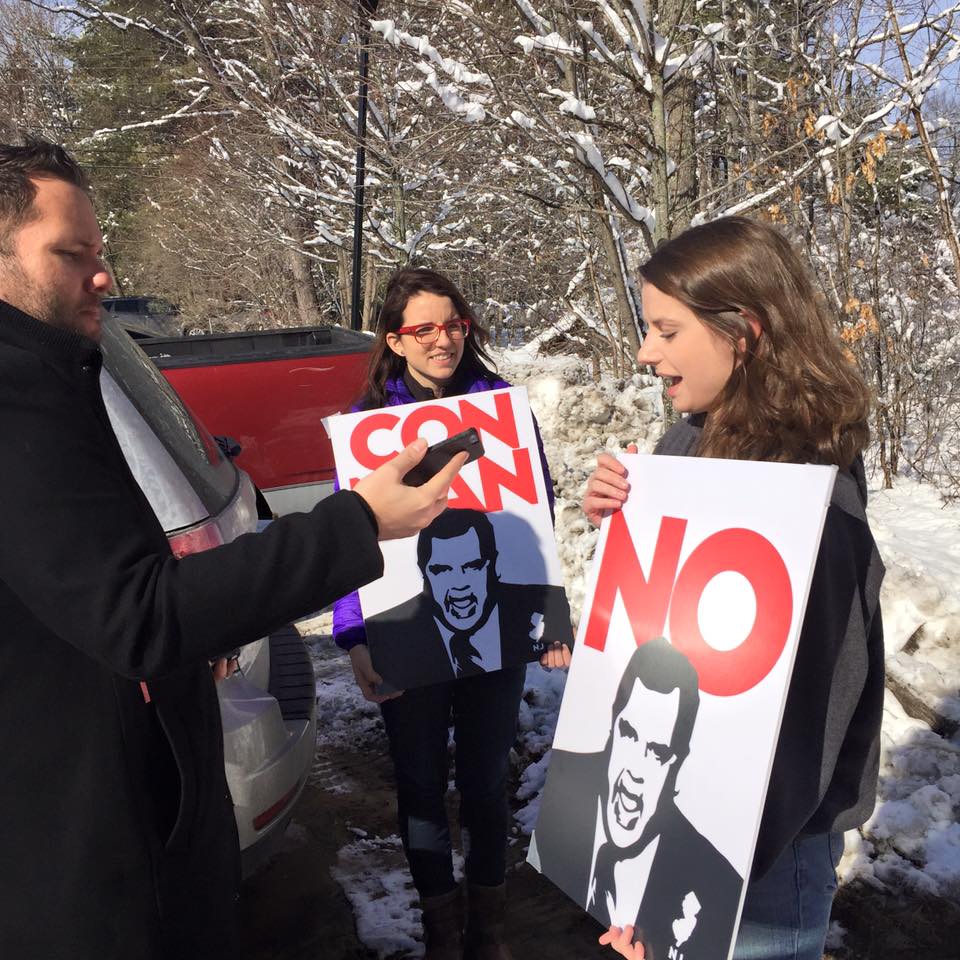 "Wow! I've never seen so many New Jersey political people so far from home!" 
(Cherry Hill, NJ) — They say revenge is a dish best served cold and I guess that's true most of the time. But even for Chris Christie's biggest detractors, there wasn't much schadenfreude when the governor's campaign for president came up short.  It's a lose-lose for everyone. His fans lose because it's over. His foes lose because this result reminds us how much was sacrificed at the altar of Christie's political ambitions. And in the end, all for nothing. How could we not feel like losers? That said, just about everyone who took part in New Hampshire's quadrennial primary ritual, indeed many from the Garden State, will tell you it was well worth it. Even those who didn't get the result they hoped for.
–
"It's the Mardi Gras of politics," said Kelly Stewart Maer, NJ for Hillary.  "Going door to door, the stories, are mind boggling to me. So interesting! The lines to vote blew my mind. You have to take the day off the vote here because the lines are so long. it's great! We're political operatives in NJ and we take voting seriously. It seems the entire state of New Hampshire does as well; the whole state stopped to vote.Everyone wants to vote and everyone has a story."
"New Hampshire is heaven for political junkies," Assemblyman John Wisniewski, chairman, NJ for Bernie told PolitickerNJ. "Everyone wanted to talk about the election. I actually ran into (Ohio Governor) John Kasich this morning at the Red Arrow Diner and had a nice conversation with him.. Later did some door-to-door canvassing."  Any political celebrity sightings? Someone more famous that John Kasich at least?  "Ran into Chris Matthews having dinner at JD's in the Radisson. Had a nice chat, but he is very dismissive of Sanders."  #Bern'd
"Nothing can quite match the excitement of running into a fellow New Jersey politico from another camp," said Jennifer Holdsworth Political Director NJ Democratic State Committee + Hillary aficionado. "Like siblings cast on opposite sides of a civil war miles from home, folks who have battled each other mercilessly while in NJ proper, gleefully embrace and pose for pictures to document their inclusion in this band of brothers (and sisters!)" Jennifer was on the stage behind Secretary Clinton as she conceded NH to her supporters. An honor, whatever the result.
Given all that excitement, all that media attention, "It was pretty lucky the Patriots didn't make the Super Bowl!" observed South Jersey Democratic operative Matthew Zinader, himself in Manchester, NH campaigning for Bernie Sanders. "That would have shut down all New England, gripped in Super Bowl fever. Fat chance recruiting volunteers all weekend!" And when it comes to recruiting volunteers, Matt Zinader is peerless. It 'swhat he's done for countless campaigns in New Jersey, and now he's left his mark in New Hampshire. Most memorable moment: "Standing onstage during Bernie's victory-in-NH speech. Unforgettable." So to review, New Jersey was on stage representing during one of the most important speeches these candidates will ever make.
GOP side
With Chris Christie's presidential ambitions finally in the toilet, most Trenton republicans are probably regretting their near-universal fealty to the Governor. Senators Mike Doherty (Team Trump) and Joe Kyrillos, erstwhile Chris Christie BFF/current Jeb! supporter are two notable exceptions.  PolitickerNJ connected with Senator Kyrillos on social media as the final NH primary results were coming in. "Right now at Jeb Bush HQ," NJ Senator Joe Kyrillos tweeted back. "With fellow supporters watching good numbers coming in. Jeb off to SC with strong organization on the ground to greet him."
Biggest surprise? "New Hampshire voters went for a socialist and a person who never voted in a Republican primary who spends his time insulting people with obscenities, while not outlining any real policy plans for America except building a bigger wall,"
Deirdre Woodbyrne
GOP Strategist told PolitickerNJ in Manchester. "Both Sanders and Trump speak off the cuff, everyone's noting 'their rallies are fun!'" As one of few NJ republicans in NJ with a horse still in the race, she remains undaunted. "I woke up (
Wednesday
) more energized and determined to make sure we put the right person in the White House: Jeb Bush."
In conclusion, we'll throw it back to Jennifer Holdsworth, of the NJDSC, whose artful prose could pay the bills if she ever gets bored with this whole politics thing: "In New Hampshire, I found renewed faith in a system that has become increasingly polarized and vitriolic. The hyper-partisan atmosphere served to invigorate veteran operatives, instead of drain them. The frigid temperatures and snow were no match the dedicated NJ contingent who made the trip, and it is an experience that I plan on having again next time around! "
Jay Lassiter started covering New Jersey politics in 2005 as a blogger for BlueJersey.com. After a stint as America's first State House blogger, Jay did communication for Congressman Rob Andrews and Congressman John Adler. Jay's best known for his work legalizing medical marijuana and gay marriage and for working to end N.J.'s death penalty. He's on Twitter @Jay_Lass.