While many brands claim to give back, the latest contemporary line and direct-to-consumer e-commerce Rallier, is truly philanthropic; purchasing a single dress leads to the creation of school uniforms for girls in Africa. The Observer sat down with Olivia Rose Fay, the 28-year-old creator of Rallier, to discuss how she went from working as a fashion publicist for brands including Prada and Cartier to creating her own philanthropic brand.
What inspired you to start Rallier?  I saw the documentary Girl Rising, which is essentially about girls around the world that want to go to school and can't for various reasons. Once I had that information it was hard to go back to what I was doing before. I think especially in an industry like fashion, where a lot of people think of it as a superficial and commercial industry, it was really hard for me to keep doing that after having this information.
Then what happened? I started to do my own research, looking at different countries and what the specific barriers to education for girls were. I came across a slew of things—everything from lack of transportation to teacher salaries, school supplies, and then uniforms. For someone who works in fashion, I thought this was actually relevant.
What locations were you concerned with? The report I came across was the UN and World Bank looking specifically at Kenya. They studied how giving out free school uniforms affects absenteeism and increases enrollment. I think that's something we can all relate to in a sense. If you don't have what you need to go somewhere, you don't want to go. I liked that there was a really authentic link to a fashion brand.
Tell us more about your social mission. I really wanted it to feel authentic and be something we could actually contribute to down the road, so in terms of school uniform production, thinking about supplying fabrics, sewing, training skills.
What were your first steps in creating the brand? It kind of all came together in this weird, serendipitous way. I was interested in doing dresses because if you wake up late and only have ten minutes to get ready, a dress is the perfect thing to throw on. I knew that it was going to be a direct-to-consumer e-commerce brand and thinking about what is easiest for consumers to buy online, dresses tend to be pretty standard in terms of fit.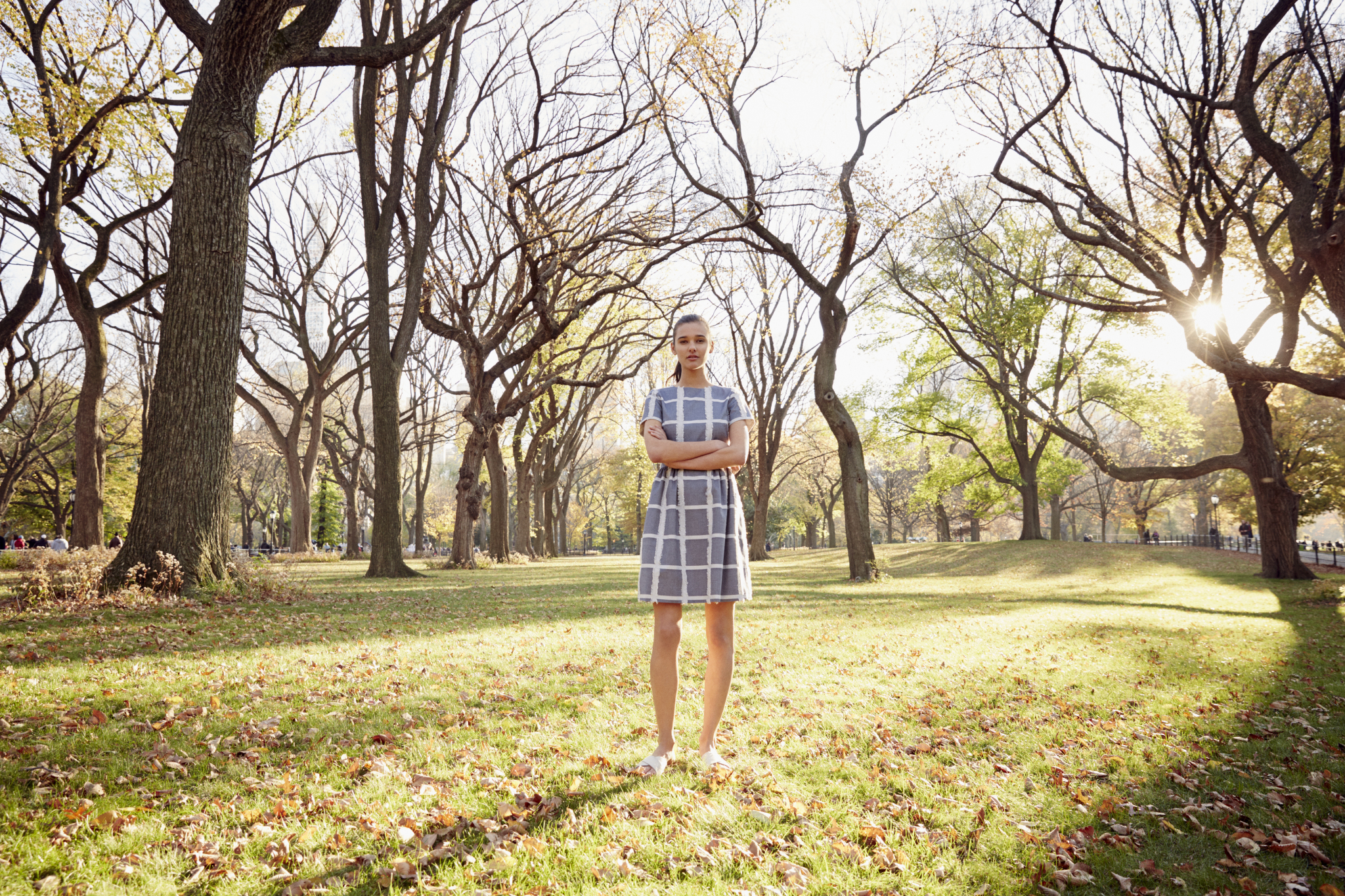 How much of the proceeds go towards the schools? Each dress contributes to one to three uniforms. There have been a lot of studies that have found that just giving a product solves a short-term problem but it doesn't necessarily contribute to sustainability. We don't just buy uniforms and ship them, we source them locally in Kibera through a women's empowerment program. What we're actually paying for is fabric, labor, training, if they need any sewing machines.
What was happening at the school before this? The school provides a uniform for each of the girls. We're essentially going in and funding the process that's already in place. It allows them to allocate those funds to other services that may not have funding. A lot of the women that have been accepted into the women's empowerment program are moms of the girls at the schools.
"At this price point, we wanted the product to stand alone to compete with contemporary American fashion brands."
What are your thoughts on the current level of social responsibility in fashion? One thing I was really cognizant of, is when you look at the market for social responsibility in fashion, a lot of times it's a lower price point. You see a lot of laptop cases. It was social mission first, then the price point is low enough to buy it because you feel bad. I really wanted this product to speak for itself. At this price point, we wanted the product to stand alone to compete with contemporary American fashion brands (Ed. Note: the price point of Rallier is $295-$495).
Who do you see the client being? Our core target market is 25-35, and more and more I think these girls are working in less traditional roles and doing really exciting things. It's not necessarily a fashion girl or non-profit girl, just something that's less traditional than previous generations.
Tell us why you decided to go with fabrics used for suiting in menswear. When you think about dresses, because people associate it so much with this girly girl-ness. It's a convenient wardrobe staple that's still associated with dressing up. I just felt there was a timelessness to the menswear fabric, it's definitely less trendy and there was a seriousness to it. At the end of the day, this brand does deal with a serious global issue, so I wanted the band to represent that. I didn't want it to feel trendy and flighty, I wanted it to feel like something that could live in your wardrobe for a long time.