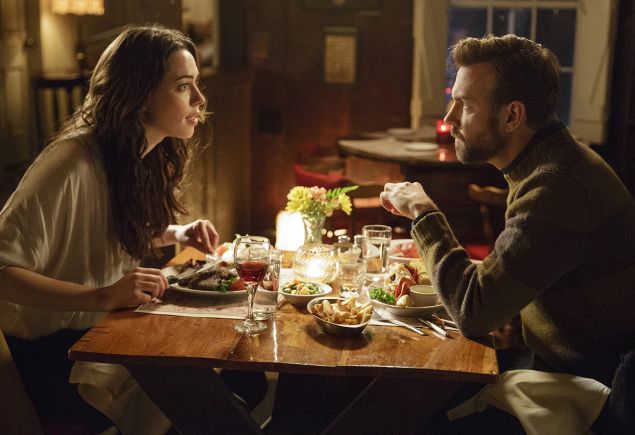 Another riff on the aftermath of tragedy, Tumbledown is the meaningless title of a tender but clumsy romantic comedy about a grieving widow who still can't get her life back in order and move on after her husband died two years ago in a freak hiking accident in the back woods of Maine. He was Hunter Miles, a lugubrious folk singer-songwriter who died too young after recording only one album, but it somehow achieved cult status among the kind of flower children who think Bob Dylan and Leonard Cohen are true artists.
---

TUMBLEDOWN ★★
(2/4 stars)

Written by: Desiree Van Til
Directed by: Dean Mewshaw
Starring: Rebecca Hall, Joe Manganiello and Dianna Agron
Running time: 105 min.

---
His wife Hannah (Rebecca Hall) still lives in the rustic cabin they shared, spending her days writing a biography of Hunter to secure his immortality. But the book is stalled, the writing is mediocre, and the words just won't come easily. Maybe there isn't enough material. As her pragmatic mother (played by a wasted Blythe Danner) always reminds everyone, "He only wrote 12 songs."
To Hannah's annoyance, a scholarly professor of pop culture at Hofstra University named Andrew McCabe (Jason Sudeikis) enters the picture with plans to write a book of his own. He already has a publisher. All he needs is permission and help in researching the late singer's life and career. Hannah reacts rudely, driving him away. But, as movies go, she eventually succumbs to his charm and hires the egghead academic as a collaborator. The movie, a first-feature effort by Sean Mewshaw, a director of TV commercials, drags on aimlessly while the two mismatched writers argue, fight, lie, cheat, insult each other with sarcasm, and eventually fall reluctantly in love.
Unfortunately, he falls in love with her, but she's already in love with a ghost. Nothing ever happens, and after an hour and a half, when they finally kiss, Andrew gives up his life in New York, and Hannah resolves to end her grieving, the sincerity fails to register.
The two stars have charisma, but not necessarily together. Mr. Sudeikis' easygoing smoothness grows on you. His bid for romantic comedy grounded in reality instead of farce based on one-liners and Saturday Night Live sketch material is just waiting for the right script. Ms. Hall was much better in Woody Allen's Vicky Cristina Barcelona, but under the limp guidance of a weak director, she tends to mumble. Griffin Dunne, Joe Manganiello, Richard Masur and especially the great Blythe Danner have nothing to do, and come off like dress extras. Funereal pacing and a screenplay by Desiree Van Til (the director's wife) that drops the names of Sylvia Plath and Diane Arbus just to let us know it's a hip, well-read little movie, don't help.
Worse still are the attempts to leaven the shocks of the biographical research (did the heroic Hunter die accidentally by falling off a cliff, or was it suicide?) with dialogue that must be heard to be believed. Says Mr. Sudeikis in a rare moment of romantic intimacy: "You smell good—like dessert and Hawaii and long winters."
But in the final analysis, what's really wrong with Tumbledown is its own self-imposed betrayal. When we finally get around to hearing the iconic songs and whining vocals that supposedly made Hunter such a dear, departed genius that his fans make pilgrimages to his grave, they're lousy. The musical score is written, strummed and sung by a Seattle songwriter named Damien Jurado. This is folk singing? It's weathered, sad and numb enough to make Arlo Guthrie sound like Frank Sinatra.