Some designers create quietly. They present their collections, take a quick bow and retreat backstage and into the shadows, only to resurface six months later for the next runway go around.
Rebecca Minkoff is not one of those designers.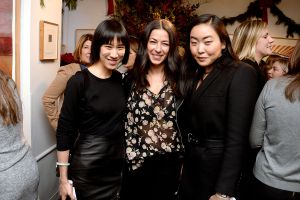 Since starting her business out of a one-bedroom walkup 10 years ago, Ms. Minkoff, 35, has gone from handbag designer for the tween set to a leading New York fashion name. She's front and center, outspoken in her views toward Fashion Week scheduling. She's a mentor to young up-and-coming designers. Ms. Minkoff bases her business on being relatable. She has become the face of her contemporary  brand in such an authentic way that companies twice her size are taking note. It's no accident. A natural leader, Ms. Minkoff has never shied away from the spotlight. And now she's using her social media prowess and likeable demeanor to establish herself as a global personality, busy influencing fashion and tech alongside the downtown mommy clique in her loop. 
Ms. Minkoff has always taken a fearless, "try anything once" approach to business.
In December, she announced that as of February's New York Fashion Week, her runway shows would take on a "buy now, wear now" format. She's presenting her spring collection on Saturday and fall collection in September to an audience mainly of retailers and consumers. It seems like an obvious decision—though a pioneering one. She expects other brands to follow suit in seasons to come.
"We felt Fashion Week was broken, that there is a certain 'image fatigue,' where by the time the consumer sees the looks in the store, she's tired of them," Ms. Minkoff said. "She's been seeing them for six months on Instagram and all over the blogosphere. It's no longer relevant in department stores. So we thought, 'How do we reinvent the fashion show?' Our version makes it inclusive for all parties."
Along with brother Uri Minkoff, her chief executive officer, Ms. Minkoff is comfortable experimenting in ways that would cause most brands to wince. In 2010, when other fashion companies were discussing the idea of a blog, she had a full-systems-go content platform, where she was engaging consumers with highly produced web videos starring Leandra Medine and Hilary Rhoda.
Ms. Minkoff and her team started discussing the idea of seasonally relevant collections two years ago but couldn't figure out how to make the change. Budget was an issue. They toyed with leaving IMG, but production costs would triple. The very next day, the CFDA announced it was thinking of heading in this direction and would support designers who did the same.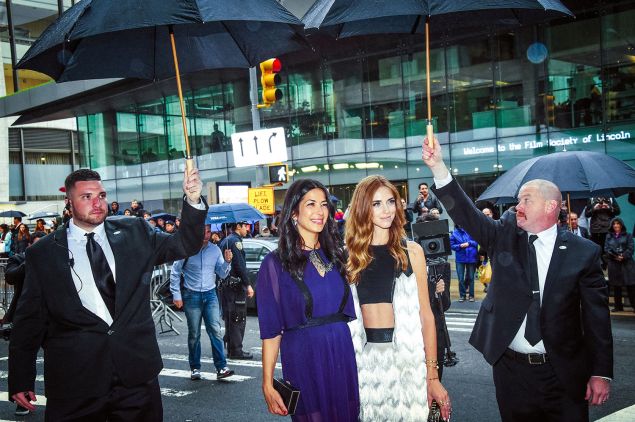 "It was mine and my brother's goal to disrupt and be pioneers. I guess you then become a leader, but we just saw it as a natural way to embrace what was happening in real time," the designer said. "There is something inherent in our pushing boundaries, but how can we use this mindset to help fix a broken cycle? How can this work for everyone and not just us? People need to forget about the old way of doing things and focus on the new."
Ms. Minkoff spreads the gospel of newness wherever she goes. In the last year alone, she's spoken on panels such as the Inc. Women's Summit, the U.N. Women's Planet 50-50 by 2030 Conference (where she announced a partnership with Intel to help create jobs for women in tech), and the AdWeek, MSNBC and Droga5 Women's Panel. But it's not just talk. Under her own label, she is constantly pursuing initiatives. In partnership with eBay, her stores have become a physical extension of her e-commerce site. Consumers can walk in and browse collections via an interactive connected wall. They can select items to try on and get a text alert when a room is ready. Once inside, they can request different sizes from an interactive mirror. They can adjust lighting, order a beverage, save or email an order or check out. Every preference, every request can be done totally online. Ms. Minkoff is one of the first designers, if the not the first, to incorporate this kind of technology in her stores. She is also a sought-after collaborator for technology firms seeking to infiltrate fashion. In October, she partnered with AOL on her athleisure launch in a fashion show that offered consumers the opportunity to purchase directly from the runway. The event saw over 36 million media impressions and 300,000 views that week.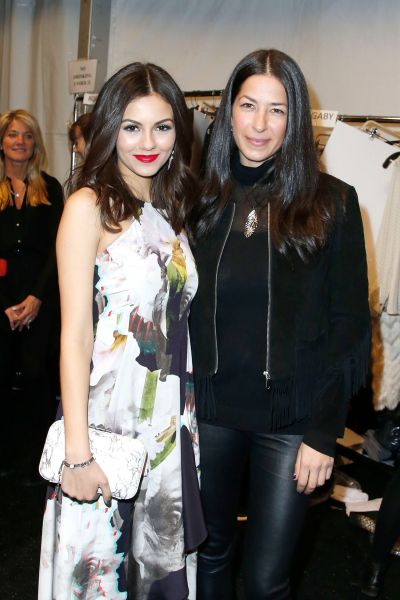 As if she weren't busy enough, Ms. Minkoff is also a den mother to young, stylish moms from New York to Los Angeles. Her leadership role extends beyond her business to the under-5 set, where she enjoys connecting working moms and their kids in fashion and entertainment circles. "Before I had kids I went out networking. After I became a mother, it felt like people were running circles around me because I was home with them," the designer said. "It was a relief when I met moms in fashion going through that, too. We all have to connect and help each other."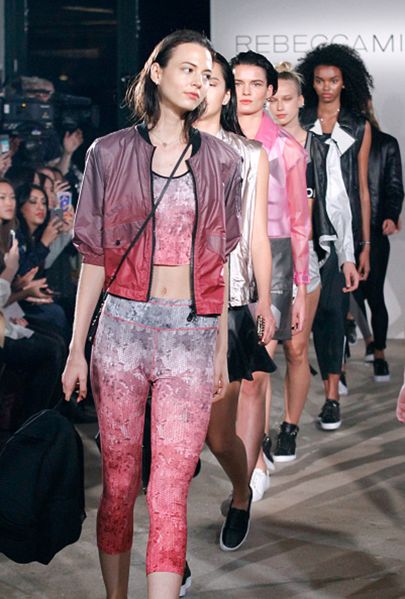 Just last fall she tapped her impressive mommy Rolodex for a dinner she threw to welcome Randi Zuckerberg to New York. On hand were Stone Fox Bride's Molly Guy, E! television personality and magazine editor Zanna Roberts Rassi, and Huma Abedin and Daphne Oz, among others. When it's a Rebecca Minkoff affair, everyone shows up.
"Rebecca is the real deal when it comes to women supporting other women," Ms. Zuckerberg said. "She embodies the millennial spirit in every way: entrepreneurial, strong sense of personal style and a deep passion for helping those around her career-wise. In her own way, she is the leader of a new kind of business 'girl squad.' "