The historic SS United States ocean liner—best known for capturing the transatlantic speed record—may soon set sail once more.
The ship, which once carried icons such as Coco Chanel and Princess Grace, will be restored and reinstated as a modern luxury passenger liner, through a cooperative initiative backed by the SS United States Conservancy and Crystal Cruises, which has committed to cover all costs for the ship.
"Today we announce and we celebrate a major new milestone for our ship's extraordinary journey," Susan Gibbs, the Conservancy's executive director and the granddaughter of the United States' designer, William Francis Gibbs, said at press conference Thursday morning. "She will again become a true ambassador and an icon of technology, innovation, and impeccable design."
The Conservancy acquired the ship five years ago with help from Philadelphia philanthropist H.F. "Gerry" Lenfest, who donated $5.8 million to the nonprofit. Ms. Gibbs said that the United States was "only days away from the scrapper's blowtorch" at the time.
Launched in 1952 and retired in 1969, the famed vessel was once nicknamed "America's Flagship," and still remains the largest passenger ship ever built in America, having carried a million passengers in its time. Journeys were often punctuated with the appearance of a member of royalty, a president or a Hollywood star, and the 600,000-square-foot vessel was heralded as true accomplishment of American design and technology. Built during the Cold War, the its construction was kept top secret with the intention that, in the event of war, it could be speedily converted into a naval ship.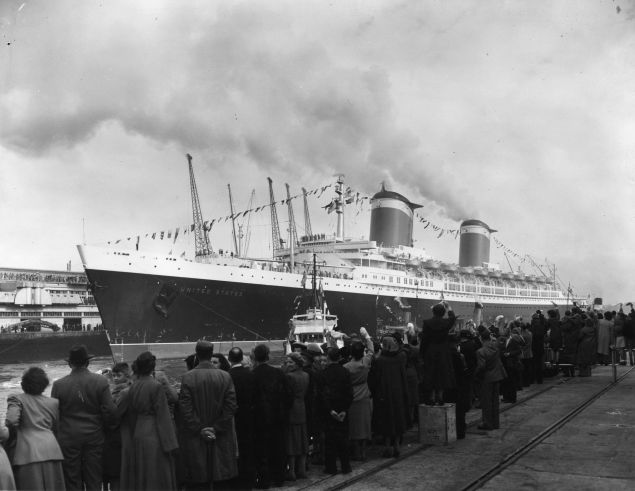 Yet restoring a ship built for another century is no easy feat, nor a cheap one. According to Crystal CEO and President Edie Rodriguez, the restoration will cost an estimated $700 million, and a 600-person crew will run the vessel.
Likening the restoration process to the revitalization of other upscale destinations such as Miami's Art Deco district and the Plaza Hotel, Ms. Rodriguez emphasized the ship's mythos: "Not only is it a privilege to embark on this monumental project, but we would be remiss if we were to pass up an opportunity to restore such an important symbol of luxury travel and a bygone era of America and Americana."
The revamped, 800-guest-capacity ship—renamed with the merged moniker United States by Crystal Cruises—will feature 400 suites and luxury dining, spa, and entertainment amenities. However, there will be "subtle and not so subtle" homages to the original decor through pattern choice and color palette. For instance, the ship's Navajo Lounge cocktail bar will make a comeback, and gold leaf will be incorporated into the dining room's design. In addition to the restoration, a land-based United States museum is in the works.
Ideally, Ms. Rodriguez said, United States by Crystal Cruises is slated to launch in 2018, but the project cannot move ahead until the redesign has been proved technologically feasible. It needs to be rebuilt to comply with over 60 years of maritime rules and regulations. 
While past attempts to save the ship—which has idled at Philadelphia's Pier 82 since 1996—have been unsuccessful, Ms. Rodriguez is optimistic about its fate.
"Failure is not an option, and it is not in my paradigm," she said. " It's a different day and age, and I believe that particularly as a patriotic American in an election year, hopefully all of us would want to see her [the United States'] legacy continue."