Bettina Hindin might as well be a mortician.  Ms. Hindin, a matrimonial lawyer in the city, comes face to face with mass amatory destruction on a daily basis. She witnesses something arguably worse than dead bodies: the death of hope. But someone's got to deal with the detritus of human emotion, right?  "It's like a funeral home," she says. "You're sad for the person, but you've got to make money."
Most of us imagine that matrimonial lawyers—their preferred branding over "divorce attorney"—are among the least romantic species. Yet many of them strongly believe in the institution of marriage, and have thought a lot about what makes a strong union. The answer, based on interviews with some of the nation's top practitioners, can be summed up in a few simple phrases:
Love is not the answer. 
Don't be a schmuck.
Find someone like you. 
Don't hang out too much.
If you dig your spouse, express it.
"The best marriages are like business transactions," says Raoul L. Felder, the grand-père of divorce, who oversaw the demise of the Rudy Giuliani-Donna Hanover union, among other high-profile dissolutions. "Life is a series of quid pro quos, and so is a marriage."
Manhattan family law attorney Casey Greenfield concurs. "The happiest relationships I see are the ones where the people are up front with themselves about what they want from the relationship, and they don't ignore the limitations that are glaringly obvious," she says. "If people would stop thinking their relationship would make them thin and rich…they might realize that the person they're with is perfect."
In the long run, opposites don't work. They might attract, but they usually don't last for the long haul.
In other words: Your partner isn't going to cure your existential angst. (Love is not the answer.)
William S. Beslow, whose clients have included Mia Farrow and Robert De Niro, remains surprised by the number of couples who complain about their partner's behavior, when they knew exactly who they were from the start.
Mr. Beslow remembers a client who was a well-known financier. The meticulous and slightly OCD titan was bewildered when his soon-to-be-ex wife showed up late for the divorce trial. "I said, 'You are obsessive compulsive…you take your computer to the beach. Your wife never wanted to hear about your business deals, she just wanted you to hug her and kiss her. Why is this surprising to you now?' " (Don't be a schmuck.)
If people would only know themselves, Mr. Beslow believes, they would have much happier unions. Most of us project our own mishegas—that is: our psychiatric, emotional and sexual needs—onto the other person. But if we would really understand what we can tolerate and what we cannot, we would be better off.
Translation: In the long run, opposites don't work. They might attract, but they usually don't last for the long haul. (Find someone like you.)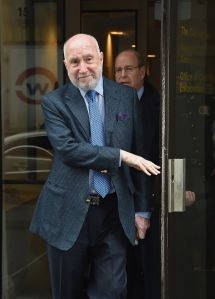 Let's go back to our uptight financier and his laid-back wife. At the outset, they had a tremendous connection, recounts Mr. Beslow. They were each convinced the other person would—dare we say—complete them. They were blindsided by possibility. "The one who is stiff in demeanor might be swept off their feet by the one who is outgoing and vivacious, while the other is taken by the strength and stability of the other person," he says. "It's a great match—in the beginning."
To Mr. Felder, the surest way to doom a relationship is by spending time together. (Don't hang out too much.) He's not advocating logging onto Tinder. But he recommends plenty of alone time. "When I see all this togetherness—'honey,' 'darling,' 'sweetheart'—then I know a marriage is in trouble," he says. "Develop as a human being: Go to clubs and meetings and lectures without your spouse. And then come home and talk about it."  (Incidentally, he also advocates not working together. Never mind that he shares an office with his wife, Myrna.)
Another piece of sage advice: If you dig your spouse, express it. Ms. Hindin recalls the "beautiful couple" with three young children. Said beautiful husband was busy building his company, and beautiful wife complained that he wasn't lavishing enough attention on her. "Maybe she should have spent time developing something for herself that would have given her a sense of fulfillment so she could be a powerhouse in her own right," says Ms. Hindin. "But most people are insecure. They want to have their egos stroked."
And when all else fails, divorce. And then learn from your mistakes.
Mr. Beslow's (second) wife has made it clear that Hallmark holidays like Valentine's Day hold no interest for her. So Mr. Beslow eschews the Whitman's samplers. Instead, he does the dishes every night after dinner, which pleases his wife. When she returned home from a long, tiring vacation (parents know that's not an oxymoron) with their kids, he surprised her by sending her to a luxurious day spa.
This is not astrophysics. It's simply about being mildly conscious of the other person's needs. "My wife and I are wired differently," says Mr. Beslow. "She'll leave the light on in the closet. An extreme person would say, 'You left the light on!' I just turn it off. It's not a big fucking deal."