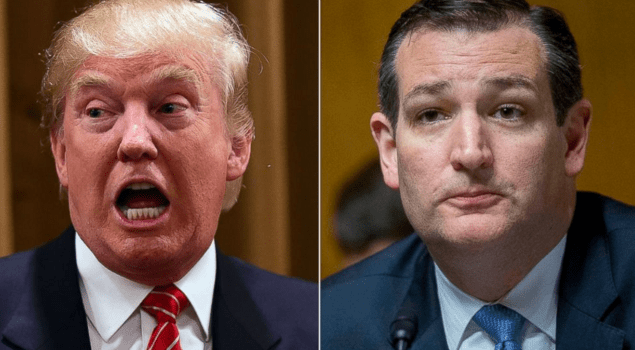 With the campaigns of Donald Trump and Senator Ted Cruz (R-TX) riding high after first and third-place showings in New Hampshire, some Republican insiders believe that this spring's New Jersey primaries could see a substantial rise in conservative turnout from independents and the undecided. As Trump and Cruz maintain their leads against the GOP establishment's deep bench, June could bring surprises in a primary that typically serves as a late stepping stone for candidates who have all but sealed up the nomination.
Though Ohio Governor John Kasich beat Cruz out for the second-place slot, Tuesday marked a crucial surprise performance for Cruz in a state without the evangelical base that propelled him to victory in Iowa. Steve Lonegan, former mayor of Bogota and chairman of Ted Cruz's New Jersey campaign, said that Cruz's strong performance Tuesday night could be the first of many surprises in an unusually turbulent primary season. 
"No one expected Cruz to even come in in the top four," said Lonegan, adding that Cruz has the resources to fight his way Nevada, South Carolina. "We're in a great position to go into South Carolina with about $20 million in the bank, more than any other candidate, and a phenomenal grassroots operation in South Carolina."
Lonegan believes that with so many flush Republican hopefuls expected to hold out into the late primaries, New Jersey could see a competitive primary.
"I do expect it to be significant. We have a complete delegate slate state-wide. We think this will most likely be a three-man race by the time it comes to New Jersey, and with the conservative base we'll win the state. New Jersey could actually be critical in the primary cycle, which is pretty cool."
As of Wednesday afternoon, there is likely one less candidate vying for a place as the Trump alternative. On Governor Chris Christie's stalled campaign and his disappointing sixth-place finish in the Granite State, Lonegan said that even Cruz supporters cheered when Christie vented his aggression during the most recent Republican debate.
"He did a terrific job of slamming Marco Rubio's head into the ground," Lonegan said.
Burlington County Republican Chairman Will Layton also said a rare vigorous New Jersey primary could be a possibility. Pointing to the 2008 primary, when tens of thousands of previously unregistered voters turned out to vote in that year's contest between Hillary Clinton and Barack Obama, Layton said the state GOP could expect to gain if the race stays competitive.
"That's a really likely scenario now, that New Jersey could actually be in play in June. It sounds crazy, but there's a really good chance," Layton said. "On the Republican side of things, this thing could go on for months.
"A lot of people went from being unregistered and undeclareds to Democrats," he added of the 2008 primary. "You saw a huge shift in the voter registration numbers in 2008 because of that primary, because of the excitement behind the Obama and Hillary Clinton thing within the party. So a primary like that could be a good thing for us."
As for why the establishment candidates have failed to pull ahead, Layton offered that both Republicans and Democrats are feeling the pinch as voters push for a new regime — any new regime — in Washington.
"I think people are tired of the same-old same old. I think they're very anxious and very fed up with politics as usual. And so I think you see that in the Republican primaries and you're seeing that obviously in the Democratic primary. That's why Trump is leading our field now with his victory in New Hampshire.
"Once the establishment candidates on the Republican side whittle down and get behind one candidate, then I think it's going to be a really close race from there on out. Trump's numbers will tighten quite a bit."