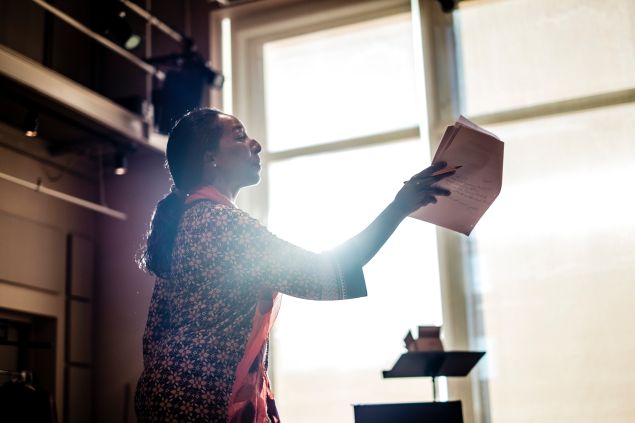 There's this aestheticized legend of the late poet Arthur Rimbaud as the archetypal enfant terrible. Forever immortalized as the original bohemian, Rimbaud arrives in Paris to become the 19th century's pre-eminent flâneur, wandering the streets with his married male lover, the symbolist poet Paul Verlaine, in an absinthe and hashish-induced haze. Then, at the height of his popularity as poetry's hip, young bad boy, Rimbaud left Paris for Ethiopia, only to die of cancer in self-imposed exile.
While countless artists consider Rimbaud among their primary inspirations, the poet's influence on New York's legendary downtown scene was captured on celluloid in experimental filmmaker Jack Smith's perverse kitsch or could be seen in Basquiat's juxtapositions of jarring words and iconographic images.
Patti Smith wrote about Rimbaud often, considering his work among the most honest, true-to-life words she'd ever read and for years played a "Rock 'n' Rimbaud" tribute to him on his birthday. The frontman of the seminal New York art-punk band Television, Tom Miller, christened himself Tom Verlaine after reading about Rimbaud's affairs. Bob Dylan, who echoed Rimbaud's eventual rejection of poetry when he consciously rejected the folk scene to go electric (as portrayed in the Todd Haynes' 2007 tribute flick to Mr. Dylan, I'm Not There), also stylized much of his surrealist work around the young poet. Indeed, Mr. Dylan's collection of poetry, Tarantula, reads as a veritable love letter to Rimbaud's lucid, pre-surrealist imagery.
Now, Rimbaud's influence is the subject of a new show aptly titled, Rimbaud in New York, which premieres at the Brooklyn Academy of Music on March 1 and runs through March 6. It's a joint collaboration between Chicago's Poetry Foundation, BAM's Humanities department and the avant-garde "investigate theater" company The Civilians, which transforms Rimbaud's Illuminations poems into a musical that's equal parts biography, interview and myth. The adaptation also serves as something of a tribute to the seminal New York artists who were so indebted to his writing.
"Rimbaud was a gateway poet," Steve Cosson, writer and director of Rimbaud in New York, told the Observer over the phone. He explained that his love of Patti Smith eventually led him to fall in love with Illuminations.
"These poems did something to me. It felt like an action; it felt physical—a sense of being taken through a visceral experience of image and sensation."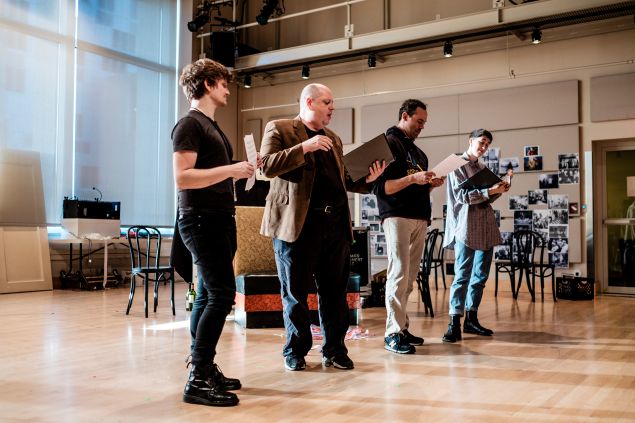 The Poetry Foundation, a Chicago-based literary organization dedicated to preserving poetry in American culture, initially provided BAM's Humanities department with a list of 11 poems suitable to be adapted for the stage, which were then brought in front of an artistic team and work-shopped by BAM and The Civilians. Among more conventional fare like Robert Frost, Illuminations was distinctly more of a challenge and difficult to both stage and envision. But when Steve Cosson ultimately came back to the Poetry Foundation with the company's decision, the challenge of adapting Illuminations was accepted.
"Choosing Illuminations was an examination of what it might look like to adapt a poem to the stage," Violaine Huisman, director of humanities at BAM, says over the phone. "You were going to have to unveil some of the process. Because it's not a narrative, you have to build a narrative around the collection of poems itself."
That unique approach put BAM's Humanities department in the new position of acting as surrogate dramaturges.
"This is the first time that we took the artistic lead on the project," says Ms. Huisman. "We actually don't have that many Rimbaud specialists as voices in the production. There's a really wide range of voices that speak to Rimbaud's influence on our contemporary culture."
Steve Cosson, meanwhile, brought in musicians inspired by Rimbaud, like Broadway composer and founding Civilians member Michael Friedman, who helmed the songs centered on Rimbaud's love letters to Mr. Verlaine. Hence, Rimbaud in New York unfolds through song, weaving the poet's story into the lives of the New York artists he inspired.
Paloma Young's costuming brings the vibrant urban crust of '70s downtown to the fore, and the composers/performers wear eerie black and white masks of the New York figures they embody, a nod to David Wojnarowicz's series of portraits also called Rimbaud in New York, which features him wearing a similar looking mask of Rimbaud in various locales around late-1970s New York City. Andromache Chalfant's set resembles the basement of a New York loft, an old record player and absinthe bottles lying around. An old door rests on top of a bathtub, functioning as a surrogate dinner table.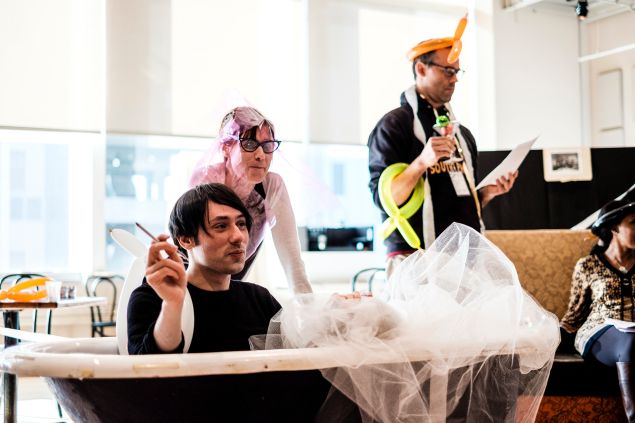 Adam Westfall Cochran, who composed three pieces and performs them in the show, said he was tasked with setting two of the Illuminations poems about genies to music, "Genie" and "Tale." "'Genie' closes the show. It sort of turns into this big Dionysian, almost chant-like but not religious pagan ritual," he told the Observer. "We're all nebulous, we are all ourselves, but very much in the spirit of The Civilians, we hop into the personas of the people we interviewed. By the end, the stage sort of explodes."
At the heart of this non-traditional staging, though, was Mr. Cosson's interviews with other creators for whom Illuminations has had a lasting impact.
That wide range of voices included poets, artists and performers. Lorin Stein, editor of The Paris Review, was interviewed to speak on the significance of John Ashbery, whose Illuminations translation was ultimately used in the show. Wyatt Mason, one of Rimbaud's more widely known translators, was consulted for his different perspective on the text, as well.
Despite all these various perspectives on Rimbaud, adopting Ashbery's translation of Illuminations was the clear choice for communicating the work's surreal imagery to an audience. "Ashbery's translation is extraordinary," said Ms. Huisman, "as it's above and beyond anything that anyone had read before. There are quite a few translations, but the texture and the depth and voice in his translation is really unique. You hear somebody speak to you immediately when you read Ashbery."
Between the translation, the interviews, the biography and the songs, Rimbaud In New York has an awful lot going on. As such, Ms. Huisman's emphasis on building a narrative around the process itself was key. Stephen Young from the Poetry Foundation explained that this approach would have been very much at the core of Rimbaud's creative raison d'être.
"Preserving the stitching and not trying to make that invisible, that's one of the great achievements of the show," he said via email. "It's important in Rimbaud…you can see him continually taking things apart or starting afresh, venturing out in new directions, new voyages."
Those new voyages were not only instigated when the BAM Humanities department took the creative reigns, or when The Poetry Foundation agreed to go with a collection of poems that was difficult to stage (what aesthetic clues did Rimbaud leave us in describing the ambiguous "She" in "Anguish," those of a mother or a scorned lover?) but also through embracing Steve Cosson and The Civilians' style of "investigative theater."
"Steve explores Rimbaud through interviews with people," said Mr. Young. "It follows the course of the investigation. There's not necessarily a predetermined outcome."
Mr. Cosson agrees. "I hate to say it, but the whole process was kind of illuminating," he confesses with an artist's loss for words. "Perhaps more than any other poet, Rimbaud suggests a show that is the exact opposite of character-centric," he wrote to BAM when describing the creative approach. "Rimbaud's poems create and populate worlds. The poems are there with the Surrealists, the New York School, the birth of punk, the downtown scenes of poetry and visual art, and of course among writers and readers today."
Mr. Young remembers the poem "A Une Raison," which doesn't make it into Rimbaud in New York but resonates with him nonetheless, when thinking about the spirit of the show. "Arrivée de toujours, qui t'en iras partout," he says, which Ashbery translates as, "Arriving from always, you'll go away everywhere."