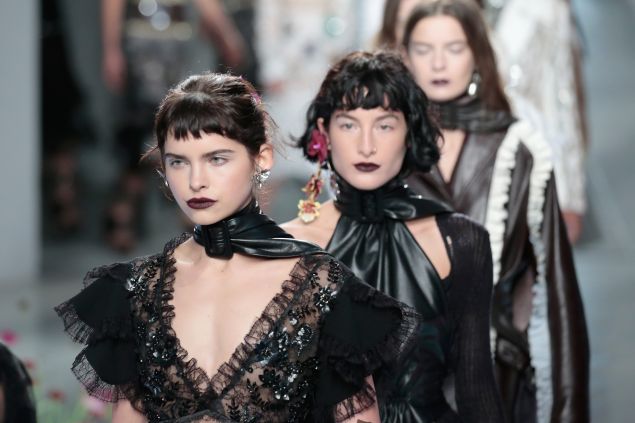 The saying "if it ain't broke, don't fix it" certainly applies at Rodarte. Every season, without fail, they fill Center548 in Chelsea with top editors and nostalgic movie stars (we see you Kirsten Dunst). They work with Bureau Betak to create a set strewn with long neon lights and various other objets. This season, live flowers were strewn among dirt and rubble. Small clouds of smoke billowed up, and although the crowd thought it was a fire, it wasn't. Previous years, crushed glass was thrown into the mix.
The clothing always includes a few versions of a lacey frock, often done up in tiers. Leather, fur and plenty of sparkles are mixed in and the footwear is almost always drool-worthy.
This season though, the romance was amplified thanks to flower crowns, made by L.A. florist Joseph Free. The dripping orchids complimented Rodarte-designed cast metal orchids, all perched atop hairstyles created by Odile Gilbert beautifully. Take a closer look at these seven looks; the beauty lies within the details.