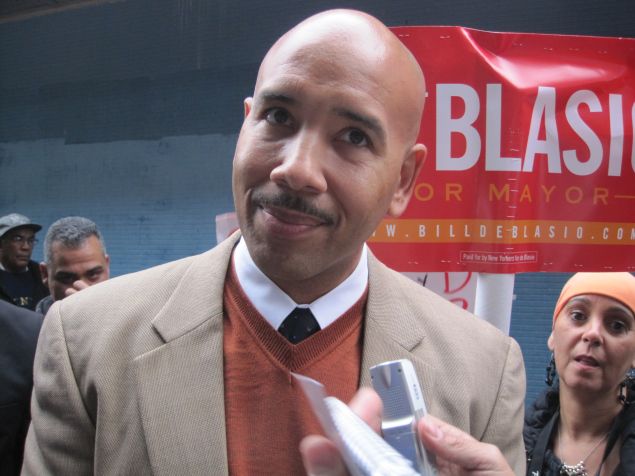 Bronx Borough President Ruben Diaz Jr. ripped into an array of Mayor Bill de Blasio's policies in his annual State of the Borough address today—and again presented himself as a potential challenger or successor to the current regime at City Hall.
Addressing the packed auditorium at Cardinal Hayes High School on the Grand Concourse, Mr. Diaz tore into the mayor's handling of last summer's Legionnaire's disease outbreak, as well as education, housing and homelessness. The Bronx borough president is a close ally of Gov. Andrew Cuomo and an increasingly vocal critic of Mr. de Blasio, and is well-known to harbor ambitions toward Gracie Mansion himself.
"The city failed us during this outbreak. So I demanded action," he declared, alluding to how he encouraged Mr. Cuomo to intervene, and embarrass the city Department of Health.
Mr. Diaz, who acts as the de facto head of the Bronx political machine, also repeated his calls for the City Council to shoot down Mr. de Blasio's plans to rezone the city to maximize below-market housing construction. The mayor's proposals would loosen height restrictions and requirements to create parking spots in exchange for mandates that that developers set aside a percentage of new apartments for low and middle-income tenants.
The borough president attacked this as a ham-fisted approach that could have negative impacts on different areas of the city, possibly straining streets and infrastructure as new residents pour in. It would also possibly impinge on the power of borough presidents to negotiate community agreements with real estate interests on a site-by-site basis.
"Why fix what is not broken? We cannot pass the administration's zoning text amendments," he insisted, citing his own successes in working out deals with developers. "How can we totally change the look and feel of this entire city on such short notice? How can we dramatically alter something so profound as how our city is built with a broad stroke?"
He also referred to "the city's inability to effectively deal with homelessness," and called for the housing plan to include a provision reserving apartments for the one-third of shelter residents who are employed.
On education, Mr. Diaz backed up Bronx Councilman Andy King's call for universal gifted and talented testing and programs on-site at all schools, calling the current lack of access in lower-income communities "unacceptable." He emphasized his support for charter schools—a sore spot for the teachers union-aligned Mr. de Blasio—and seemed to echo claims from the administrators of the privately run, publicly funded schools that the administration has neglected them.
"The education of our students is not about the grown-ups, or anyone's particular ideology. It is about the children," he said. "All students must be treated equitably by the Department of Education, whether they are in a traditional public school or a public charter school."
Still, he backed Mr. de Blasio's call for Albany to extend mayoral control of the city's schools for an additional year—though hinted that there might be some self-interest in it.
"Mayoral control means greater accountability around the public education system, and that accountability should be available to this mayor and all future mayors, whoever they might be," he said.
The remark sent a ripple of knowing laughter through the crowd.
Mr. de Blasio's office did not immediately respond to requests for comment. In the past, it has highlighted the federal government's praise for the administration's handling of the Legionnaire's crisis.
It has also repeatedly maintained the mayor's housing plan is the only way to guarantee enough apartments for the city's swelling population and to ensure space for below-market renters. Mr. de Blasio's team has also brushed aside claims that it is uncooperative with charters, and stressed its commitment to expanding gifted and talented programs.
The administration is in the midst of rolling out HOME-STAT, which will grant every person living on the street a social worker.