Last night's sideways monsoon failed to dampen the spirits of the hundred-plus Marco Rubio supporters who packed into The 3 West Club on 51st Street for a "Campaign Strategy Meeting." The invitation promised that campaign manager Terry Sullivan would "provides insights on our campaign strategy and the pathway to securing the nomination."
Some of that enthusiasm turned to befuddlement however as Mr. Sullivan presented what several attendees described as a strangely pessimistic assessment of Mr. Rubio's chances to overtake Donald Trump's lead in the delegate count.
One attendee told the Observer, "Terry Sullivan got up there and was so weak. He started with 'I know there are going to be a lot of questions and people aren't happy but let me go through my presentation quickly and then I'll answer questions.' So he went through this Powerpoint presentation that essentially started with Here's why we can go to a brokered convention and here's why we have a good shot if we go to a brokered convention."
According to all the attendees the Observer interviewed, the crowd was notably surprised that no strategy was revealed to win specific states or stop Mr. Trump's momentum.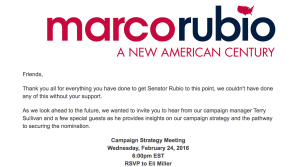 "Basically he was saying there haven't been a lot of delegates divvied out and there will be a bunch on March 1 and March 15 and no one will get a majority. It'll go to the delegates and the delegates won't support Trump. There were audible moans and groans. It was unbelievable—THAT is the strategy? Then he shows these slides of how Rubio does against Trump and says IF we can go up one-on-one against Trump we look good. Then he goes into slides about how Rubio is the best candidate against Hillary. He never said in what universe they can possibly get to a one-on-one matchup with Trump but said, 'This is our strategy, it's a marathon, we've been working on it for a year.' So he essentially conceded that they're not going to win anything on March 1 but that we should take comfort in it being all proportional, so that even if they don't win any states they can pick up delegates."
Another source was very tough on Mr. Sullivan.
"I can't believe that this guy's running a campaign. I was there with several others who aren't necessarily pro-Rubio people, but more like anti-Trump people. The guy next to me, who I didn't even know, was shaking his head. He leans over and said 'clearly playing for VP here.'"
One source described the whole scene as bizarrely rushed, perhaps to accommodate the quickly worsening weather. "That was it. A 20 minute presentation, 20 minutes of questions, no food, no drinks, no fundraising. And every time someone asked a question, Sullivan would laugh nervously and say, 'I hope this is an easy one.'"
One hedge fund investor who attended told the Observer he attended with two other people and was surprised that prominent New York Rubio backers such as Paul Singer was not in attendance, and that none of "Paul's guys" seemed to be there, either.
Emails to Mr. Sullivan and to Eli Miller, who as New York Regional Political Director for the Rubio campaign organized the event, were not returned as of press time. This story will be updated to reflect their views should they choose to share them.
Disclosure: Donald Trump is the father-in-law of Jared Kushner, the publisher of Observer Media.