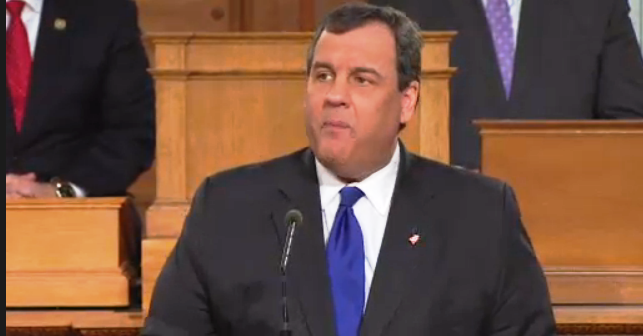 New Jersey voters are split on what Gov. Chris Christie's return means for the Garden State, according to the latest Rutgers-Eagleton Poll. Following his budget address on Feb. 16, a 36 percent plurality of voters says Christie's new focus on governing New Jersey will have a positive impact on the state. But 27 percent say his presence will have a negative influence, while another 33 percent think he will have no impact at all. Four percent are unsure.
Christie struggles with voters on many of the issues he highlighted in his budget speech, including the budget itself. Thirty-two percent now approve of how he is handling the budget. While this is a seven-point increase from his all-time low in December, 55 percent still disapprove.
Christie has also experienced a slight uptick in views on his handling of taxes: 28 percent approve of his performance, up five points from December, while 64 percent continue to disapprove (down seven points). Taxes are a perennial concern with voters: 27 percent now say it is the top problem facing the state.
Christie continues to perform least well on the state pension fund situation. An insignificant two-point bump now has 23 percent of voters approving how he is handling the issue, while 62 percent disapprove (down four points). Christie does little better on other issues: voters mostly disapprove of his handling of transportation and infrastructure (30 percent approve, 58 percent disapprove), education and schools (34 percent approve, 58 percent disapprove), and the economy and jobs (35 percent approve, 59 percent disapprove).
"Voters may be mixed on what impact Governor Christie will have on the state going forward, but they are clear in their assessment of the job he has been doing up to this point," said Ashley Koning, assistant director of the Eagleton Center for Public Interest Polling at Rutgers University. "Despite the lackluster ratings, there may be a small bright spot here. His record low approvals in December have mostly inched up. It is too soon to tell, but his resumed presence in the state may be renewing a bit of faith – or at least halting his ratings slide."
Voters remain mostly negative about the state's overall direction, however: 34 percent say New Jersey is headed in the right direction, while 57 percent say the state has gone off on the wrong track.
Results are from a statewide poll of 801 adults contacted by live callers on both landlines and cell phones from Feb. 18 to 23, 2016, including 710 registered voters reported on in this release. The registered voter sample has a margin of error of +/-3.8 percentage points. Interviews were done in English and, when requested, Spanish.