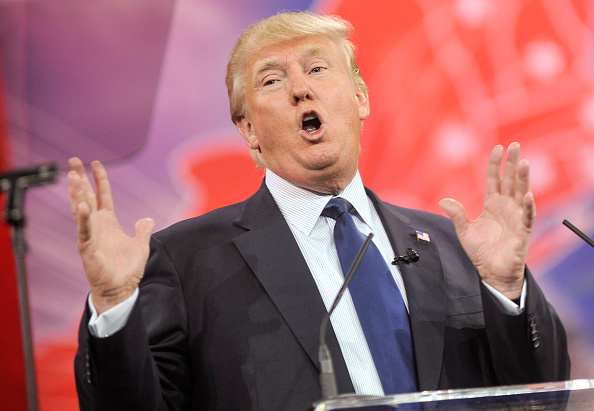 Today's Rutgers-Eagleton Poll of Republican and Republican-leaning voters in New Jersey shows billionaire real estate tycoon Donald Trump with a commanding lead.
The poll finds that 38% would choose Trump if they had to cast their primary vote today. Florida Sen. Marco Rubio, who would receive only 11 percent of the vote, is a distant second. Texas Sen. Ted Cruz is neck and neck with Rubio, coming in third at 10 percent.
Voters interviewed for this poll leading up to the New Hampshire Primary earlier this month were just as likely to choose Trump as those interviewed afterward, unlike the post-primary fluctuations in support seen for other GOP candidates based on their performance in the Granite State.
Among all New Jersey voters, Trump is not overwhelmingly popular, however: 31 percent have a favorable impression of the entrepreneur, while 57 percent have an unfavorable one – almost the same as Gov. Chris Christie's numbers in the Garden State. Voters are slightly less favorable toward Rubio and Cruz, at 27 percent and 20 percent, respectively, though negativity toward these candidates is not as strong as it is toward Trump. Thirty-seven percent are unfavorable toward Rubio (another 37 percent have no opinion or do not know him), and 48 percent are unfavorable toward Cruz (another 32 percent have no opinion or do not know him).
But Trump's ratings specifically among Republican voters are solid, far surpassing his competition's. Fifty-eight percent of Republicans are favorable toward Trump (30 percent are unfavorable), compared to 40 percent who say the same about Rubio (27 percent unfavorable), and 31 percent who say the same about Cruz (38 percent unfavorable).
"New Jersey voters look like the rest of the country when it comes to the 2016 race," said Ashley Koning, assistant director of the Eagleton Center for Public Interest Polling at Rutgers University. "Trump and Clinton hold strong leads and garner solid majorities among their respective party bases, despite their higher negative than positive ratings statewide. Yet neither candidate does well with independents, the driving force behind dissatisfaction with the current field – a strong indication of how polarizing the 2016 race already has become."
Results are from a statewide poll of 889 adults contacted by live callers on both landlines and cell phones from Feb. 6 to 15, 2016, including 758 registered voters reported on in this release. The registered voter sample has a margin of error of +/-3.9 percentage points. Interviews were done in English and, when requested, Spanish.