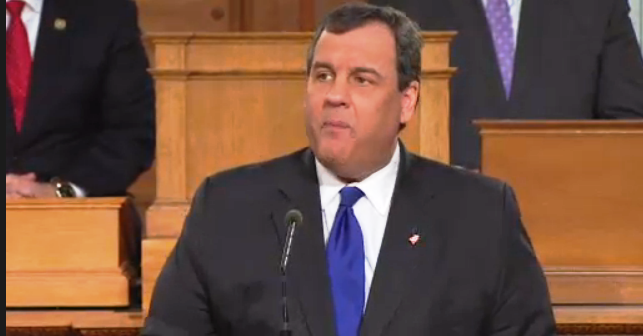 New Jersey voters flunk Gov. Chris Christie on the basic virtues scorecard associated with leadership, according to today's Rutgers-Eagleton Poll.
Thirty percent say "strong leader" describes Christie "very well" – an all-time low, according to the poll, down 36 points since his reelection in 2013, 26 points since Bridgegate erupted in January 2014, and 10 points since August 2015. This is the single largest decline over time of any of the traits. Another 31 percent now think the trait applies only "somewhat well," and 37 percent say it does not apply at all.
Even fewer say "effective" describes the governor very well: only 22 percent, a new low. Thirty-nine percent say this describes him somewhat well, and 36 percent say not at all.
Basically Christie botches the entire punch list of leadership traits, according to the poll.
The governor continues to suffer most when it comes to issues of honesty and authenticity. Just 15 percent say "trustworthy" describes him very well (33 percent somewhat well, 49 percent not at all), another new low, surpassing previous lows following the George Washington Bridge scandal. When it comes to sincerity, the pattern holds: 22 percent say "sincere" fits him very well, 29 percent somewhat well, and 44 percent not at all.
Fewer voters now ascribe "smart" to Christie – 44 percent, seven points lower than last August. Only 10 percent say "presidential" fits Christie very well, a number that remained virtually steady throughout his campaign.
"It is no coincidence that New Jersey voters give Governor Christie some of his lowest character ratings to date upon his return home," said Ashley Koning, assistant director of the Eagleton Center for Public Interest Polling at Rutgers University. "With the governor spending the last several months on the campaign trail, positive perceptions of him have taken a hit across the board in his absence – especially leadership, a trait that has usually been his strong suit since taking office."
Perceptions of Christie's negative traits have not changed quite as dramatically as his positives. Voters are slightly more likely to say "arrogant" describes the governor very well, now at 62 percent (up four points). Sixty-five percent still call him "stubborn," and 53 percent say "self-centered" is an apt descriptor. Half say "bully" suits the governor very well, and 41 percent say the same about "impulsive."
Results are from a statewide poll of 889 adults contacted by live callers on both landlines and cell phones from Feb. 6 to 15, including 758 registered voters reported on in this release. The registered voter sample has a margin of error of +/-3.9 percentage points. Interviews were done in English and, when requested, Spanish.