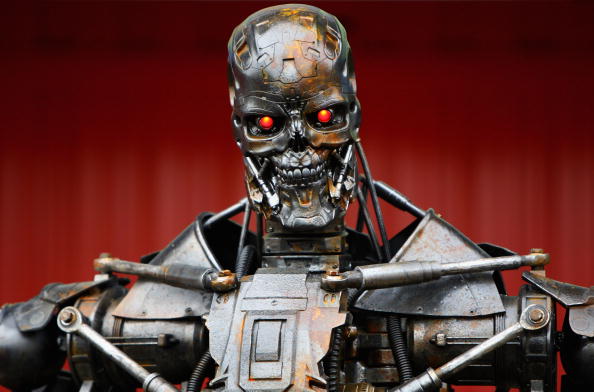 Every art critic's worse nightmare has come true: scientists have invented a robotthat is able to form its own opinions about art. "Berenson" can currently be found at the Musée du quai Branly in Paris. He smiles when likes something and frowns and runs away when he doesn't—sounds like an accurate description of the real deal.
Bonhams and Turner Classic Movies are teaming up to auction off over 300 items from the personal collection of actor Charlton Heston, including photos by Julia Margaret Cameron and Ansel Adams and the script for Ben-Hur.
New York's AIPAD Photography Show, the industry's leading fine art photography fair, will relocate from its current home at the Park Avenue Armory to Pier 94 on the West Side in 2017. The fair's 36th edition opens April 14 through 17.
Artists Rashid Johnson and Shirin Neshat take on new roles on the board of Performa. Mr. Johnson, who joined the board in 2014, has been appointed vice chair and Ms. Neshat joins for the first time.
The U.K.'s Public Art Catalogue Foundation, which was recently renamed Art U.K., is working to digitize all of Great Britain's publicly owned art. The organization is building a website called artuk.org with images of over 100,000 sculptures and "millions" of works on paper.
Damien Hirst's London restaurant Pharmacy2 was slammed as mediocre. The Daily Beast's Nico Hines declares the eatery "worse than his art" and says, "'Nice' isn't good enough—especially when a three-course meal for two with a bottle of wine comes in at over £100 ($140)."
New York foodies have been anxiously awaiting the opening of Russ & Daughters' newest location inside The Jewish Museum. Here's a first look via Gothamist.
Fun fact: the largest ancient earthwork in America is just outside Downtown St. Louis and dates to 1100 A.D. Cahokia features over 70 mounds and earthworks, as well as a woodhenge. The largest is called the Monks Mound and it's ver 10 stories tall. Artist John Hendrix visited and drew this interactive graphic.