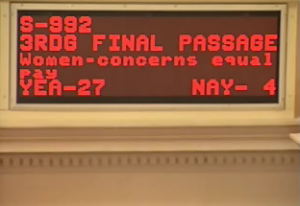 TRENTON – Senate Majority Leader Loretta Weinberg's equal pay legislation passed out of the Senate this afternoon.
"Everybody should man up and support this bill for women," said state Senator Ronald L. Rice.
"Woman up," Senate President Steve Sweeney (D-3) suggested.
"I actually like the term 'man up,'" Weinberg said.
For more on S-992, go here.
Among the nay votes was state Senator Jen Beck (R-11), the overseer of a Monmouth battleground district.