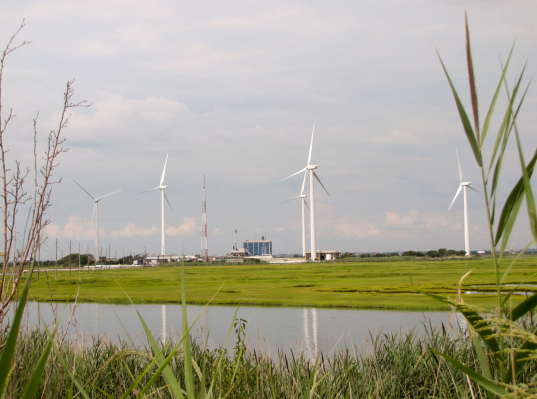 TRENTON — At a committee hearing on his bill to make New Jersey's supply of electricity come from 80 percent renewable sources by 2050, Senator Bob Smith (D-17) painted a bleak picture of the state's current energy infrastructure. The legislation is intended to offset dependence on aging energy infrastructure and eliminate the need for new natural gas pipelines in the state. The committee voted 3-0 in favor of the bill.
"The utilities right now are dying," Smith said, arguing for the economic benefits of building new wind and solar generators in the face of a stagnant consumer base. "There's not a model here where if you go ten, twenty, thirty years from now, the utilities are viable."
Addressing Andrew Hendry, president of the New Jersey Utilities Association, Smith said that he was hopeful state agencies would move to encourage new development for renewables.
"I may be doing this in too short a time, but it seems that our utilities are not very concerned about the growth of renewables, and I don't want to say in a bad way, not because you see it necessarily as the enemy," Smith said. "But there's been no growth in electricity consumption in the state, and nationally for that matter."
"I would argue the utilities are adapting to the new environment," Hendry said in response, pointing to diversification efforts on the part of the providers the association represents. "I plan on being around for a long time. I certainly hope so, personally."
Hendry said that the association and the providers they represent neither support nor oppose the legislation, but did express misgivings about distribution costs.
"We don't feel it's our role as an association to say where the line should be drawn," Hendry said of the 2050 benchmark. 
New Jersey developer Fishermen's Energy has been poised to build new offshore wind facilities for years, but the Board of Public Utilities has scuttled the plans twice, also citing costs. Smith has been a vocal supporter of those proposed off-shore turbines. A new bill to allow the group a third shot passed in the Senate in February.
"We strongly support the goals of this legislation," said Jeff Tittel, Director of the New Jersey Sierra Club. "This is more important than RGGI and any other program the state may have in order for us to reduce our greenhouse gas emissions, grow our economy, and green jobs. We can grow our economy and create jobs while protecting our environment and this bill would push us closer to that possibility by requiring us to switch over to more renewable energy."