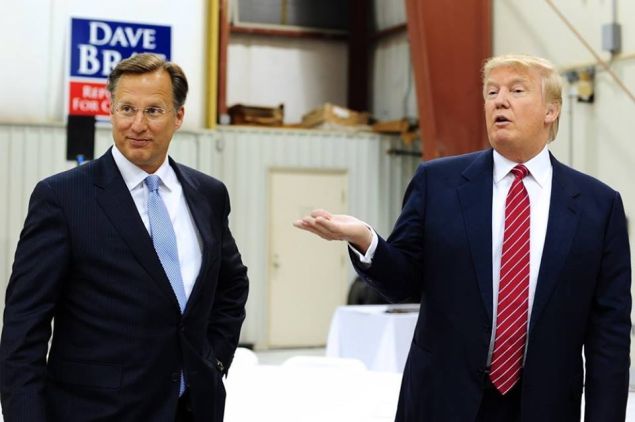 Stop us if you've heard this one before: an unlikely populist rallies nascent anger against immigration and the influence of the financial sector to humiliate a well-funded establishment favorite in a Republican primary.
One year before real estate mogul Donald Trump unleashed a torrent of anti-immigrant, anti-donor rhetoric that cut down the presumptive GOP front-runner, former Florida Gov. Jeb Bush, another candidate tapped the same deep well of anti-establishment discontent. The current turmoil in the Republican contest for the presidency occurred in microcosm in Virginia's 7th Congressional District in 2014, when a Tea Party candidate named Dave Brat challenged then-House Majority Leader Eric Cantor—and won. And yet the entrance of a rabble-rousing outsider into the 2016 race still caught the party leadership and the pundit class in a kind of ambush.
The only House majority leader to lose a re-election bid in the position's hundred-plus year history, and a man once seemingly poised to inherit John Boehner's role as speaker, Mr. Cantor had represented the 7th District—covering the west end of the city of Richmond and several nearby mixed rural and suburban counties—since 2001. Known early in his career for his approachable personality, the increasingly powerful lawmaker gained a reputation as the House GOP's jet-setting money-man, pulling in massive amounts of cash from Wall Street and Washington and all parts in between, and showering it down on his colleagues through his Every Republican Is Crucial political action committee.
For the 2014 election cycle, an Open Secrets analysis found Mr. Cantor had raised $5.4 million, more than a third of it from various political action committees. But while he reveled in his high-power connections, it seemed the lawmaker had become detached from his constituents.
"With Eric, I think it was three things, and those are the things I think are helping Trump," Virgil Goode, who served as congressman from Virginia's neighboring 5th District from 1997 to 2009, and who now serves as part of the Trump campaign's Virginia leadership team, told the Observer. "The average citizen saw that the big PACs with the billionaires and the multimillionaires get what they want in Washington, but the average citizen is left behind."
The other two issues, Mr. Goode argued, were immigration and the desire to see a person with business sense in government. And, unexpectedly, the person equipped to take up those issues was Mr. Brat, then an economics professor at tiny Randolph-Macon College in Hanover County, north of Richmond.
According to Brat campaign manager Zachary Werrell, the key was to give Mr. Brat's cerebral conservative philosophy "a populist tinge." When he joined the team in November 2013, the recent college graduate advised the candidate to keep his tirades against immigration and crony capitalism as simple and straightforward as possible.
"If it can't be talked about at the dinner table, it shouldn't be talked about on the campaign trail," the vituperative 24-year-old said. "The meat of the argument was 'you're getting screwed.' And Donald Trump has basically adopted that argument."
Today, Mr. Werrell insists that Sen. Ted Cruz of Texas is the "logical choice" for Brat backers to support for president. But he argued the GOP base is too enraged with its leadership to be rational.
"The anger is so intense and palpable, they don't even care. They just want somebody to savage these powers that be," he said.
Mr. Brat savaged Mr. Cantor over his recent decision to support a pathway to legal status for undocumented immigrants, which the GOP's national leadership and Mr. Boehner had laid out in the aftermath of former Massachusetts Gov. Mitt Romney's loss to President Barack Obama in 2012.
"Eric Cantor is the number one cheerleader in Congress for amnesty," Mr. Brat declared at one press conference, a point he would pound on again and again in the lead-up to voting day.
Much like Mr. Trump with his attacks on Mr. Bush's money-flush coffers, Mr. Brat made Mr. Cantor's lushly funded campaign account a liability.
"All the investment banks up in New York and D.C., whatever, those guys should have gone to jail. Instead of going to jail, where'd they go? They went on to Eric's Rolodex," Mr. Brat told a meeting of a local Tea Party branch, as reported in the Huffington Post. "And that's where they all are and they're sending him big checks."
The plainspoken anti-elitist appeals seemed to resonate with embittered voters.
"I think many people were captivated by Dave Brat's tell-it-like-it-is style," John Whitbeck, chairman of the Virginia GOP, said in an interview. "A lot of folks in Virginia are very concerned about Republicans and Democrats who say one thing and immediately do another."
Mr. Cantor fired back at his challenger with attacks more recently deployed against Mr. Trump: highlighting Mr. Brat's past partisan infidelity (he had served an advisory panel to former Democratic Gov. Tim Kaine, now a senator), and labeling him a "liberal."
"In terms of the source of energy that Trump has tapped into, I think Brat did tap into that as well. Anger at establishment politicians, leadership that hasn't accomplished what they said they were going to do," said Geoffrey Skelley, media relations coordinator for the University of Virginia's Center for Politics. "They view those kinds of figures, those kinds of donors and people with influence as one of the reasons why Republicans haven't stood up to President Obama and haven't been able to stop him."
As with Mr. Trump, Mr. Brat's campaign was a flimsily-funded affair that did minimal advertising, raising just over $200,000 and only spending about three-quarters of it. And while Mr. Brat had nothing like Mr. Trump's universal name recognition and unrelenting 24-hour cable news coverage, he did enjoy the support of conservative talk radio and online media—including figures like Laura Ingraham and Ann Coulter and outlets like Breitbart.com, which would later align behind the billionaire Manhattan developer.
But the key to Mr. Brat's, and Mr. Trump's, ballot box success was the ability to activate previously dormant sections of the electorate.
Roughly 47,000 people turned out to vote in Mr. Cantor's 2012 primary, and they broke for the incumbent nearly four-to-one. On June 10, 2014, more than 65,000 showed up at the polls—and went for Mr. Brat by 11 percentage points.
The majority leader's stunning defeat left analysts scrambling for an explanation. Many blamed the decision to graft rural New Kent County onto Mr. Cantor's turf in the 2012 redistricting, a move intended to fortify the incumbent against a Democratic challenge.
But Mr. Skelley noted that New Kent County is sparsely populated, and the Mr. Cantor performed worst in areas like Hanover County that he'd held for years.
"New Kent County can't be the reason he lost. He lost because Hanover went so sharply against him, and he couldn't win areas he'd already represented, because David Brat brought out so many new voters to the Republican primary," Mr. Skelley said.
The profusion of theories about the roots of the Brat coup prevented political experts from seeing the power immigration had wielded in the 7th District election, and its potential potency on the 2016 campaign trail, Mr. Skelley suggested.
"I think that there was multiple explanations why Cantor lost, let a lot of us not recognize immigration as an issue that could stir up a hornets nest in a presidential race," he said. "Trump may just be running at the right time, that these feelings are felt more broadly in the Republican Party at this time."
And so Mr. Bush continued to champion the party leadership's newfound belief in a pathway to citizenship, and called attention to his Mexican-born wife and his fluency in Spanish. And in August 2015, he named Mr. Cantor one of the Virginia co-chairs of his campaign.
Mr. Goode recalled that Mr. Cantor had fundraised in Florida for years and had many personal and political ties to the Sunshine State, and Mr. Skelley argued that exploiting Mr. Cantor's wealth of connections fit in with the candidate's "shock and awe" strategy to stockpile cash. But the symbolism for Mr. Bush, already floundering amid the Trump wave, was undeniable.
"Cantor was obviously somewhat a toxic figure, having lost a primary election—so maybe that wasn't the strongest statement," Mr. Skelley said.
Mr. Werrell was less generous.
"I thought it was one of the most laughably idiotic things I've seen in my life," he said. "Jeb Bush, he was so disconnected he actually believed having Eric Cantor as one of the faces of his campaign was a good idea."
Meanwhile, in April 2015, less than a year after Mr. Brat's victory, and two months before Mr. Trump kicked off his bid for the White House at his eponymous tower, the new congressman hosted the reality TV star in Richmond.
"Mr. Trump is a brother-in-arms when it comes to stopping illegal immigration, projecting U.S. strength to our enemies abroad and reducing the tax burden and increasing job opportunities for all Americans," Brat campaign spokesman Rick Dodge wrote on the lawmaker's Facebook page. "He called Dave a fighter and said he was part of the toughest group in Washington: the core group of conservatives who are actually making a difference by standing up to Obama's destructive policies on illegal immigration, corporate cronyism, and the endless war on the American middle class worker."
Mr. Brat has made no endorsement yet in the presidential race. He declined to comment for this story, as did Mr. Cantor.
Disclosure: Donald Trump is the father-in-law of Jared Kushner, the publisher of Observer Media.