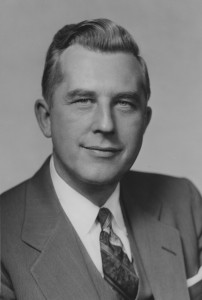 TRENTON – Sitting here in the office with NJTV reporter David Cruz going over the muddled condition of the presidential election, and considering the possibility of a brokered GOP convention.
We're trying to remember the last time one of those went down.
I'm guessing the 1968 Democratic Convention in Chicago. After Senator Bobby Kennedy's assassination, Senator Eugene McCarthy, Vice President Hubert Humphrey and late entry Senator George McGovern competed for the nomination, eventually won by Humphrey.
But of more interest to us was 1960, also a brokered convention, which included a candidate from New Jersey.
In 1960, the youthful and many said too inexperienced John F. Kennedy competed for the Democratic nomination with Lyndon Johnson, Stuart Symington, Adlai Stevenson, none other than New Jersey Governor Robert Meyner, and others.
Meyner did one better at that brokered convention than sixth place finisher Gov. Chris Christie did in Tuesday's New Hampshire primary.
But he couldn't get around Kennedy, in arguably the same way – and maybe we're stretching a little to make this comparison – that Christie, even as he may have mortally wounded his young rival – couldn't get around Florida Senator Marco Rubio on Tuesday night.
First term U.S. Senator Rubio came in fifth and may be damaged going forward, but he's still on his feet.
In his quest for the presidency that year, Meyner, a trial attorney from Phillipsburg, former New Jersey Senate Majority Leader, and governor, came in fifth at the convention with 43 votes. The winner was first term U.S. Senator JFK, who received 806 votes at the convention, followed by Johnson (409 votes), Symington (86 votes), and Humphrey (41 votes).
We don't know what Team Meyner did back then as part of an unsuccessful effort to gain an edge on the undeniable Kennedy. But what if he had pulled a Christie and gone full bore negative? Would ex PT-109 Lieutenant Kennedy have been able to withstand a New Jersey gunboat at close range, coming at him and leveling the kind of attack that Rubio couldn't weather last Saturday?
If he had, and we apply the same logic that evidently weakened Rubio as Christie expired, Meyner wouldn't have won, but maybe he would have inserted sufficient doubt into the convention atmosphere to damage Kennedy and elect Johnson.