Online dating is much more efficient, right? You get to meet lots of people quickly and know much more about them before a first encounter.
What you don't know until you get face to face, however, is how they smell.
Until now. Smell Dating is a new matchmaking service built all around scent and launched today, according to the Useless Press newsletter. Its creators are betting that your nose knows better than your eyes, possibly even better than OKCupid's matching algorithm.
From the website:
At Smell Dating we understand the metrics of compatibility are chemical; connection is a matter of intercourse, not interface. The Internet has replaced fleshy experience with flat apparitions, avatars and painstakingly curated profile pics. Smell Dating closes digital distance by restoring your molecular intuition.
Here's how it will work: Users that sign up will be sent a T-shirt. They will wear it for three days and mail it back (participants are asked to avoid deodorant and perfume in that time). Each will then receive 10 samples cut from the T-shirts of other participants to smell at their leisure. Via a website, they can let the service know which scents they like and get phone numbers of the paramours they match with.
It costs $25, and it is limited to 100 residents of New York City—for now.
The service doesn't ask for photos, gender or sexual orientation. It wants participants to go with their guts and open their minds.
The matching is, apparently, intuitive rather than analytical. In other words, it sounds as if folks are going to sit around doing a lot of shirt smelling and discussing which scents go together best without the aid of any machine overlords of musk.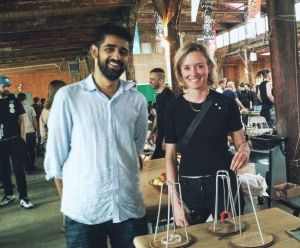 The instigators of the project are Tega Brain (who also collaborated on creating Unfit Bits, which undermine your employer's efforts to track your physical activity) and Sam Lavigne (the founder of Useless Press, which also just launched a GIF-powered advice blog).
The website explains that smells are mysterious because they make their way through our brains in such a way that the news from our nose reaches our language centers last. That's why, the team speculates, scents can be so hard to describe.
So, what will those first text messages be like?
Related stories: