Sometimes, the bright lights of Hollywood are just too tempting.
It may be a cliché story—hopeful actress heading to Los Angeles—but sometimes life is cliché, at least it is in the case of native New Yorker and soap actress Robin Strasser, best known for her long run as Dorion Lord on One Life to Live, who has decided to relocate to Los Angeles.
After Ms. Strasser apparently felt the strong call from California, she has listed her Upper East Side townhouse with Corcoran broker Thomas Wexler, asking $7.5 million for the four-bedroom, 4.5-bath home.
She previously had the townhouse 152 East 82nd Street on the market as a $27,000 per month rental, but now it seems that she's preparing for a more permanent departure from the city…or maybe she's just downsizing. Or, perhaps she's decided that the two-story home in Thousand Oaks, California that she recently purchased for $975,000 is worthy of full-time residency.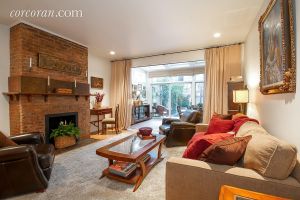 She must be quite taken with the West Coast to part with the home that she's lived in since at least 1976–per property records, when she divorced Laurence Luckinbill that year, she kept ownership of the 3,000-square-foot townhouse.
The 1840s Federal-style townhouse, which Ms. Strasser has called home for nearly forty years, has an eat-in kitchen, finished basement, formal library, and a south-facing private garden, according to the listing. It also has at least two fireplaces, as well as lots of exposed brick and big leather armchairs. In fact, it looks like one might actually be able to sit on the furniture, which isn't always a given when looking at Upper East Side townhouses, and it isn't decorating in quite the…dramatic, say, style one might expect from a soap actress whose other credits have included All My Children and Passions.
And while those from the city might be trained to view that other side of the country with semi-masked scorn, with the frigid temperatures in the city as of late, we can't really blame Ms. Strasser…the appeal of the warm California winter is there.