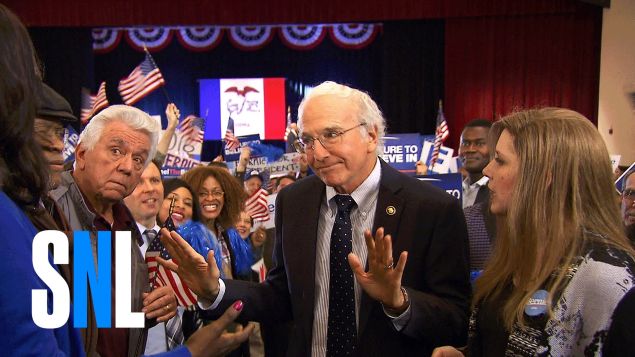 Welcome to tvDownload's new social media column — written for the people and by the people, like some kind of millennials' Pravda. It's where you can come to find out what the internet is saying about your favorite shows, and to see what new stuff might be worth checking out. You do want to fit in with the rest of us, don't you, comrade? Here's what got folks talking this week.
After months of anticipation, American Crime Story: The People v. O.J. Simpson finally premiered to buzz, fanfare and memes.
TV's own David Boreanaz was inspured to to invent a word!
The portrayal of Robert Kardashian by David Schwimmer (and some prominent white hair dye) was a hot topic — both for fans of the actor and people upset by the Kardashifying of the show/absolutely everything on earth.
In one of the show's tenser scenes, a distraught OJ nearly offs himself inside little Kimmy's bedroom.
Finally, JTT is getting some work.
The crazy thing about the scene? Apparently, OJ really did hold a gun to his head inside Kim Kardashian's childhood bedroom. Truth vs. fiction was a big topic in the Reddit AMA of People V. OJ writers Scott Alexander and Larry Karaszweki.
Though the AMA seems to have lost the show at least two or three viewers. Which makes four when you count David Boreanaz.
Hannibal Buress' new special Comedy Camisado was released via Netflix on Friday. Quite a few folks made use of the hashtag #ComedyCamisado to recount his jokes.
And some people were very concerned with the single long hair on Hannibal's otherwise close-cropped head.
The stray strand even has its own Twitter account. But, like, there's no way the hair actually runs it, you guys.
The consensus online seems to be that this week's SNL was a particularly strong one. Host Larry David shined with a Bernie Sanders-themed sketch called "Bern Your Enthusiasm"  — which featured a cameo from the candidate himself.
The fan art is lovely, but please, nobody write any slash fiction, okay?
Cousins from different grandmothers. Same schtick. #LarryDavid #BernieSanders #SaturdayNightLive #snl #newyork #vermont #popculture #funnybusiness #laughoutloud #comedy #comedian #politician #curbyourenthusiasm #feelthebern #bernie #huuuuge #yuge #grayhair #baldguys #meninhats #eyeglasses #tvsketch #dailysketch #picame #yearofcreativehabits
The 1975 (they're British, that's the reason they can get away with that name) was the musical guest, and everyone seems to have a different opinion of who the singer looks like.
https://twitter.com/G5Becca/status/69644274276388864
Personally, we're feeling Sideshow Bob.
Something big happened on Sunday, but we can't quite remember what it was. Let's see… we talked to our grandmother about the new condo's she's buying… we took our dog for a long stroll… made a sandwich… Oh right, it was the goddamn Super Bowl.
A bunch of sports things happened, and then the football athletes took a break so that Coldplay could headline the halftime extravaganza. Unsurprisingly, Beyonce and Bruno Mars stole the show from poor Chris Martin.
Hahaha poor Chris Martin 😂😂😂 #ColdPlay #HalftimeShow #Superbowl50 #ChrisMartin #Beyonce #BrunoMars
Although the biggest star of the night may have been Budweiser. Thanks to Helen Mirren and her a pro-drinking, anti-drunk driving stance…
And winning quarterback Payton Manning, who actually shouted-out the beer in his post-game interview.