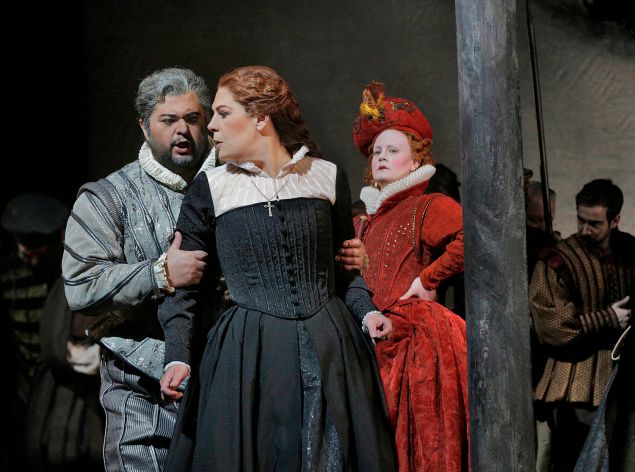 Even if the Metropolitan Opera's current revival of Donizetti's Maria Stuarda fails to make much of a case for the piece as a musical drama—and that's as much the fault of the composer as the Met's production team—Friday night's performance of the title role by soprano Sondra Radvanovsky indicates she is developing into an imposing bel canto prima donna.
The opera, based very loosely on the execution of Mary, Queen of Scots, is hampered by a clumsy dramatic structure alternating scenes between Maria (the Queen of Scots) and Elisabetta (that is, Queen Elizabeth I). As if to compensate, the last 40 minutes of the work focus squarely on Maria as she prepares for her execution. The complex web of power struggles, conspiracies and accusations that swirled around the real-life Queen of Scots is watered down to a trivial rivalry for the love of the Earl of Leicester. (Like so much 19th century Italian opera, Stuarda is a lousy candidate for the Bechdel test.)
Musically, too, the work is uneven, with arias and ensembles more serviceable than inspired. But there are moments of greatness in two scenes for the heroine. In a defiant recitative toward the end of the first act, she insults Elisabetta as a "vil bastarda" (filthy bastard) unfit to sit upon the throne of England. Later, in prison, the doomed queen leads her followers in a hymn over which her voice hovers on a long-held high G ascending to B-flat.
Those two scenes played handsomely to Ms. Radvanovsky's strengths, winning her ovations and cries of "brava" after both acts. I must admit that in the soprano's 20 years at the Met I have never really warmed up to her voice, a dark, grainy sort of sound, with a pressured vibrato that tends to send the note juddering north and south of true pitch. Moreover, there are times when her taste level has been questionable, as when in last fall's Anna Bolena she ended the opera with a high E-flat that emerged as little more than a squawk.
The role of Maria, though, found her both in steady voice and a stylish frame of mind, singing solidly in tune and with thoughtful variations consonant with the mood of the scene. The moderate tessitura and muted dynamics of much of the music brought out a lovely silvery color in her tone.
For the "Bastarda" scene, though, the soprano dug into a ferocious chest tone, and then vaulted to a steely high register just this side of a scream. It was an electrifying moment, and I almost expected the Met audience to burst into cheers in mid-scene, the way you can hear the Florence public do in a celebrated "pirate" recording of this opera starring Leyla Gencer.
Later, in the prison hymn, Ms. Radvanovsky spun out a seemingly endless thread of breath, her high G shimmering like a ray of moonlight through a barred dungeon window. So perfect was her sense of exaltation that at the end of the number the silence hung in the air for a couple of seconds before the audience erupted into a clamor of shouting and foot-stamping.
To be sure, Ms. Radvanovsky's acting fell short of her vocalism, tending toward glumly anguished facial expressions and random voguing standing in for purposeful gestures. But she could hardly have been helped by David McVicar's drably functional production, in which even the meadow outside Fotheringhay Castle—where Maria enjoys a fleeting respite from her incarceration—looked carved out of slate. The only scene that seemed to interest him, in fact, was an irrelevant opening number featuring muscular acrobats wiggling their codpieces right under the nose of the Queen of England.
That queen was Elza van den Heever, repeating her role from the company's premiere of this work three seasons ago. Her bright, sometimes squally soprano contrasted effectively with Ms. Radvanovsky's earthier instrument, and one can't help admiring the commitment she brought to Mr. McVicar's outlandish take on the character of Elisabetta. Decked out in what appeared to be a series of sofas with Lego mutton sleeves, Ms. van den Heever lurched and twitched as unremittingly as a robot running a Bette Davis subroutine.
Somewhere in the gloom were the various men conniving for and against the tragic Maria, including Celso Albelo, a stocky tenor who made his Met debut the previous week, as the much-coveted Earl. It's hardly a grateful role (you have to wonder why Luciano Pavarotti bothered to record it) but Mr. Albelo did contribute some elegant legato lines to the duet "Era d'amor l'immagine" opposite Ms. van den Heever.
Conductor Riccardo Frizza led with precision and energy and a refreshing straightforwardness—none of the self-consciously droopy tempos many other maestros favor in works of this period. Indeed, he and Michele Mariotti, who did such a poetic job with La Donna del Lago earlier in the season, are about the best in the world at this repertoire. The Met is lucky to have both on its roster.
Unfortunately, neither of them is in the pit for Ms. Radvanovsky's next project, Roberto Devereux, yet another Donizetti opera on the subject of British royalty. The trifecta of that opera, Stuarda and Bolena, all on the Met's schedule this season, amounts to a sort of Olympic event for bel canto sopranos. Ms. Radvanovsky's smashing performance as Maria should justly boost her confidence as she goes for the gold.
From the grandiosity of Stuarda at the Met to the lilt of Chabrier's Une éducation manquée by Opera Lafayette at Florence Gould Hall on the Upper East Side, there was an aesthetic gulf almost as vast as the geographical distance between the venues via subway. But the wispy French operetta, featuring a trio of singers and piano accompaniment, proved an exquisite amuse-bouche.
The saucy plot concerns the titular "incomplete education" of a newly married couple who realize they know nothing of the facts of life. A sudden thunderstorm, though, inspires the terrified pair to do what comes naturally—or at least as much of what comes naturally as could be presented on a Paris stage in the late 19th century.
The score, a suite of delectable waltzes and patter numbers, was augmented by additional Chabrier chamber songs, charmingly presented as fairy tales told to the young lovers earlier in life. Amel Brahim-Djelloul as the husband, Gontran, and Sophie Junker as the bride, Hélène, revealed contrasting but complementary sopranos, Ms. Brahim-Djelloul's in particular both lovely and expressive. They, plus baritone Dominique Côté as the bumbling tutor Pausanias, sang with piquant diction that compared to standard-issue opera house French as vintage Champagne does to supermarket prosecco.