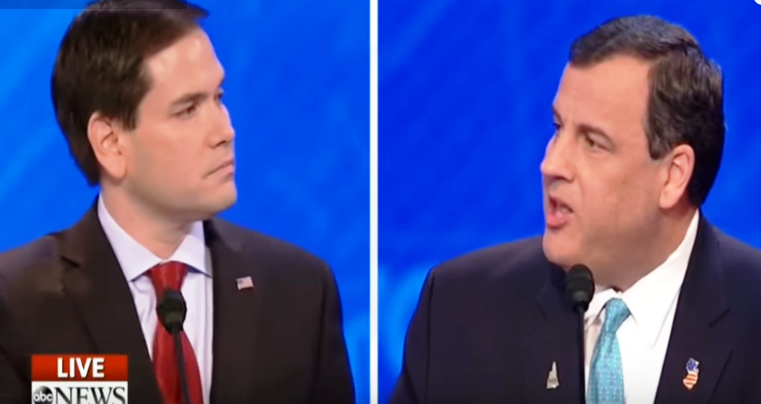 A source close to Gov. Chris Christie who is familiar with the governor's thinking told PolitickerNJ that, whatever his designs on the current cycle, by attacking Florida Senator Marco Rubio right now, Christie is simultaneously chess-boarding for 2020.
Maybe his performance tomorrow defies the polls. Maybe the work he put in early gets that last bounce from his final debate performance and post debate victory lap. But even his close allies don't see that outcome. Quizzed at close range, the response is grim.
The source said Christie sees the same poll numbers that everyone else sees, including his own 6% in NH, and given the trending, suspects billionaire tycoon Donald Trump – far ahead of the pack in New Hampshire – to stay in the lead and land the nomination.
Secretary of State Hillary Clinton would be the favorite in a match-up against Trump, said the source, reflecting a common fear among establishment Republicans.
So Christie – who savaged Rubo in Saturday's debate – wants to get rid of a brightly shining rival now, not necessarily as a favor to financially well connected Jeb Bush with the specific thought of payback in a Bush Administration, but in order to out-muscle Rubio in the future.
Right now, Christie has Rubio's number. By blowing him up now, he doesn't have to worry about him later. If the anti-establishment atmosphere prevails within the GOP Primary, Bush staggers to a loss, and Trump's the nominee.
With women voters motivated to GOTV in a general election match-up with the tycoon, Clinton beats Trump, the source argued. Then the party casts around for a challenger to Clinton, and Christie automatically cuts Rubio in line to challenge her next time, the source insisted.
But if indeed he's convinced now's not the time, how would Christie – deprived of the levers of gubernatorial power after 2017 – stay relevant between now and then?
Many insiders speculate that the combative and opinionated New Jersey governor would be a natural to head to cable television as a news personality. But such a gig would not fulfill that Captain Kirk on the bridge of the Enterprise surge for a bureaucratic animal like Christie.
So his hope, the source insisted, is that Trump would make him chairman of the National Republican Party; a job currently occupied by floundering New Jersey native Reince Priebus.