It's over for Gov. Chris Christie tonight in New Hampshire, two New Jersey operatives who've crawled around inner bowels of the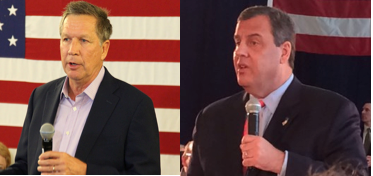 Christie operation in New Hampshire told PolitickerNJ.
The governor has a lot of money issues, and in poll after poll appears unable to get out of the single digit category as Florida Senator Marco Rubio, Texas Senator Ted Cruz, Ohio Governor John Kasich and former Florida Governor Jeb Bush all jockey for second place behind billionaire tycoon Donald Trump.
One of the sources expected Christie to drop out of the race either immediately prior or immediately following South Carolina. If Christie gets better than single digits tonight he'll stick around through the next contest. If he doesn't, he'll bow out prior to Feb. 20th, the source said.
So what will Christie and New Jersey Republicans do?
The same source told PolitickerNJ that despite some obvious close ties between Christie and the Bushes, there is real concern in Christie world over Jeb Bush's long-term viability in this primary contest. PolitickerNJ pressed the source about that poll yesterday from Monmouth University's Patrick Murray – the one that shows Bush jumping nine points and demonstrating a pulse. Bush too has clomped around New Hampshire in the last number of hours taking the fight to Trump, calling him a loser and a whiner.
It won't be enough, the New Jersey Republican source said.
The source insisted that Bush is doomed, that Christie world shares that opinion and the only reason Jeb! is doing alright in the polls is because the family has New England roots and between all their presidential campaigns has been nestled in there for years.
"Jeb's toast," the source predicted.
With Bush mortally wounded apparently and Christie too dismissive now of Rubio publicly to give him an option there, natural connective tissue already exists between New Jersey and Kasich, the source noted. Kasich was very close friends with the late U.S. Rep. Bob Franks. Veteran GOP operative Roger Bodman has close ties to Kasich. They're friends.
Polls show Kasich positioning strongly in the fight for second or third place.
Expecting Kasich to have a good showing tonight, the source predicted that Christie is more likely to endorse the Ohio governor than Bush.
"Failure to launch," a third GOP source said on condition of anonymity, referring to the Bush Campaign upon return from New Hampshire.
"If Kasich comes in second and Chris is stuck in the single digit range, he's going Kasich," the second source predicted.
As for New Jersey Republicans, Christie world in the aftermath of New Hampshire/South Carolina will make the ask to county chairs and establishment players for Kasich, the source said.
Some of them will be inclined to go in other directions. One source said do not be surprised to see support within the establishment for Rubio, despite Christie's demolition job on the Floridian.