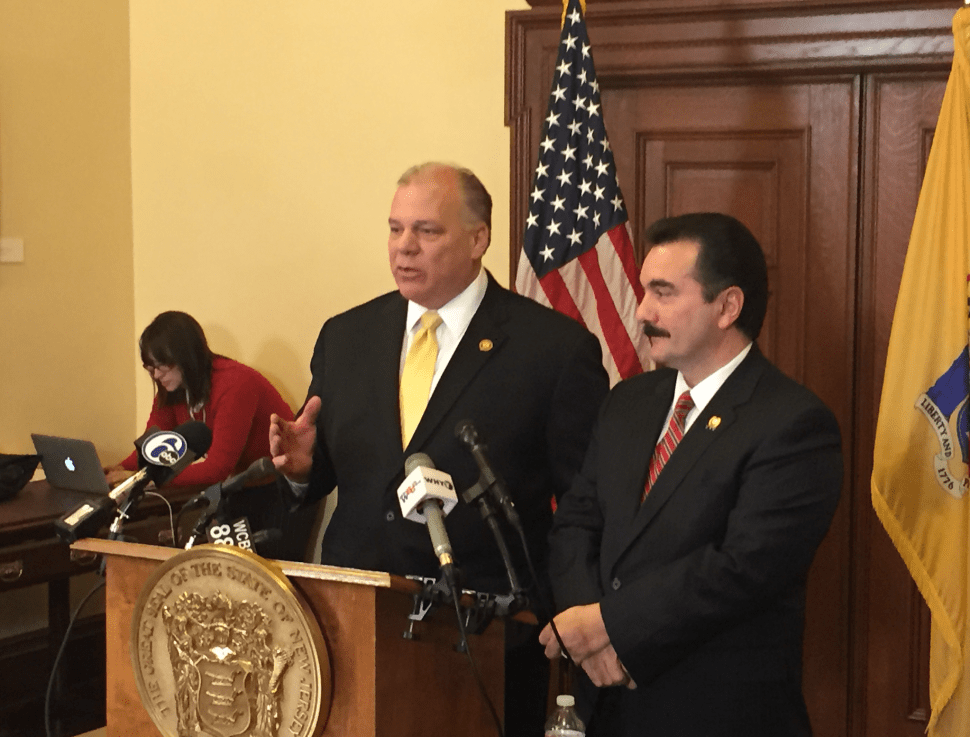 The Democratic Party leaders embroiled in the $15 minimum wage jam-up sat down with labor leaders at the Statehouse earlier today ostensibly to prevent a labor bloodbath.
Sources familiar with the meeting said Senate President Steve Sweeney (D-3) and Speaker Vincent Prieto (D-32) brought people into the conversation to "get everything out on the table" and give interested parties a sense of ownership.
Sweeney wants a start rate of $10.10 with $15 by 2023, but some labor leaders want him to move faster, and favor the initial plan put forward by Prieto, which would hike the state's minimum wage to $15 now.
Parties representing the following unions had a seat at today's table: SEIU 32BJ, SEIU 1199, SEIU state council, CWA, Building Trades, and the AFL-CIO. There were also advocates in the room.
They do have a bill, sources told PolitickerNJ, but there is no consensus among the labor voices regarding starting rate and phase in.  "There was nothing settled today other than they will all work with one another," one source said.
But part of the problem, according to one source, is who will lead on the issue for labor. Sweeney wants a collaboration run by the AFL-CIO, but that plan is meeting some resistance.
There's also the business community, at least member of which chafed when commenting about today's meeting: "There were no representatives from the business community at the meeting and we have not been offered one. We are certainly one of the sides and we are an interested party."
The issue is also proving an early conundrum for Democrats in battleground districts.
Newly elected 11th District Assembly Members Eric Houghtaling and Joann Downey said of the proposed wage hike: "While we support an increase in the minimum wage for hard-working families, we also recognize the concerns of the small businesses who are the backbone of our region's economy. We will carefully evaluate the plan put forth, talk with stakeholders throughout our district, and make a decision we believe is in the best interests of moving all our communities forward together."