David Carr, universally beloved media critic for The New York Times, died a year ago. Here is a memory from his daughter, the filmmaker Erin Lee Carr.
My dad sent me 1,936 emails between 2008 and 2015. Most were brief and business-oriented, even when the business was pleasure: "got tix for you, don't be late. xo, d." Others were longer, the type of letters that columnists claim people don't write anymore. They were unusual love letters filled but with the unflinching love of a parent who might miss my childhood if only he could stop being so damn excited about the adult I was becoming.
1,936 emails, but there's just one I keep returning to, where he told me, 'Please know that I am with you.'
honey,
we are so, so excited for you. 
please understand that you carry with you not only our love and support, but our admiration and pride in your decision to bring your ambitions roaring into the world.
your willingness to step out into the unknown and work, at a very young age, to launch an amazing professional life is congruent with who we are, but different in kind. we bring a sense of adventure to life, but often within a very small geographical footprint. you, on the other hand, are working on becoming a citizen of the world. you take our ambitions with you, our ambitions for you and for our family.
I'm sure at some point, probably sooner rather than later, you will look into the mirror and say, 'what in the hell have i gotten myself into?' you did not choose the easier, softer road, but on that will ask much and give much in return. oddly enough, you will become something new by remembering who you are. You are a Carr, and that is a complicated, wondrous inheritance. That means you are tough, you are smart, you are someone others want to be around. But it also means that mistakes of hubris, excess, and indulgence will stalk you. Be vigilant to those threats, making good decisions, not every once in a while, but as a matter of course. You are a long ways from home and the consequences and rewards for your decisions will fall to you alone.
That said, please know that I am with you. I don't just want to know about the good stuff. I want to know everything. And we are not a world away, but a short flight, a quick call, a vid chat across manageable time zones.
I don't worry about you professionally. The nickel I put on you is one that you needed to get started, but I have every confidence in your industriousness, willingness and substantial skill. You are an earner, a worker among workers.
As your father, I think its okay to say that you have some work ahead of you in your personal life. The willingness to come to rest with the self, with who you are and your own company is something that you will have to master. No one else can fill the hole in Erin. Only Erin can do that. Love and be good to that person in the mirror and you will love and be good to the people around you.
It is, as they say, time to put away childish things. Or as I sometimes say, put on the big boy pants. So much can come so quickly from this and if you act as if you are in the midst of building your future, the world will unfold in wondrous ways and bury you in promises you never dreamed of. Be equal to the path you have chosen. 
I can't even begin to think of all the fun you will have, the friends you will make, and the places you will go. I am deeply proud of who you are and what you are becoming. God has given you and I much–it's a long walk from the basement of my parent's home for this little family–and it makes me deeply happy that the adventure has taken this turn. Enjoy every second of it. 
With love and admiration,
faja

And then he wasn't.
My father collapsed at his office in the Times Building on February 12, 2015. My stepmom called me to the hospital, and panic enveloped me immediately. Dad was our fearless tribal leader (a self-assigned moniker). What the hell would we do without him? I was worried about my sisters, stepmom, my dad's extended family, and then as per the instincts of survival, I was worried about myself. Where to go from here?
I went to other people. I reached out to women who I knew had lost a parent. I asked them questions — basic, logistical issues, such as, "How do I sleep? How do I work? How do I stop myself from murdering someone when they tell me It Will All Be Okay?" The answers were in the same instructional DIY spirit: "I passed out when I was tired, I worked when I absolutely had to." Some answers weren't answers, just reality: "Waking up is the worst part because you have to remind yourself."
I'm a year out, and I'm still rendering. If I could talk to that grief-stricken kid, because I was a kid before my dad passed away, I would say this: You will feel uncomfortable when people light cigarettes around you. You will want to hit the mute button when friends complain about their parents. You will lose some of those friends. You will leave the room when your boyfriend picks up his phone to whisper hello to his very alive father. You will curse yourself for deleting the voicemails he left you. You will feel like the world is flooded with jello, and you're walking through it wearing ankle weights.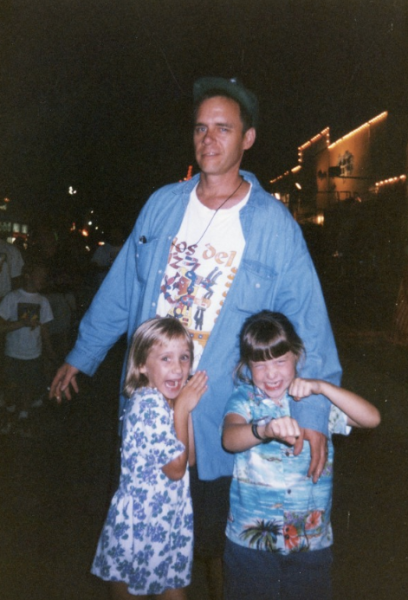 But if that kid kept listening, I'd continue:
You will start a group text with your sisters and stepmom to keep in touch and comfort each other. You will make it through work events without pulling a Christian Bale. You will show up for people as much as you can. You will join a grief group called The Dinner Party where you meet other men and women in their 20s and 30s who have lost a parent. You will learn that crying can feel good, especially when done away from work. You will stop drinking after conducting extensive field research on the reaction between wine and grief. You will spend hours scanning incredible photos from the 80s and 90s of the little family that could. You will find that your family, now even littler, still can. You will make your dad proud.
Six months ago, I had a big meeting. The kind of meeting that wrenches you awake at 6 a.m. in a cold sweat with the feeling that you hadn't ever really fallen asleep. I arrived an hour early, naturally, so I went to a nearby cafe. I was prepared, I had my hard drives, and they had great stuff on them, but I couldn't shake the feeling that I had forgotten something. As I sat there and stress ate a piece of chocolate fudge cake, I realized I felt off because I hadn't talked to my dad, a tradition I observed before every big meeting. I wasn't able have the prep phonecall the night before to go over the words that could win me anything. I had only my own thoughts rattling around in my head. I felt like I had lost my ace in the deck, and if you knew my dad, I promise you'd agree.
The meeting went well. I walked out in a daze and realized that a year minus one day earlier I had walked out of a meeting with HBO and headed straight to The New York Times. After an intense nine-month development deal, HBO had decided to greenlight my film. My dad was standing outside holding a cigarette and his cell phone. He looked up and said, "I gotta call you back, my kid's here." I told him the good news, and he smiled the biggest shit-eating grin: "I knew it." Inside, his coworkers came up to him to chat, but he wouldn't let them start before they knew: "Erin here was just greenlit by HBO." At that point, no paperwork had been signed, so I wasn't sure if it was the right move to start telling reporters from The New York Times. Dad hushed me when I tried to vocalize my worries.
A year and a day later, I was back with good news. I walked over to The New York Times and whispered my good news out loud. No one heard me, of course. I cried—and hard. I wasn't ashamed. I was closer to being the person my Dad saw when he smiled at me: a person who only existed because of combat with catastrophe, who survived that fight because of his confidence in me, and who learned that it's ok to take a moment to celebrate, even if the contract is not signed and the outcome is far from certain. There's only so many moments in a life, anyway.
Thanks, Dad. Miss you.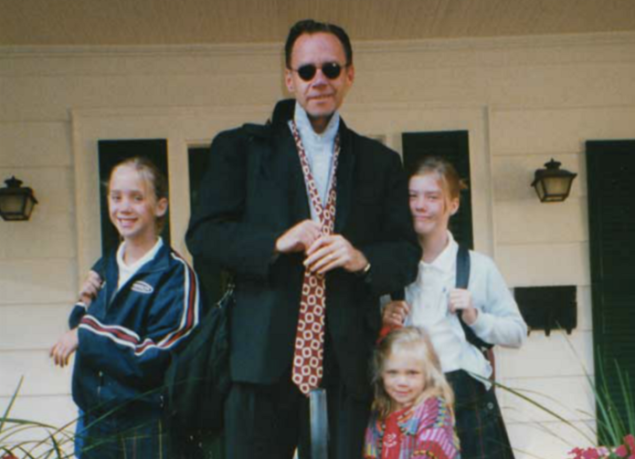 Erin Lee Carr is a filmmaker whose Investigating the Net will premiere on HBO. Follow her on Twitter @erinleecarr