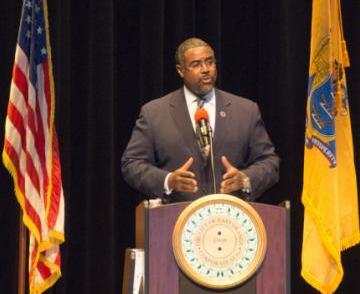 In New Jersey, the foreclosure crisis is not a distant memory, but an ongoing crisis tearing at the very foundation of our communities. In fact, New Jersey continues to lead the nation in foreclosures, holding the largest inventory of foreclosed properties at 4.4% – with no signs of easing in the foreseeable future.
East Orange and surrounding cities, comprised of hard working middle class families of color, are the hardest hit – not because of inaction, but based on the unfortunate fact that African-American and Latino homeowners were disproportionately targeted for predatory subprime mortgages in the run up to the economic and housing crash more than 8 years ago. In its wake, the federal government bailed out the banks, instead of bailing out homeowners who were duped into these toxic deals. Since that time, federal housing agencies like HUD, Fannie Mae and Freddie Mac, have been selling distressed mortgages in bulk to Wall Street speculators, private equity firms and hedge funds – essentially paving the way for a massive Wall Street land grab and stripping what's left of our communities' wealth.
Just in the last five months, more than 10,000 troubled mortgages in the United States were sold at a discount to Wall Street hedge funds and private equity firms. The Blackstone Group, one of the world's largest private equity firms, is now also the single largest owner of single-family rentals in the country. As a result, working families are being pushed out of their homes and priced out of the rental market.
As elected leaders in East Orange, we have taken progressive action to address the foreclosure crisis and stabilize our neighborhoods. In November 2014, we established a Division of Vacant and Abandoned Properties solely dedicated to identifying, registering and collecting fees and fines from agencies, such as banks and other creditors, who violate our city code. We are taking advantage of every opportunity  –including the enforcement of new state laws – that will help us to revitalize our city, boost property values and restore community pride. We recently broke ground on new affordable town homes with community partner, La Casa de Don Pedro. This project is just the beginning of revitalization efforts in the Greenwood Area of the city, a 20-block area with over 255 homes identified as vacant and abandoned. We are working closely with La Casa, Sierra House, the East Orange Housing Authority and private developers to rebuild this area and provide affordable housing options for our residents. We will also be sponsoring workshops to connect homeowners and lenders to discuss best possible solutions in lieu of foreclosure. At the local level, we are doing what we can, however, aggressive action is needed at the federal level if we are to save our communities and protect our families.
Fortunately, community groups like NJ Communities United, are organizing for this change, and non-profit housing agencies like New Jersey Community Capital, stand ready to purchase these distressed mortgages and provide homeowners with fair mortgage terms. Community Financial Development Institutions, like New Jersey Community Capital, have the resources and expertise to purchase distressed mortgages, provide principal reductions and mortgage modifications for families struggling to save their homes. In cases when it's not possible to avoid foreclosure, these non-profit housing agencies can use properties to create affordable housing opportunities.
This is why we are joining local elected leaders across the country to demand that Fannie Mae stop selling our communities to the highest bidder. To underscore our demand, the East Orange City Council will consider a resolution, sponsored by First Ward Councilman Chris James, calling on Fannie Mae to consult with East Orange before auctioning off any more homes in our neighborhoods. We are also calling on our colleagues in cities and towns across New Jersey to join this effort.
It is past time that HUD, Fannie Mae and Freddie Mac act as partners with local governments so we can do right by our residents, protect our homeowners and stop Wall Street's massive land grab in working class communities of color like East Orange.
Lester Taylor is the mayor of East Orange. Chris James is an East Orange Councilman