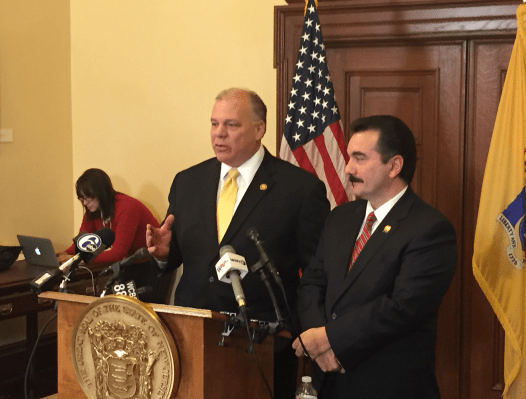 TRENTON — Senate President Steve Sweeney (D-3) and Assembly Speaker Vince Prieto (D-36) announced Friday that they will sponsor an effort to raise New Jersey's minimum wage to $15 an hour as early as 2021. Sweeney and Prieto's plan would immediately raise the wage to $10.10, then mandate annual increases. Sweeney and Prieto said that they will pursue a constitutional amendment through a ballot question if Governor Chris Christie vetoes the increase.
The ballot question would likely go to voters in 2017 after two consecutive majority votes. Sweeney, who is expected to run for governor that year, sponsored the ballot question that raised the state's minimum wage to $8.25 in 2013. The bill announced Friday joins a long list of Democratic-lead initiatives going to a popular vote to circumvent Christie through constitutional mandates.
"New Jersey workers deserve to be paid a living wage that enables them to support themselves and their families with the basic necessities," Sweeney said. "It's a matter of economic fairness and human dignity. No one who works a full-time job should be living in poverty, especially at a time when so much of the nation's wealth flows up to the richest one percent."
"It went up $1.13," Sweeney said of the 2013 increase. "But it's just not enough. We didn't get it right. I'm acknowledging it. We need to go back and do it and get it right."
The new plan marks a compromise between earlier proposals from the two legislative leaders. Prieto had introduced a bill to increase the minimum wage to $15 immediately, while Sweeney had introduced a plan following U.S. Representative Donald Norcross' proposal for incremental increases paired with tax incentives for employers who pay above the minimum. Constitutionally mandated increases tied to the Consumer Price Index would remain in place after the wage reached $15, Sweeney said.
"I'm pleased we've been able to reach an agreement on how to move forward on this issue because this will be one of the most critical things we do this year," said Prieto.
The plan faced swift opposition from the Republican caucus, with Senator Joe Kyrillos (R-13) calling the minimum wage measures part of the Democratic caucus' "socialist agenda."
"New Jersey's constitution shouldn't be used as a tool to execute a national Democrat socialist agenda," Kyrillos said. "We should instead have a thorough discussion about increasing the minimum wage it should be done in a collaborative manner by elected officials."
Down the road, members of the New Jersey Business and Industry Association voiced their opposition to any increase aiming at that $15 benchmark, saying that the proposal would force businesses to cut staff or raise prices. Tom Bracken, president and CEO of the New Jersey Chamber of Commerce, described the Democrats' minimum wage efforts as exclusionary at a press conference announcing the formation of their 501(c)(4). Christie castigated the NJBIA earlier this year for not doing enough to fund Republican legislative candidates, and laid the blame for Sweeney's 2013 ballot question victory at their feet for not "educating the public."
"We want a seat at the table to work with administrators and the administration," Bracken said of the minimum wage push. "This is a plea for inclusion, not the exclusion that has been in place for many years."