They've already nabbed Chris Hemsworth as the face of their watches, but TAG Heuer has announced yet another coup: yesterday they revealed details about a new partnership with Major League Soccer and the U.S. Soccer Federation. They have signed on as the official watch and timekeeper for the league and will be providing the substitution board used at each match.
However, fast-footed athletes won't be the only ones donning these timepieces, as the Professional Referee Organization is also included in this sponsorship. PRO referees will be outfitted with a TAG Heuer Connected Watch, the brand's luxury smart watch.
U.S. Soccer President Sunil Gulati said in a statement: "TAG Heuer has a long-standing connection to sports and an impressive history of creating precision watches used by high-level athletes across the globe. We're looking forward to the opportunity to work closely with one of the most innovative luxury brands in the world."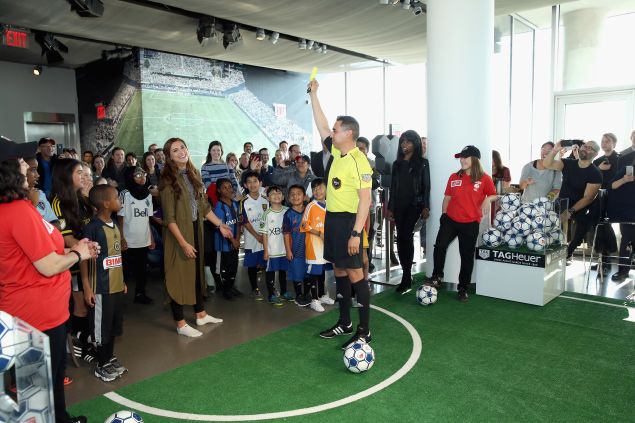 To prove their outstanding association with elite sports, the brand currently counts Maria Sharapova, Cristiano Ronaldo and Tom Brady as ambassadors. And at yesterday's announcement in Chelsea, Olympic gold medalist and American soccer star Alex Morgan was on hand to celebrate the partnership, and play with some pint-sized footballers in training.