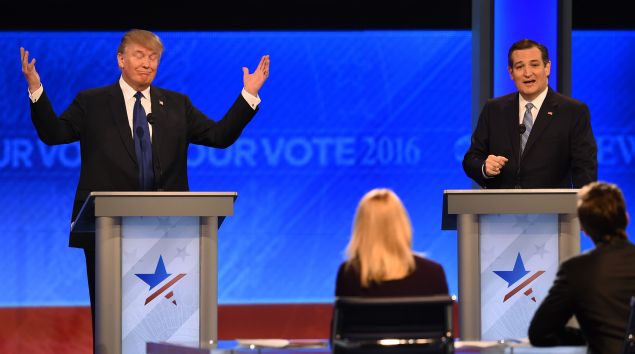 Tuesday night in New Hampshire went as well for Donald Trump as anyone could've possibly imagined.
He won big, and the Republican establishment clearly lost. Sen. Marco Rubio of Florida, Ohio Gov. John Kasich and Jeb Bush, the former Florida governor, were all given enough reason to remain in the primary, prolonging a bitter fight to become the true counterweight to the billionaire real estate developer and Sen. Ted Cruz of Texas, an insurgent reviled by his Senate colleagues. Rubbing Mar-a-Lago sand in the open wound, the establishment's best hope, the former Tea Party darling Rubio, polled behind Mr. Bush and Mr. Kasich, a cash-poor candidate with no current incentive to drop out.
The next run of Republican primary states are all expected to be very kind to hardline conservative candidates, like Mr. Cruz, and those who are speaking best to white working class anguish, like Mr. Trump. But March 15, when Ohio and Florida go to the polls, offers a glimmer of hope for the party donors, operatives, lobbyists and elected officials who see a Trump or Cruz nomination as nothing short of apocalyptic.
If a Republican other than those two can win the Sunshine State and Buckeye State, he will probably be on his way to locking up the nomination, regardless of any southern bloodbaths to come.
"If one candidate wins Florida and Ohio, he will be very difficult to stop. That one day I think is judgment day for the Republicans," said Dave Wasserman, the U.S. House editor of the Cook Political Report and a close watcher of the 2016 election. "And if those two states split, it signals the race will continue from March to April and possibly June."
As Mr. Wasserman noted in a story for FiveThirtyEight, the next run of states through March 1 are very favorable to Mr. Cruz and Mr. Trump. Luckily for the establishment, the states in the so-called SEC primary will award delegates proportionally, so losers can still walk away with some spoils.
Ohio and Florida are winner-take-all states. Win the states by 20 points or 2, it doesn't matter—all of the delegates are yours. Ohio is worth 66 delegates. Florida is worth 99. Compare that to much ballyhooed Iowa and New Hampshire, which awarded 53 delegates combined, divvied up among several candidates.
Ohio and Florida have always preferred moderate Republicans to anti-establishment crusaders. Mitt Romney and John McCain won there.
The problem with Ohio and Florida becoming a firewall for the establishment is that the field must narrow first. A three-candidate field with Mr. Trump and Mr. Cruz will be the best way for traditional center-right Republicans to save themselves, considering how Mr. Rubio and all the governors currently running could've combined their vote totals to easily defeat Mr. Trump in New Hampshire.
Mr. Kasich's campaign told the Observer they intend to remain in the race to win Ohio, where he is very popular among Republicans and has developed an extensive campaign infrastructure. This would make Mr. Kasich, in theory, the right moderate to stand up to Mr. Trump and Mr. Cruz, who is ill-suited for the Buckeye State. But Mr. Kasich has far less campaign cash than Mr. Rubio and Mr. Bush and may get completely swamped in the South.
Mr. Rubio and Mr. Bush are from Florida. If both are still standing on March 15, there will a nasty fight for their home turf, and Mr. Cruz and Mr. Trump will get to enjoy two well-funded candidates mauling one another. Considering the staggering sums Mr. Bush spent on New Hampshire, winning 11 percent of the vote isn't all that impressive and he may be forced from the primary by the time March 15 rolls around. Mr. Rubio cannot win the nomination, and consolidate the various factions of the GOP in the way he has promised, without winning Florida.
It's also not out of the realm of possibility that Mr. Trump, a native New Yorker with a liberal streak on fiscal issues, wins those two states. Anything seems possible with him.
Also possible, for the first time in several decades, is that no candidate will arrive with the 1,237 delegates needed to clinch the nomination before the Republican National Convention in July. Mr. Wasserman said he only foresaw Mr. Trump or Mr. Rubio carving a credible path to 1,237, but Mr. Cruz could still have a significant number heading to the convention. This will mean a true backroom fight for votes like the olden days, and a veritable bonanza for political reporters and a lot of confusion for everyone else. Beyond the press, a brokered convention is no one's notion of an ideal outcome.
What may happen in July, or even the next month, is anybody's guess. There has never been a Republican primary like this one.
Disclosure: Donald Trump is the father-in-law of Jared Kushner, the publisher of Observer Media.