There are reasons mayors don't become presidents.
Their dominions are smaller. It can be harder to rise to national renown. Running a large city is a messy, thankless job, and a record of failure inevitably accumulates to rival any accolades.
Now that Michael Bloomberg, the former New York City mayor, is back to openly dreaming about living in the White House, it's important to remember that his reputation as a technocratic, non-ideological problem-solver could be routinely flayed and undermined by his presidential rivals, whoever they will be, inviting the kind of scrutiny the occasionally peevish billionaire always hated.
A Bloomberg presidential bid would familiarize voters across the country with more than just his crusade against gun violence and big sodas. If the Republican-turned-independent gained traction, voters would be reminded of his greatest stumbles and scandals, which were ultimately overshadowed by his stewardship of a growing economy and falling crime rate. CityTime, Cathie Black, Bermuda, Build it Back and the third term would gain meaning to people beyond New York City, and Mr. Bloomberg would have to reckon again with the warts of his mayoralty.
Were Mr. Bloomberg simply a businessman like Donald Trump, his life on the campaign trail would arguably be easier. Mr. Trump's real estate career, though punctuated with plenty of success, is littered with bankruptcies and belittled by his Republican opponents. Mr. Bloomberg is a self-made billionaire whose money-making acumen and net worth is rarely in dispute. At the latest televised Republican debate on Thursday, Sen. Marco Rubio of Florida acidly quipped that Mr. Trump would be "selling watches in Manhattan" if it weren't for the inheritance from his father, the prominent developer Fred Trump. Mr. Bloomberg, who grew up in a middle class household, went from being a laid off investment banker to founding a revolutionary financial information company.
Forbes pegs Mr. Bloomberg's net worth at $36.5 billion. That's $32 billion more than Mr. Trump's. Mr. Trump, the front-runner for the Republican nomination, aggressively contests this figure, but it'd be hard for the celebrity mogul to argue he's been better at making money than Mr. Bloomberg.
But if Sen. Bernie Sanders of Vermont, a self-described democratic socialist, overcomes steep odds and wins the Democratic primary—the most likely event to trigger a Bloomberg candidacy—both he and Mr. Trump would be able to find other ways to pick apart the former mayor, if that's what the dynamics of the race called for.
It's easy to forget that for all the recurring awkwardness and self-inflicted quagmires of Mayor Bill de Blasio's tenure, he rose to power in 2013 on a tide of Bloomberg fatigue. His critiques of Mr. Bloomberg were populist: as a billionaire, he was out of touch with every day New Yorkers, and his NYPD's stop-and-frisk policy punished minorities, liberals argued. The mass frustration powering the Sanders and Trump campaigns would find plenty to hate about an imperious former big city mayor, one who believed in American capitalism's unquestioned power to lift all boats while enriching people who deserved it. In a year of such turbulence, a pro-choice, fiscally conservative executive with a belief that government still needs to micromanage certain aspects of peoples' lives may not be what the electorate craves.
Beyond these critiques, there's an easier, soundbite-ready case to make against Mr. Bloomberg, were his rivals to go there. In the Thursday debate, Mr. Rubio appeared to unload his oppo file on Mr. Trump, and any presidential candidate desperate enough could do the same to Mr. Bloomberg.
A spokesman for Mr. Bloomberg declined to comment for this story.
Many of the Bloomberg administration's greatest failings came during his third term, when a large number of New Yorkers believed he shouldn't have been in office. With the help of a pliant City Council speaker, Mr. Bloomberg was able to compel the Council to vote themselves, and himself, a third term in 2008, a violation of a two-term limit passed a decade before. Wildly unpopular, the vote ultimately sunk the fortunes of that Council speaker, Christine Quinn, who lost to Mr. de Blasio in 2013.
Mr. Sanders and Mr. Trump may acquaint themselves with the CityTime corruption scandal, the kind of staggering, head-scratching mess that could have torpedoed other administrations. Its genesis was actually in the prior Giuliani administration, when the city outsourced a contract to design a payroll system that would track the hours worked by city employees. Under Mr. Bloomberg, the contract ballooned from $63 million in the 1990s to more than $700 million. In 2011, a federal indictment charged that more than $600 million of that money "was tainted, directly or indirectly, by fraud" and three men were eventually sentenced to 20 years in prison each for their role in the scheme. Mr. Bloomberg conceded he should have overseen the contract "more carefully."
The 2011 indictment came the same year that Mr. Bloomberg suffered another embarrassing setback: his schools chancellor, clearly unprepared for the role of managing an educational system of one million students, was forced to resign after only 95 days on the job. Like her predecessor, Joel Klein, Cathie Black, a magazine executive, had no background in education—though she fared far worse. She offended parents by joking that the solution to overcrowding in schools was more birth control. She equated satisfying demands for classroom space to making "many Sophie's Choices," a reference to a novel and film about a mother who is forced to decide which of her children is killed in a concentration camp. Even Bloomberg aides complained privately she knew little about educational policy.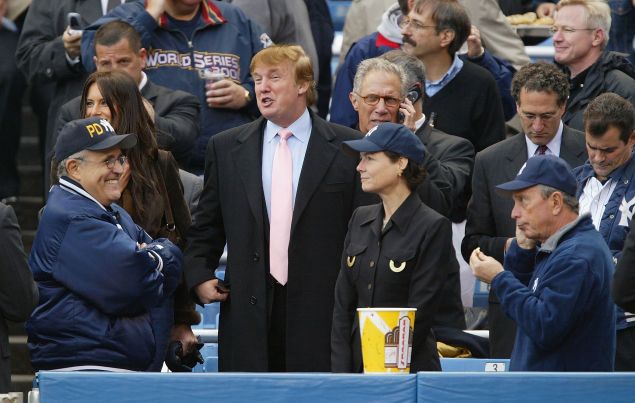 Just about a month after Ms. Black's appointment was first announced in November 2010, a blizzard walloped New York City. Many streets in the outer boroughs were left unplowed, and an administration heralded for its competence was maligned by other elected officials and the media. The enduring image for New Yorkers, which will either be deeply problematic for the national electorate or a boon, given the appreciation voters have shown for Mr. Trump's ostentatious lifestyle, was Mr. Bloomberg riding out the storm in Bermuda, his weekend home. Mr. Bloomberg looked even more out-of-touch when he returned to New York, insisted the city was moving along as normal and encouraged people who could barely get out of their driveways to go see a Broadway show.
Hurricane Sandy ravaged parts of New York City in 2012, again testing the Bloomberg administration's ability to manage the aftermath of a disaster. Mr. Bloomberg was praised for helping to lift the city out of its economic doldrums after the 9/11 attacks, forcing through an unpopular tax hike to raise much-needed revenue for city services. Sandy, however, would leave parts of the city without power for weeks and lead residents of the outer boroughs to fume about Manhattan receiving preferential treatment.
Most damning for Mr. Bloomberg was his administration's struggles to rebuild damaged neighborhoods. Build it Back, conceived as a way to reconstruct homes by providing help while also avoiding the waste and corruption that plagued the aftermath of Hurricane Katrina, was hobbled by an overly rigid and mismanaged application process, delaying rebuilding. Hundreds of millions in federal funds earmarked for the program sat unused for many months after Sandy struck; as late as February 2014, no homes had been rebuilt through the program and no homeowners had been given reimbursement checks.
And then there is at least one unseemly parallel between Mr. Bloomberg and Mr. Trump. Last year, Mr. Trump was accused of viciously mocking a New York Times reporter's physical disability. The former mayor—who disdained journalists enough over the years to call one a "disgrace" and dismiss another for smirking at him—once lashed out at a wheelchair-bound reporter who found his tape recorder accidentally playing old audio during a press conference.
"Can we just stop this, and maybe we'll start again?" Mr. Bloomberg fumed at the 2009 press conference, according to the Times.
Ms. Quinn, the City Council speaker at the time, concerned about Mr. Bloomberg singling out the reporter, leaned over into the mayor's ear to tell him he was disabled.
"I understand that—he can still turn it off," Mr. Bloomberg snapped back.
Eventually, after a full 60 seconds, the reporter was able to turn off the recorder.
Disclosure: Donald Trump is the father-in-law of Jared Kushner, the publisher of Observer Media.