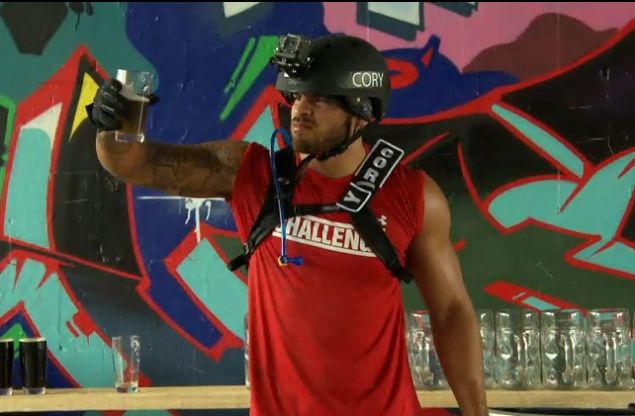 To be honest, I thought last night's episode of The Challenge was going to be the season finale. Now, as a die-hard fan, I am always thrilled for there to be more episodes. That is a true fact. But there is an exception and that is when at the end of the season, they throw in a fluff episode. In sitcoms, it's the flashback one where for example Webster will have a problem and then George and Ma'am sit him down and talk about all the great times he's had since he came to live with them and then they flashback and show him getting locked in the room under the stairs for the first time from before when he knew his house had secret passageways. Some reality shows love the flashback episode, too. Big Brother for example always does a Final 2 flashback where the two last remaining houseguests sit lounge around and talk about how crazy the whole summer has been. Flashback episodes are only good for one thing. If you're watching a rerun on a Sunday afternoon in 1991 and the first episode you see is a flashback one, maybe you tune in the next week at that time and place to see all the other hijinks you've missed. They're certainly not conducive to binge watching or even just watching a season air in a regular fashion.
But The Challenge does something different. Instead of a flashback episode, they break the Final Challenge up into two parts split up over two weeks and add more padding than Mary Hart's '90s blazer budget for Entertainment Tonight. Part One of this year's finale would be about twenty minutes of a regular episode. It's really a multi-layered problem. One, it drags. Two, they set up all this great stuff at the beginning which won't be delivered on until a week later when we've all forgotten about it. For example, the first clue that they get via text has TJ sending over "my boy Franz." Of course TJ has a boy named Franz, an older gentleman who comes by to take measurements of everyone. Why is he taking measurements? Well, in the trailer we see that next week they're going to be running a leg of the Final in suits. In full suits! I love it. Like dapper adventurers. Seeing the clips of them canoeing in suits–it has me. But will I remember this incredible Franz set-up then? Okay probably because it was really good, like I still remember Jenna and Brianna's fight about the bakery but still it's not an ideal way to do this. Another example, we keep hearing how this is the FIRST FINAL TO BE RUN THROUGH A MAJOR CITY. Sounds good. Well this whole episode takes place in this remote former CIA complex in the middle of nowhere. For this Final to be taking place in the middle of a major city there def is not one other person around at all. Okay, so that is another thing I guess we'll see next week.
So what do we get to see this week? A four-part obstacle course that is part-one of a five-part Final. The three teams, Jenna / Brianna, Cory / Mitch, and Jamie / Cara Maria have to lug bags around 120lbs for the guys / 60lbs for the women, and complete some checkpoints. The first part was rolling barrels up a hill and stacking them. The second one was maybe the meanest thing ever done to anyone in the history of the show. They had to use a seesaw contraption to catapult beer mugs into a barrel. For everyone they missed, they had to chug a non-alcoholic beer. They ended up chugging a lot of non-alcoholic beer. This part was good because we got our requisite Cara Maria meltdown. She trained so hard for this, endurance, weight lifting, etc, but what she wasn't ready for: janky carnival games. Here is one way the episode felt padded. The maximum amount of times I need to see people throwing up is four. And I mean good, hard waterfall ones. Anything beyond that is gratuitous. But because of this beer-chugging event, I think there was abut eight minutes of throw-up. I like the throw-up parts. But no more than four. Also, while the teams are carrying the bags, I don't need to keep seeing how hard they are weighing down the contestants more than twice per team. Even if it takes them six hours to finish, it doesn't matter. I know 120lbs is heavy. I don't just watch this show, I participate. I'm writing this right now with 120lbs strapped to my back. It sucks. And this is the last time I'll mention it. The third leg was a Tetris-looking puzzle that everyone solved quickly because we don't need to see twenty minutes of puzzle solving even if it really took that long. The final leg was something with tires that I'm not going to go into because it doesn't matter and I don't want to pad this out any more than it needs to be. That's called good economics.
Jenna and Brianna surprised everyone by coming in first. Cara and Jamie got second. Cory and Mitch are in third. Next week, we'll get all four of the other parts of this and then they will add up all the times and we will have a winner. They finally revealed the money breakdown: 1st: $250,000, 2nd: $75,000, 3rd: $25,000 per team.
The rub on this all isn't that we have to wait a week. I salute the Producers ability to cut a promo. They are the best in the game. It's that next week, there are three hours of The Challenge basically being burned off in a night. The finale is at 10. The Reunion is at 11. And the Shit They Should've Shown is at 12. (The Shit They Should've Shown episode is sort of like a flashback episode but it's mostly all new content and interviews so it's different). It just feels like this episode could have had more to it, allowing next week's collection to be aired less densely. But the final is nearly over and we will have new Challenge champs no matter what, so that is something to be excited about. Let's go Jenna.