Talking about money can be awkward. Especially when the talking is being done by members of the City Council, who are poised to give themselves a $36,000 raise that exceeds the recommendations of an independent commission—and when some members are arguing they deserve even more.
"One awkward feature of democracy is that elected officials have to set their salaries," Councilman Brad Lander, a proponent of the pay hikes, said during a hearing today. "Most people don't have that ability in their lives."
The pay increase will come along with hikes for other city elected officials, who will all see various spikes in their compensation that were worked out by a three-member body known as the Quadrennial Commission. But the Council's raises have garnered the most attention: in part because they come with major reforms—including a ban on outside income and ending stipends for leadership positions, known as lulus—and partly because the Council has decided to tack on an extra $10,000 to the Quadrennial Commission's recommendation of $138,500, bringing their salary to $148,000.
And even though the Council went beyond the commission's recommendation, some members argued they should have gone further. Councilman Ydanis Rodriguez argued that constituents come up to him to talk when he goes to restaurants or funerals, that he attends meetings at night, and said he works "more than sixty hours a week."
"We have a right to make a living, to support our family," he said. "For me, this is a big compromise that we're doing today. Our salaries should be $175,000."
The median household income in New York City is $58,003.
Council Speaker Melissa Mark-Viverito said after the hearing she didn't agree with Mr. Rodriguez's figure.
"That, I'm not in agreement with. Obviously there's an amount on the table and that is what I believe strongly is the number that it should be," she said. "I stand by that number and I don't believe it should be higher."
Good government groups have backed many aspects of the Quadrennial Commission's report, including higher pay for lawmakers and especially the end of lulus—but Susan Lerner of Common Cause said arguing they deserve even more probably would not help the Council's cause with the public.
"The argument that this was not enough really did not help the position of supporting a substantial raise, frankly," Ms. Lerner said.
While the commission makes its recommendation, the pay level is ultimately up to the City Council (though the mayor can veto it), and they said today they added $10,000 onto the commission's recommendation as compensation for giving up outside income.
But Frederick "Fritz" A.O. Schwarz Jr, the chairman of the Quadrennial Commission, said the commission had decided not to compensate the Council for that change for two reasons: only four members of the council earn the kind of outside income that would be prohibited, and those four members will be grandfathered in until the end of their current term even as the pay raise will begin immediately—meaning they will get $10,000 for giving up their outside jobs while they continue to hold their outside jobs.
"No present City Council person is adversely effected by the change until the end of this term," Mr. Schwarz said.
But Ms. Mark-Viverito argued that Council members were giving up the possibility of outside income.
"That still is available to council members even though they're not availing themselves of it," she said.
After the hearing, Mr. Schwarz said the members had made "decent points." Even if he didn't agree with the extra $10,000, he was "not against their passing these extremely excellent reforms."
The good government groups cited the money for giving up outside income as an issue.
"It's illogical that the Council is banning outside income for people who do not have any outside income, and then getting rewarded for it. And this is the problem with this process," Dick Dadey of Citizens Union, who has called for the vote to be delayed, said. 
But Citizens Union and Common Cause have argued higher salaries attract quality candidates, while limits on outside income reduce the possibility of conflicts of interest—like those seen in recent scandals in the State Legislature in Albany. Mr. Lander touched on that theme in his opening remarks, saying that while the public may have "sticker shock," the other option is to allow wages to fall and members to pursue outside income, at the public's peril.
Of course, there is another option: the Council could vote to raise pay for the next term of lawmakers, and not for themselves. That would be keeping with the guidelines in the U.S. Constitution for how Congress sets salaries. Mayor Bill de Blasio and Manhattan Borough President Gale Brewer have both said they will not accept raises until their next terms, and it's something the legislation will require for future Council members.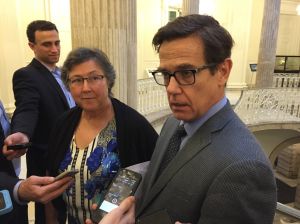 "The Council is trumpeting these very reforms which are not necessarily going to apply to them right now," Mr. Dadey said.
The raise for the elected officials has brought up another issue: the salaries of the people who work for them. The size of the pay increase for council members—$36,000—is close to or even higher than the entire annual salaries of many people on their staffs. Some members pay their chiefs of staff—a top position—under $40,000 a year. Those salaries are set by individual council members, who choose how much of their budgets to spend on salaries. Several today said they wished they could spend more.
"I have made a commitment to provide more resources to council member offices to take that into account," Ms. Mark-Viverito said. "We believe that fair compensation is needed for everybody."
Some have also questioned the timing of the raise—and whether it's something of a reward for taking a vote on an unpopular bill to ban horse carriages on city streets, trumpeted by the mayor. Ms. Mark-Viverito argued they didn't control the timing of the report, though she most certainly controls when votes are taken in the council.
"I understand the timing is not particularly the best but unfortunately there are times when that will happen here in the council and there are two bills that we're moving forward as of Friday," she said.
Ms. Mark-Viverito said she was not concerned with how today's hearing would reflect on the council's image. Several members had argued they work harder than other elected officials in the city—with longer hours, and more direct interaction with constituents. Councilwoman Inez Dickens—who has come under scrutiny for her own outside income as the landlord of properties with many safety violations—said council members face more direct appeals than other city elected officials, and cited the example of helping to pay for a constituent's funeral.
"We give money to them out of our pockets," she said, asking whether the commission had considered that.
"On the generosity that you have, that's admirable, and the fact that part of the City Council person's job is working with constituents is definitely true," Mr. Schwarz said. "The other offices do it too."
Mr. Rodriguez asked whether the commission had found members work "even more than 100 percent." He clarified: "When we quantify the hours that our job require, what we do, that we do put more hours than for the definition of full-time?"
"We never received time sheets," responded commission member Paul Quintero.
Nor did the commission receive any testimony from any of the council members who so passionately argued they should get a raise today, Mr. Schwarz noted.
Several times during the hearing the members seemed to undercut their own argument about their work. The proceedings started late, with members slow to arrive. Plenty, including Mr. Rodriguez, left before Mr. Schwarz finished testifying or the good government groups started. Councilman Ben Kallos, chair of the committee holding the hearing, openly acknowledged that members rarely stick around to hear out all the people who testify at their hearings.
"We actually have multiple members who stayed for the entire hearing," Mr. Kallos said, seeming pleased. "That is incredibly rare."