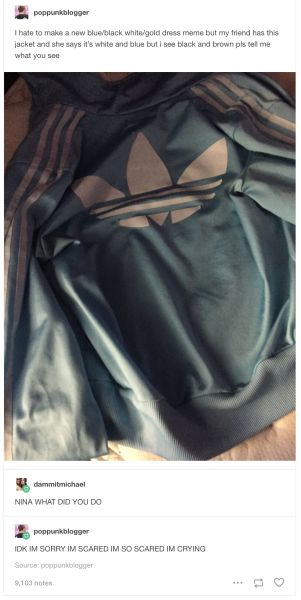 Blue and black? Or beige and white? It was the question that tore friendships apart last winter, and, just in time for the one-year anniversary, a Tumblr post has a new optically puzzling garment: a jacket that is…well, you decide.
Some are claiming the jacket is green and gold, while others see blue and white, black and brown or other combinations. A BuzzFeed poll on the jacket found 71 percent of respondents agree that it's blue and white, while 10 percent said black and brown, eight percent green and gold and five percent green and brown. Six percent of respondents were simply disgusted at the re-emergence of the comparative clothing colors phenomenon.
SEE ALSO: 'The Dress' Is 1 Year Old Today—You Won't Believe How It's Impacted Science
Other published polls have disagreed, however. Blue and white led black and brown by a margin of 42 percent to 31 percent in a Hollywood Life poll with green and gold scoring a respectable 20 percent and green and brown once more far back at 7 percent. An AOL News poll had blue and white outpacing green and brown, 38 percent to 20 percent, respectively. Black and brown and green and gold were nearly tied with 17 percent and 15 percent, respectively, and "MAKE IT STOP" pulled in a respectable 10 percent. (This is your chance to throw in a joke about the Republican primary polling, so don't miss it.)
The jacket, apparently made by Adidas, first became notable after a Tumblr post arose, highlighting the lack of obvious color. Although not as prominent a phenomenon as the dress so far, reactions across media and social media have been pronounced.
Hopefully this time we won't see families torn asunder quite as readily as they were in last year's dress fiasco, but…well, that may be a pipe dream.