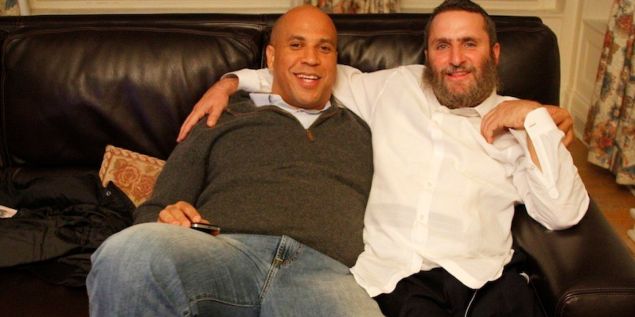 At a time of historic political and social divide in our nation, New Jersey Senator Cory Booker is putting himself out there as a unifying voice. Today, the Garden State Democrat released his first book, United, recounting personal stories of his "political and personal awakening." Mr. Booker's message is one of cooperation—working together for the common good. United traces Mr. Booker's journey from taking up residence in a violence-ravaged neighborhood in Newark (Brick Towers) with the goal of uplifting the community, to key moments in his political career.
The junior senator shares with readers the moment he held a young man, gunned down, who would eventually die in his arms, as well as fascinating revelations about his family history courtesy of his appearance on the PBS series, "Finding Your Roots With Henry Louis Gates, Jr." Mr. Booker's passion for issues such as criminal justice reform and the environment are evident throughout the book. His concern for the working poor appears to be a dominant theme in his life.
With more than six pages acknowledging people to whom the senator is 'indebted,' Rabbi Shmuley Boteach stands out as a glaring omission.
United is a safe and unrevealing book that reads as a test balloon for a hoped-for vice-presidential run. It offers few new insights into his life, with the exception that Mr. Booker had fallen in love with a woman in 1996. For those who have followed the senator's career and have read even a small fraction of the articles written about him, what is not in the book may be what is most revealing.
With more than six pages acknowledging people to whom the senator is "indebted," Rabbi Shmuley Boteach stands out as a glaring omission. He's entirely unmentioned in the book. The well-known rabbi (who writes frequently for the Observer) is known to have enjoyed an unusually close friendship with the senator for more than 20 years, since they met at Oxford University, where Mr. Booker was a Rhodes Scholar and Mr. Boteach headed the prestigious school's L'chaim Society.
Both men have described their long and close friendship in the media on multiple occasions and frequent guests at the Boteach family's large Shabbat dinners have seen Mr. Booker there dozens of times. Just a year ago, in a major Times of Israel piece about Mr. Booker's deep support in the Jewish community headlined "A Love Story," the senator glowingly describes the influence Mr. Boteach and his family have had on him. He went on for several paragraphs detailing the closeness of their relationship and lovingly recounted the unexpected origins of their friendship.
That friendship was critical to Mr. Booker's advancement through the trenches of New Jersey politics as Jewish donors embraced his campaigns and provided the fuel for him to challenge the entrenched machine in Newark. Mr. Booker's skillful deployments of Yiddishisms and Old Testament teachings before Jewish groups are eaten up like lox at the kiddush following a long service. And yet, Mr. Boteach's influence on Mr. Booker—indeed, any mention whatsoever of his existence—didn't find its way into the book's 240 pages.
When a reporter brought the omission to Mr. Boteach's attention, the rabbi wasn't surprised the senator did not acknowledge his impact on Booker's life, explaining, "It's no secret that our relationship has become very strained, as I was shocked that Cory voted for the Iran deal." Since September, Boteach has publicly voiced his disappointment with Booker. This comes after he publicly reassured the Jewish community and supporters of Israel that Booker would "do the right thing" regarding the Iran nuclear deal.
"If Cory expected me to be silent while playing politics with the future of my people, I could not do that. If he expected me, in the name of our soul-friendship and my 25 years of dedication and personal loyalty, to remain silent while Iran is given an astonishing sum to kill people and threaten Jews with a second Holocaust, he could have never have expected that," explained Boteach. "As for the omission, it's a small price to pay for speaking out for the protection of my people. I understand that Cory is upset that I criticized his decision. I understand that he feels that in the name of friendship I should have been silent. He'll just have to get over it. Protesting incitement to genocide transcends every consideration, including what is to both of us a very special friendship."
Mr. Boteach continued, "We will always be soul-friends. We will always be very close and if he thinks this is what he has to do, it's a tiny price I have to pay. He knows me, and knows, that unlike other rabbis and Jewish leaders I have introduced him to over the last 25 years, who chose to remain silent, who have given him and others who voted to legitimize Iran political cover so they can protect their political access, I could never remain silent."
Booker and Boteach first met at the Chabad Jewish student center in Oxford, England on the night of the Jewish festival of Simchat Torah in 1992. Mr. Booker had been stood up by his date and Mr. Boteach, the young Chabad rabbi, would welcome the young African-American scholar to join the celebration, ultimately changing both their lives. A simple search on YouTube reveals the strong bond between the two men over the years. One could argue that if United were made into a movie featuring clips of Booker and Boteach speaking together, it would crystallize Booker's message of trying to create a more compassionate and caring world. In a story last September, around the time of the Iran vote, the Observer broke the news that Mr. Booker had convened an "emergency summit" with New Jersey Jewish leaders to allay fears about his decision to back the president's deal with Iran. That story alludes to fissures in the Booker-Boteach bond.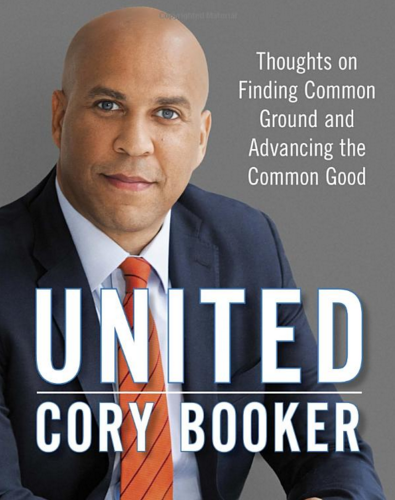 Sen. Booker did not respond to numerous interview requests and questions sent via email through Susan Corcoran, SVP, Director of Publicity, Ballantine Bantam Dell/Random House. She responded, "We have limited time with him for the book launch and that time is now filled to the breaking point."
Despite the slight, Mr. Boteach still considers Mr. Booker a dear friend. "Cory will always be a soul-friend. We've had so much history together and he has said numerous times in public and on the record, very flatteringly, that I am arguably the person who has had more influence on his life than any other person and I took his life in a totally different direction."