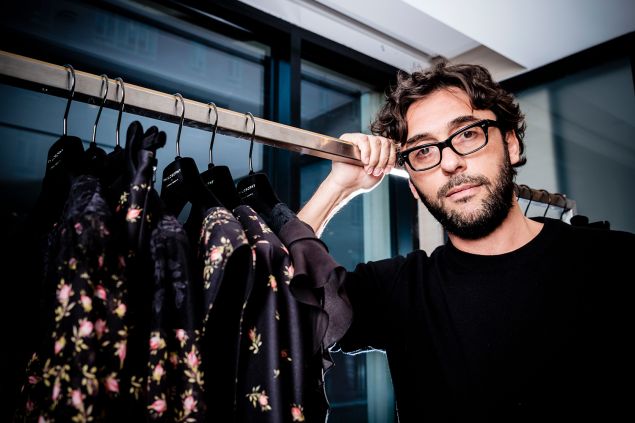 Lorenzo Serafini wants women to be comfortable in his clothes, and he's one of the few international fashion designers not afraid to admit it. The Italian creative thinks women should be able to drink, eat and dance in his creations but without sacrificing her identity, as feisty or subdued that may be.
"When you are not feeling comfortable you lose your attitude. You completely waste the look that you are wearing. You keep that attitude of confidence in these clothes," he explained.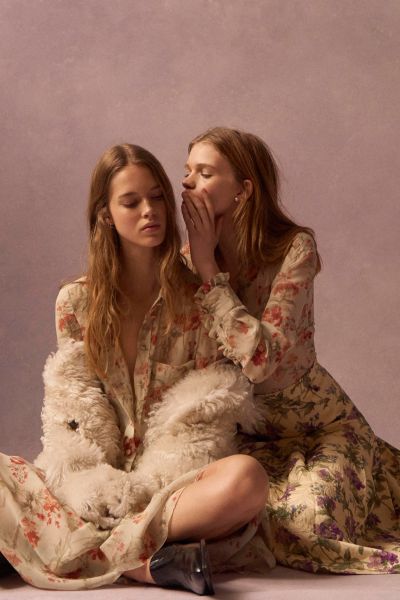 Mr. Serafini was a vision of confidence himself when he explained this concept to the Observer, curled up on a couch in a private nook of Barneys New York. He was in town from Milan to present the pre-fall 2016 collection of Philosophy di Lorenzo Serafini to editors and valued customers. Surrounding his comfy couch were racks of purely romantic clothing—with a kick.
Lightness was delivered in the form of black silk frocks dotted with tiny English rosebuds, a shirtdress with a 3-D bamboo print adopted from the embroidery on an ancient Chinese pillow. There was lots of lace, prim bows and ruffles, too. Color blocked cable knit sweaters added texture and an Edwardian white rabbit fur jacket provided structure. Knee-high, lace-up boots finished off this collection with a taste of grunge.
It's no surprise that the '90s inspired this range. "That is when I started loving fashion," Mr. Serafini said. "It was a special period and I tried to capture the peculiar attitude of vintage-y pieces. I like to think these clothes have a previous story."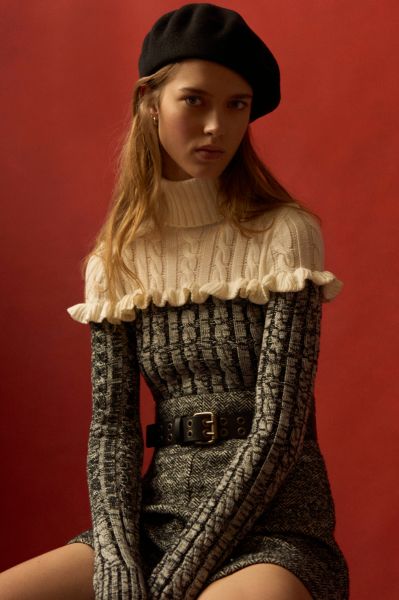 Mr. Serafini's name was affixed to the Philosophy label in October of 2014, when he stepped into the space that was left vacant following Natalie Ratabesi's departure in June 2014.
Before snagging this gig, Mr. Serafini was stationed at the helm of Dolce & Gabbana, where he spent years as the lead womenswear designer for the Italian sexpot brand. Before that, he churned out designs under the Roberto Cavalli label. During his time at these two unapologetically sexy Italian brands, the designer stayed out of the spotlight and created pieces that aligned with their overly seductive aesthetics.
"I feel so lucky to have worked with so talented people, such great human beings as well, but my style is the opposite of what I used to work for," Mr. Serafini said. "What I learned from them is to work hard and always follow your identity. You have to follow your own instinct, your own vision, your own feelings."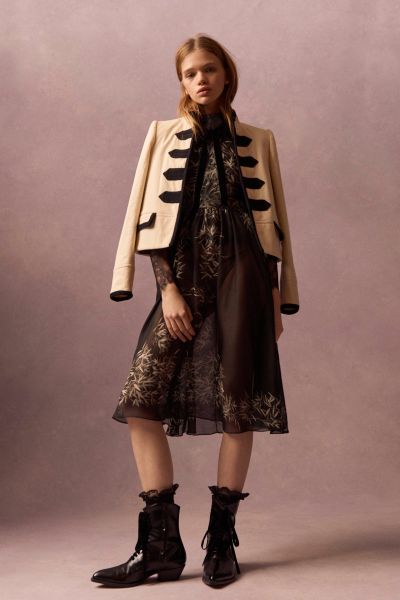 His dedication to adding a personal touch hasn't gone unnoticed. "Under Lorenzo Serafini's guidance, Philosophy has resurfaced as a refreshed romantic collection with a touch of coolness at its core," said Tomoko Ogura, the senior fashion director of Barneys. "We were drawn to the feminine aesthetic but also to Lorenzo himself who has a charm and youthful spirit which he embeds into the overall attitude of the collection."
The Philosophy range is exclusively carried at Barneys in New York, and when the retailer opens up in Chelsea this February, Philosophy will finally arrive downtown, where this whole personal style theory will be embraced with open (and well-accessorized) arms.
***
Confident pairings of color and form have made Mary Katrantzou's line a go-to for young professional women and those seeking to enliven their environment with something unmissable. For Ms. Katrantzou, the pairing is second nature, translated into designs that literally come alive. Although the Athens-born Ms. Katrantzou now has what Moda Operandi co-founder Lauren Santo Domingo describes as a solid business, she did not come to fashion through a burning desire to be a designer. Instead, she started out studying surface design at Central Saint Martins College of Art and Design in London. Her skills were so strong that the then fashion MA course leader Louise Wilson encouraged Ms. Katrantzou to consider fashion.
"It was a challenge for me," Ms. Katrantzou told the Observer,  "I wanted to invest my talent in a different way and spend time with somebody who I respected, to see if I had something remarkable enough to go into fashion."
It turned out her talent was enough to drive a unique fashion brand into the 21st century. The company has just taken on its first CEO, Trino Verkade, credited with guiding Alexander McQueen and then Thom Browne to their business best. "With Trino here now I will be able to spend more time in the studio designing. I've traveled around the world for the past two years meeting clients so I am excited."
Ms. Katrantzou just debuted a glorious pre-fall collection in New York, and we met at a temporary showroom where the pieces stood out against stark, white walls. The collection features the detailing that has become part of her signature. An example was luminous, unusually large metal poppers on a satin coat.
The designer was delighted to discuss them.
"It's important to work on details when you do a collection. It's a young brand so we are in that process of discovery, what is a Mary Katrantzou button or trend? When I started, my collections were very thematic, and the print carried the collection. Now the collections are a lot more abstract. So print is more of a facilitator for texture, for color. It's not so much what the imagery is, of course you have a certain aesthetic and sensibility but there's a theme. There's a section in this (pre-fall) collection where all the prints are mimicking a wave or a ripple, and that creates a three-dimensional quality."
A creative rather than trend-driven perspective has helped Ms. Katrantzou stay ahead. Along with fellow London-based designers Roksanda Illincic and Erdem Moralioglu, her strong, simple shapes neatly sidestepped fashion's recent Boho rampage.
"We are talking about signature now because the brand turned seven years old. It is the right time for us to look at what we have developed, how certain pieces, techniques or shapes have become signature. A cropped knit or fit and flare dress, there are certain silhouettes that we've repeated in the past that people come to us for. Within that there are seasonal changes and also moments of a bigger push to bring in newness. Now, a lot of what we do is taking the details, the concept of that and bringing it forward." 
Ms. Katrantzou's range is particularly popular in departments stores spread around the U.S. If it's always summer somewhere as the saying goes, there is always a market among glamorous women for her outrageously colored but cautiously shaped aesthetic. Weather doesn't really come into it.
"We're not a brand that does extreme winter. Even when we work with wools or fur it's to create a really special piece. We're not thinking, 'How does it make you the warmest?' It's not so much about that, so we're flexible enough to be able to design in a way not limited by a focus on weather, especially now that the weather isn't as stable—it's shifting. You kind of have to adjust."
Adjustment is key. "New" has replaced "classic" as the fashion fan's most desired quality in a purchase, so Ms. Katrantzou's creative energy is the perfect fit for fashion's current flux.