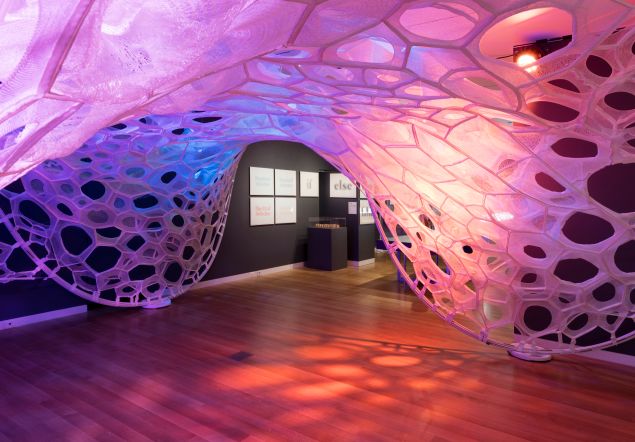 If you want to get a glimpse of the future, it's on view now at the Cooper Hewitt, Smithsonian Design Museum's highly anticipated Triennial, and it's as sleek, eco-friendly, and utopian as ever.
The Triennial's theme this year is "Beauty"—in all its iterations. Featuring over 250 works from 63 international artists and designers working in fields spanning fashion, furniture, architecture, industrial design, and even bio-organisms, exhibition curators Andrea Lipps and Ellen Lupton have opted for designers with a strong focus on natural materials and sustainable design. The sweeping show touches on timely subjects like climate change, while putting a fresh spin on aesthetic trends that were first popular as far back as the Renaissance.
Ms. Lipps and Ms. Lupton have divided the show into seven sections, and group designers into galleries based on their various interpretations of the show's theme, from "Extravagant" and "Intricate" to "Transgressive" and "Elemental."
While some mediums dominate specific galleries, jewelry—along with fashion and the decorative arts—has a strong presence across the entire show. Refreshingly, designers working in the same field tend to take vastly different approaches.
Fourth generation German jeweler Hemmerle—best known for its colorful, nature-inspired high jewelry pieces spotted at leading art fairs like TEFAF—showcases a series of snail-shaped brooches, complete with real diamond bedazzled shells bedazzled, and a pair of asymmetrically-colored drop earrings ablaze in bright pink and orange with a stunning combination of copper, gold, sapphires, spinel, rubellite and tourmaline.
Meanwhile, Italian artist Delfina Delettrez proves that jewelry for the modern connoisseur can be anything but conventional. Her designs for alternative facial and body piercings look to Surrealism for inspiration, and feature dangling, glittering lips and eyes meant to be worn in the navel, septum, or even on the fingernails.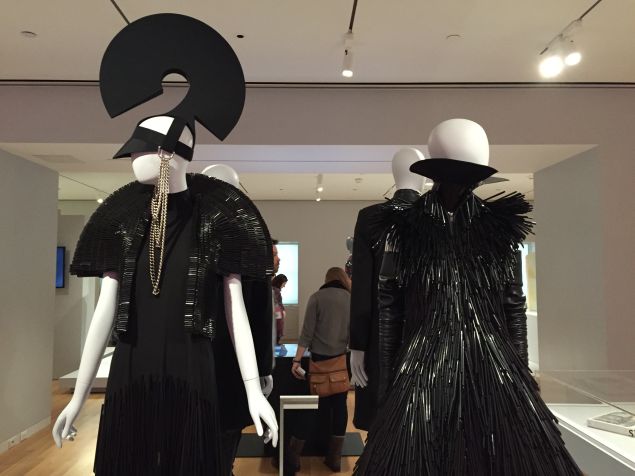 In the fashion realm, designers showed exuberance for pushing the limits of materials. A cotton-candy colored skirt and top by Italian Giamattista Valli overflows from its plinth in a flamboyant display in the first floor gallery, and upstairs English designer Gareth Pugh's has crafted his entire Fall/Winter 2015 ready-to-wear collection from black plastic drinking straws. Also a standout was London-based designer Lauren Bowker's heat and wind reactive jacket, which changes color when exposed to the elements.
For the first time, exhibition curators have even included a "smell designer," who falls under a category dubbed "Ethereal." Norwegian-born, German-based Sissel Tolaas created an interactive installation in the museum's first floor lobby, inspired by a visit to New York in the fall, the curators told media during a preview of the show. Ms. Tolaas' installation, The Beauty of Decay, is a replica of her studio featuring shelves lined with small bottles of various scents used for mixing, and a large white wall that she encourages visitors to touch, effectively releasing the smells of Central Park into the air through a special process called microencapsulation.
Global influences can be seen across the board this year, especially in collaborative projects. The Haas Brothers, who hail from California, partnered with women from Khayelitsha, South Africa to create a hoard of playful beaded creatures and drawings that nearly fill an entire gallery.
It's no surprise considering how accessible and affordable complex technologies such as 3-D printing has become, that the use of such advanced tech is perhaps the most prevailing trend among designers.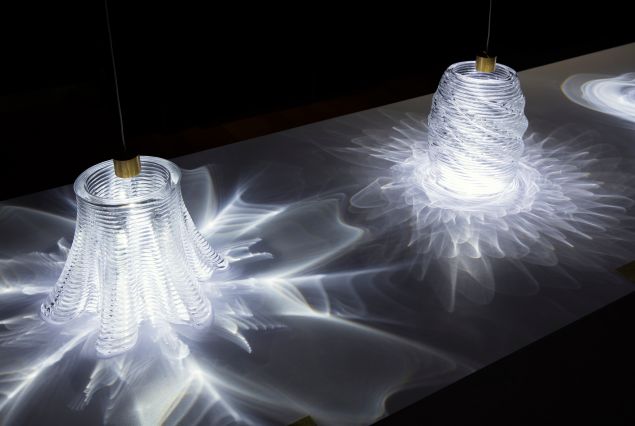 Designer Neri Oxman partnered with the MIT media lab to create a method for 3-D printing glass. Used for industrial purposes, it can either transmit material in tube form or hold it inside a vessel. Ms. Oxman also shows two 3-D printed designs for wearable organs she calls Otaareds, meant to be worn on the outside of the body and provide insulation, produce biological tissue and even make food or break down waste.
Finally, Jenny E. Sabin has arguably created the centerpiece of the exhibition: a giant, undulating dome-like structure she calls the Polythread knitted textile pavilion. Ms. Sabin, along with her studio, engineers at Arup and a fabrication team conceived a photoluminescent material that draws its energy from the sun and can be knitted into temporary structures in remote areas of the worlds that lack electricity. The flexible material is a game changer, and the prototype's potential is demonstrated through a timed display of lights meant to show how the fabric might emit light during different hours of the day.
The broad spectrum of work on view cleverly reminds viewers that design affects nearly every aspect of modern life, from the clothes we wear to the containers we use to store food, all the while challenging any notion that perceptions of beauty are standardized. If there's one thing to take away from "Beauty," perhaps it's this: designers need not look farther than their own natural environs for inspiration, and radical ideas are the ones helping to shape the future