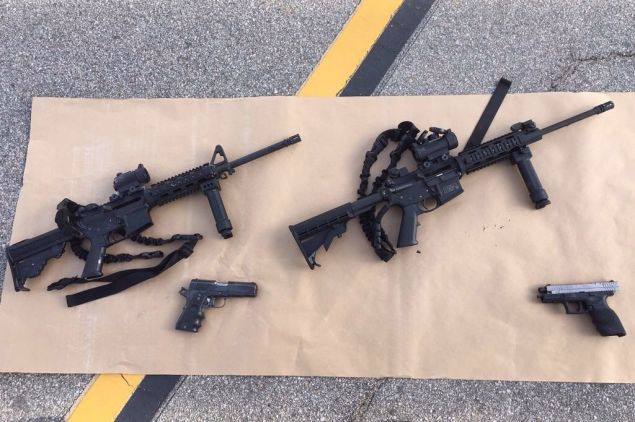 When Lorenzo Vidino and Seamus Hughes founded George Washington University's Program on Extremism in June 2015, they did not imagine that within only a few months they would be the go-to source for Congressional committees, law enforcement agencies and media outlets seeking expertise on homegrown jihadism in America.
Mr. Vidino, an expert on Islamism in Europe and North America, is an Italian-born American citizen with a law degree from the University of Milan and a Ph.D from the Fletcher School of Law and Diplomacy. Mr. Hughes worked for the National Counterterrorism Center and as Senior Counterterrorism Advisor for the U.S. Senate Homeland Security and Governmental Affairs Committee. So, it wasn't as though they lacked impressive expertise in Islamic extremism when they launched the Center. However, in the 14 years since the Twin Towers were reduced to rubble and the Pentagon had a gaping hole punched through it by al-Qaeda recruits using planes as missiles, there has been no shortage of policy experts, former Congressional staffers and analysts who have testified, written and otherwise opined on the subject.
But Mr. Vidino and Mr. Hughes believed GW's Program on Extremism could distinguish itself in two important respects. First, it would focus not on the threat to America posed by foreign Islamic jihadists, but on what the two concluded was a growing, yet under-acknowledged and largely undetected number of American Muslim youth who were embracing violent ideologies based on extreme interpretations of Islam. While the numbers of American Muslims who sympathized with jihadist ideology were not comparable to what was increasingly evident in Europe, the numbers had become worrisome. Over 60 Americans linked to ISIS were charged with supporting or committing violent acts in 2015 alone. Worse, FBI Director James Comey stated publicly that "hundreds, maybe thousands" of ISIS sympathizers and potential recruits were living in America, with 900 active investigations pending in all 50 states—a number Mr. Vidino calls "staggering."
Many on the right veered quickly into anti-Muslim rhetoric that was 'malicious,' while many on the left practiced a denial that was 'naïve.'
Second, to the extent that there has been discussion of Islamic extremism in the United States, Mr. Vidino and Mr. Hughes felt it had been plagued by what they gingerly call a "lack of nuance." Many on the right veered quickly into anti-Muslim rhetoric that was "malicious," while many on the left practiced a denial that was "naïve." The right, they felt sometimes engaged in ethnic stereotyping; on the left there was an unrealistic reluctance to acknowledge a very real problem. "On one side," says Mr. Vidino, "you have people who say there is no problem. On the other side, you have people who are saying there are millions of people who are violent. There needs to be a much more nuanced conversation."
The massacres of Parisians at Charlie Hebdo and the Hypercacher Kosher supermarket in January 2015 jolted the world with the genocidal fury of murderers pledged to Islam. That spring's trial of Dzhokhar Tsarnaev for the Boston Marathon bombings that maimed dozens and petrified an entire city detailed the central role that Islamic extremism played in the killers' actions, opening eyes that had previously been half-closed to the internal threat posed by domestic extremism.
This past November the world watched as 130 people were slaughtered in Paris by suicide bombings and mass shootings at a music venue, cafes, and restaurants by ISIS supporters. Just weeks later, 14 were killed and 22 injured in San Bernardino by an American-born U.S. citizen of Pakistani descent and a Pakistani-born permanent resident labeled by the FBI "homegrown violent extremists" who had consumed "poison on the internet."
'The reality is that we've never seen so many people interested in jihadist ideology in this country and in acting upon it.'
Against the backdrop of ISIS seizing large tracts of Mideast territory aided by thousands of foreign recruits, these events re-focused American policy-makers and the media on Islamism at home. Within weeks of setting up shop at GW, Mr. Vidino, Mr. Hughes and their team of experts-in-residence found there was suddenly a demand for their particularized expertise in domestic-based jihadism. Senate and House Committees on homeland security sought their testimony on the rise of radicalism at home and what the United States government should be doing about it. The Obama Administration called upon Mr. Vidino and Mr. Hughes to assist its Countering Violent Extremism pilot program focusing on Boston, Los Angeles and Minneapolis-St. Paul. The FBI, the National Security Council and the Department of Homeland Security asked for briefings.
And the media, eager to explain the growing perception of a problem at home that has been ignored for too long, came calling, and the massacre in San Bernardino triggered a stampede. Since then, Mr. Vidino and Mr. Hughes have been interviewed on the record by several hundred national and international news outlets, including The New York Times, The Wall Street Journal, CBS, NBC, ABC, National Public Radio, CNN, C-SPAN, Fox and Time Magazine.
De-partisanizing the issue of Islamic extremism at home makes the discussion more palatable for those left-of-center Americans who shut down intellectually when the subject is raised. It is no coincidence their report, entitled "ISIS in America," published the day before the San Bernardino killings in December, contains a foreword by Jane Harman, the former 9-term Democratic Congresswoman from California who served as Ranking Member of the House Intelligence Committee. "[T]he issue of [homegrown terrorism] couldn't be more urgent," Ms. Harman writes. And they note that President Obama's first Attorney General, Eric Holder, said as far back as 2010 that the terrorist threat had "changed from simply worrying about foreigners coming here, to worrying about people in the United States, American citizens—raised here, born here, who for whatever reason have decided they are going to become radicalized and take up arms against the nation in which they were born."
Mr. Vidino agrees with these assessments, rejecting the argument that the threat of homegrown Islamic extremism has been overblown or that, because the numbers seem statistically insignificant compared to what Europe is facing, it is inflated. "It is much more serious than it has ever been in the past," he says. "The reality is that we've never seen so many people interested in jihadist ideology in this country and in acting upon it." Mr. Hughes concurs. "It is clear that something different is going on right now. There is a different dynamic."
Asked about the main impediments to curtailing the embrace of jihadism among certain young American Muslims, the two list the "highly inadequate" resources, the lack of a lead governmental agency and resistance from some of the Muslim organizations. Still, Mr. Vidino and Mr. Hughes note that at the grassroots level, many in America's Muslim community recognize the threat and are eager to help. That, the skills of those with whom they work in law enforcement and the growing appreciation of the extent of the problem leave them hopeful that it can be effectively confronted. "We want to have a mature conversation," Mr. Vidino says.