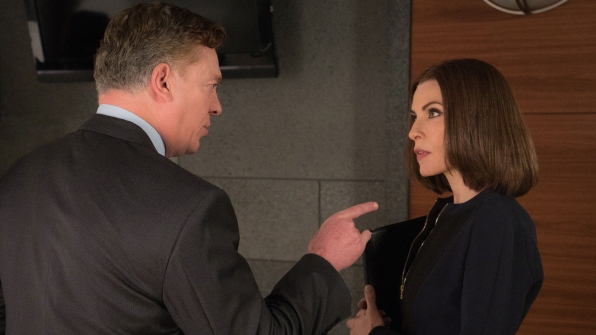 I don't want to speak out of turn, but I know who wins the Academy Award for Best Actor this year: it's The Good Wife. In this week's episode — Season 7, Episode 13, "Judged" — there are no less than three Oscar-worthy performances, so let's get started. There are also really only two plotlines to keep track of, and they are:
Alicia Florrick and the Case of the No Good, Very Bad Judge
Diane Lockhart and the Case of the Controversial Editorial
Let's hop in. We start outside the Law Services Office, where a dazed Alicia Florrick dispassionately watches an interaction between her partner Lucca Quinn and their old bond court colleague Bernie Bukovitz (Rob Bartlett) who has been pushed into their courtroom because of overflow from downstairs. Because of this, Alicia is seated behind Bernie's client Clayton Riggs (Daniel J. Watts), who mouths "Help me," before he gets up for his appearance. Turns out he was Alicia's second-ever bond court clients, and he's been languishing in jail for the past eight months after being slapped with a. $150,000 bail by Judge Don Schakowsky, as a punishment to Alicia for wasting his time. Every time his case comes up, Clayton's attorney asks for a continuance to find a certain witness, and today is no different. Alicia takes him on as a client, and decides she's going to sue Schakowsky, because he's obstructing the rights of the accused. Suing a judge? Oh boy, everybody hang onto your butts.
Meanwhile, someone in The Good Wife HQ apparently realized that this is probably the last season, so the opportunities to get Alicia some romantic thunder are slipping through our fingers, and Jason Crouse is at the door to fix that. He's back from California for an unspecified reason, and wants some work and a raise. What he gets is an extremely stilted conversation, so he calls Diane Lockhart, who has a much clearer memory of how these sorts of interactions are supposed to work: Lockhart Agos is ready to take him back on.
The case Diane is working on is one in which a writer at the Illinois Park College school paper, Imogen Stowe (Francesca Carpanini) is being punished for an editorial she wrote criticizing her school's plan to boycott Israeli-made products, which she refers to as anti-Semitism. Far from encouraging free speech, the school wants to completely shut the paper down; I'm hearing a lot of snarky references to Imogen not fostering a "safe space", so I assume this is ripped from the millennial headlines. The school board convened to rule on this issue stands behind the decision to shut down the paper, but according to the school handbook, Imogen has the right to take her grievances to arbitration if she wants, so that's what we're gonna do.
Back in Florrickville, Alicia continues to be so dazed that she's not able to even really live her life properly. She's sitting at Eli Gold's desk, icily requesting that he tell her every word of the Will Gardner voicemail he erased. And it's so weird, you guys. At one point she even says, "don't stop." Which I guess makes sense, given the severity of what she went through, and the fact that she's just now discovering that Will thought she got the message and that things just went back to normal because she didn't feel the same way, but I was still uncomfortable.
Fresh off these new revelations, Alicia stalks into court, coming face to face with Schakowsky, who has some understandable issues with being sued in the face of his judicial immunity. Alicia explains that his immunity doesn't apply, because she's targeting a decision he made not professionally, but personally. It's an explanation that doesn't seem to convince the judge presiding over the case, the Honorable John Mata (Joe Grifasi), at least until Lucca pipes in with the amount of Clayton's bail and the story of his arrest — he's been held all this time and for all this money on just a disorderly conduct charge — and Mata concedes that Clayton's civil rights likely were violated.
At the next stage of arbitration on this editorial, we meet arbiter Geoffrey Solomon (Richard Masur) again, in all his gruff fairness, pointing out that in this case, the institution in question is a private school, and the publisher of the paper, so they can really do whatever they want, and Diane and her client Imogen are clearly going to lose. Until in gallops the white knight, Jason Crouse, with a deep law cut, a case called Evans v. Newton, impressing Diane so much that she pushes Jason to come work for them full time.
In another courtroom not so far away, we're discussing Clayton's continuances. He says he didn't agree to them, but in the transcripts, he appears to. Plus, he has a previous record that Schakowsky is trying to pretend informed his decision to place bail higher in this case.
Meanwhile, Diane has adopted Jason's strategy, claiming that the school is a city in the city, a fact that they tout within their brochures, and has taken over most public functions. This makes them a state actor, or the equivalent of a public school, and removes their right to censor their own school paper. And guess what? The Supreme Court agrees!
In Alicia's courtroom, Lucca is questioning Bernie about Schakowsky's tactics, asking him what it means to be "taxed". Bernie is stumbling through a half-hearted description of the judge hitting clients with a higher bail when their lawyers irritate him, but Schakowsky keeps shooting him death glares from the desk, which I feel like shouldn't be allowed. But we live in bizarro world, apparently, which is further proved when Schakowsky wants to cross-examine the witness testifying against him. Oh sure, that's fine. Badger away, and give testimony during your cross, and Judge Mata, you just sit and watch, and at the end of it, grant the motion to dismiss. This is all fine, very fine. (Opposite.)
At the bar, Lucca is saving a drink for Jason, and also an immediate inquisition, wanting to know what he did to Alicia to make her act the way she is now. And in one of those Good Wife juxtaposition moments, we see that Alicia is drinking at home alone right now at this very minute, interrupted only by a knock at her door from Bernie, delivering the news that Clayton is back to being his client again, and they're suing Alicia for malpractice. AND A MERRY EVENING TO YOU AS WELL BERNARD.
Back in the editorial case, Imogen's classmate Saum Benazir (Omar Maskati) is here for thirty seconds to claim that her writings invaded his rights, because they incited violence on campus.
At Alicia's, the two lawyers are discussing the malpractice suit. They don't have enough insurance to cover it, and there's weird tension between the two partners about Jason, and finally Lucca is just like, "WTF is going on girl, why are you doing angry laundry in the middle of our lawyer meeting?" And Alicia breaks down. And I mean completely breaks down. What I have in my notes is "Oh here we go Julianna." She's explaining how she loved Will and she died, and now she's "sick to death of everything", and drinking a lot, and doesn't even know if she likes her kids. (Oh whoops, might have gone slightly too far on that one.) She says she wants it over, she wants it to end. And Lucca swoops in with a hug, and then here we go Cush Jumbo, because she's having an Acting Moment of her own, and I'd love to pretend I wasn't affected, but I'm crying a lot. And okay fine, I promise to stop saying these women shouldn't be friends, because even though most scenes between them are beyond wooden, that one was moving enough that I'll relent. Lucca says she doesn't have any friends, but she wants to be Alicia's friend, and I'm like UGH FINE, but only because you made my face salty with tears. But in exchange, you need to give me the Alicia-Jason relationship I want and deserve. Deal?
Oh and in the midst of all that, we also realize that Alicia needs a new lawyer, because Lucca is going to have to testify, and that person is your boy Cary Agos. Clayton is now suing Alicia, but really only because he wants to get out of jail, so he's just grasping at straws. And since this is Bizarro Courtroom, as Bernie is questioning Schakowsky, when the lawyer gets stumped, the judge whispers hints to him. But apparently only in a register that lawyers and humans can hear, because Judge Mata is utterly oblivious. Jason has been hard at work combing through the transcripts for references of abuse, but hasn't found any because Schakowsky always covers the microphone when refers to taxing. Luckily, his court reporter records all the sessions on her own, since the judge speaks so quickly that she was missing things. Jason has those tapes (hurray!), and he also has some advice for Alicia: basically get out of your head, stop overthinking it, everything's fine. And it's so effective that she runs after him and kisses him in the elevator. (Double hurray!)
Back in the courtroom, Alicia and Lucca play the tape proving that Schakowsky did indeed tax the attorneys who came before him, but Bad Judge argues its inadmissibility — surely a task that should've been left to his lawyer, but what do I know? — and the tape is thrown out, because a judge can't be recorded in his or her own courtroom without granting permission.
Now Illinois Park is trying to pretend like the decision to de-fund the paper was made by the student body, to avoid being held responsible for it, but our boy Geoffrey is a better arbiter than John Mata, and he isn't fooled by it. He rules that the final responsibility to make decisions was held by the adult faculty, meaning the administration is ultimately in charge, and elects to reverse the decision to defund. So a victory for Diane and free speech, and everyone can go home, bye bye.
Back in the malpractice courtroom, Lucca is testifying to her friendship with Alicia on the stand. Actually, she's talking about the learning curve required for Alicia to get used to working with Schakowsky, but it winds up to be the same thing. Later, Alicia is looking over the fledgling firm's finances, and it turns out they're $18,000 in the hole. You wouldn't think this was an optimum time for Eli to show up at the door, but he does, and it is! He points out that Alicia and Will did indeed end up together — Eli didn't ruin it — but that Alicia can't control fate. Even if Alicia had gotten the message and responded, Will wouldn't be alive right now. And here we go Alan Cumming, now, explaining how hard it was for him to apologize! Everybody is killing it this episode, I'm giving you a standing ovation in my living room. Alicia decides that he's forgiven, which is only fair after a performance like that.
Back in the courtroom, the assumption is that Judge Mata will dismiss the malpractice suit, but he does not, and Bernie is asking $1.5 million to settle. Of course. We're only mid-season, babies! We need some sort of drama to carry us through to the end. Insurance won't cover them, they can't afford their lawyer, and Alicia has fully lost it, and is cackling like a madwoman. Lucca leaves, but makes Jason stay, and the two of them make more kissies and talk about what job Jason should take. Personally I'm voting for "work for Lockhart Agos so I can see them, but kiss on Alicia." Can we make that happen? Or maybe they're gonna do me one better, because Cary tells Alicia that Lockhart Agos wants her to come back on as a junior partner, and that they'd cover any cost to her as a result of the malpractice suit. Come on home, gal! It's the best of both worlds, and I think she's finally gonna do it.
See you back here next week! Fingers crossed that Christine Baranski gets a crack at an Oscar of her own, after a season of being almost criminally underused. Bring it on home, Christine!