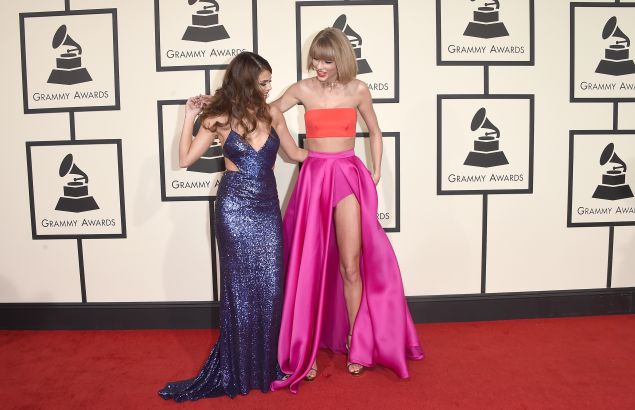 On the red carpet, Taylor Swift kicked off the evening in hot pink and orange Atelier Versace, posing with best friend Selena Gomez, who was wearing a sequin Calvin Klein gown better suited for a beauty queen. Ms. Swift channeled the character Bianca in 10 Things I Hate About You, only showing far more leg (which Bianca's father would definitely not approve of). Her look was more dramatic than usual, and her brand new bob made everyone think she might have a girl crush on Vogue's Anna Wintour. 
Ms. Swift then donned a black jumpsuit that looked like a figure skater's dream costume, to open the show with a lackluster "Out of the Woods" performance; her shining moment of the evening was when she threw serious shade at Kanye West, who believes he jumpstarted her career. A hot pink lip added a much-needed pop color to the ensemble, which looked like an Express tank top on New Year's Eve at Times Square. The matching heeled booties made the look even more dance recital ready and the side cut outs helped it look like a mall outfit.
Sam Hunt, who performed later in the evening with country music sweetheart Carrie Underwood, wore a Pepto-Bismol tuxedo worthy of an '80s themed prom party when he wasn't onstage. Ms. Underwood's pre-performance look consisted of a Nicolas Jebran leggy black gown with an enormous bow worthy of a wedding gown and a bustier Madonna would wear. Country singers rarely wear black, but she made it look both elegant and slightly southern; like she had a Junior League gala to go to later in the evening.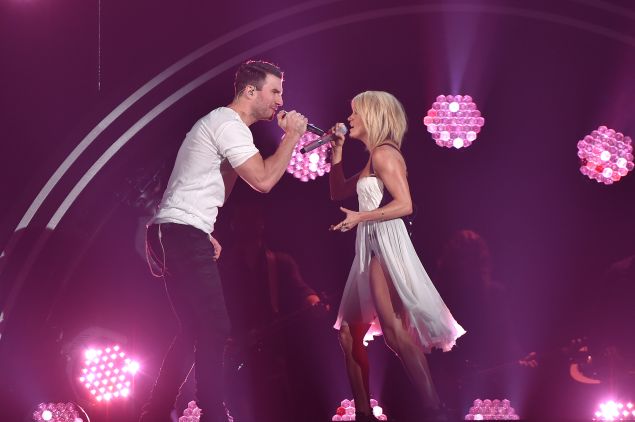 Mr. Hunt, who has been referred to as the country Drake, wore a plain white T-shirt onstage. He looked like every man on Bumble; impossibly handsome, yet he somehow managed to miss the memo that you're supposed to dress up for dates (in this case, a date with Carrie Underwood, who was sporting a smokey eye) and Grammy performances. Ms. Underwood wore a white dress that would look equally at home at a high school's Homecoming dance somewhere in the South. Maintaining the evening's legginess, her performance dress revealed lots of leg.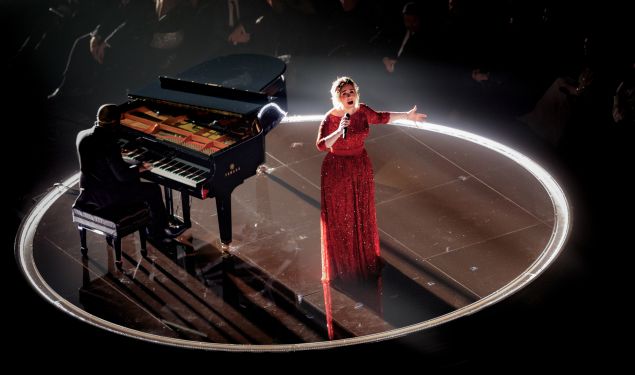 Adele changed out of her classic black Givenchy gown and took the stage in a glittering red gown. While Adele's stylist has been on her game since her "Hello" return, this look missed its mark a bit. Adele wore a lace, beaded gown that could work for a mother of the bride, but it was elegant and understated, especially at the Grammys, where legs and leather pants rule. Her hair looked as if she had a fabulous up-do the night before and couldn't part with it the next morning.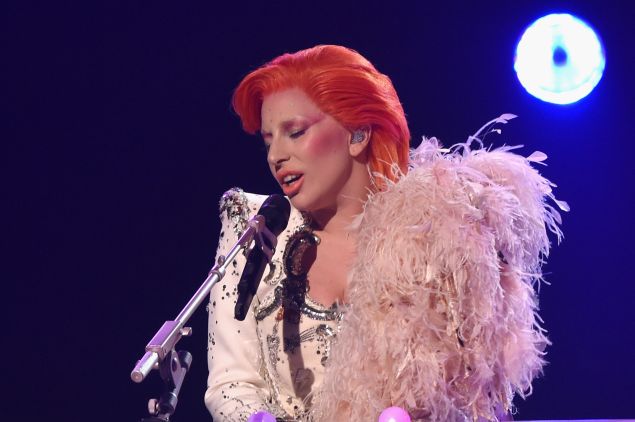 In one of the most buzzed-about performances of the evening, Lady Gaga paid tribute to Bowie in full makeup highlighted by the special effects, starting the night with pale pink lips, glittery lids and "Space Oddity," which is ideal since she's always been an oddball herself. With red hair that looked more like Hillary Clinton's helmet blowout than David Bowie's rockstar tresses, she did a quick outfit change into a glittery jumpsuit and feather boa that would easily be at home at Patricia Field's almost-defunct boutique. Who wore the hairdo best, Lady Gaga or the McDonald's clown? Unclear, but neither are channeling Bowie. In fact, the jumpsuit looked far more Elvis once the mega-glam boa was removed, probably to be worn by some street style star during New York Fashion Week. While the Grammy's offer a fascinating look at pop music, the trends this year were mostly lackluster, focusing more on leg than design and drama.