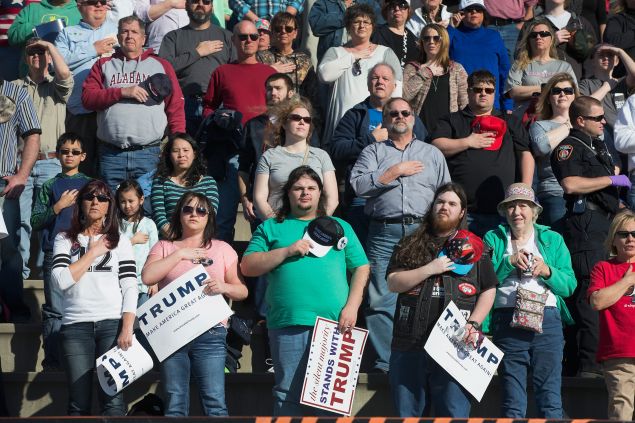 Untroubled by last weekend's controversy over his failure to immediately spurn the support of David Duke, a former grand wizard of the Ku Klux Klan, Republican frontrunner Donald Trump appears poised to roll up a round of impressive victories in the "Super Tuesday" primaries on March first.
While Republican Party bigwigs—who just recently clued into the real possibility that Mr. Trump might actually win the nomination—try belatedly and desperately to unite the party establishment behind Sen. Marco Rubio, the Trump steamroller, propelled by the anger of its white, working-class base, just keeps rolling along.
Meanwhile, Sen. Rubio and Gov. John Kasich are both still trying to consolidate the establishment, while Sen. Ted Cruz and neurosurgeon Ben Carson continue trying to horn in on the disaffected, marginalized voters who thus far have given most of their votes to the bombastic New York business magnate. The fractured Republican nominating contest only helps Mr. Trump, who consistently has been able to count on anywhere from a quarter to nearly half of the GOP primary and caucus electorate, continue winning with mere pluralities of the votes.
If, as expected, Mr. Trump wins all but perhaps two or three of Tuesday's primaries and caucuses, most estimates show that he will have at least a third, and perhaps even more than 40 percent, of the 1,237 delegates necessary for victory all sewn up. After that point, according to fivethirtyeight.com, more than half of all Republican delegates awarded will come from winner-take-all states.
Up to this point, most prognosticators have held this fact out as a hopeful point for candidates not named Donald Trump. The notion is that if Mr. Rubio or Mr. Kasich can get enough victories in delegate-rich, winner-take-all states, they can come back quickly from large deficits in the delegate count and wrest the nomination from Mr. Trump, or at least prevent him from getting a majority and force a contested convention.
If both fail, the Republican establishment will be left bleeding out on the steps while Mr. Trump exults to his followers: 'I came. I saw. I conquered.'
Largely unspoken, thus far, is the converse of that proposition: if it is Mr. Trump who wins the lion's share of these winner-take-all states, then he could wrap up the nomination while his opponents are still struggling to push each other aside and chase him down.
Two of those winner-take-all states are Florida and Ohio, which happen to be the home states of the last two Republican "establishment" candidates still in the race. Both the Sunshine State and the Buckeye State vote on March 15.
While a great deal can change in two weeks, the most recent polling indicates Mr. Trump has a good chance to beat Mr. Rubio in Florida, and at least an even-money shot to take down Mr. Kasich in Ohio.
These "Ides of March" contests will be crucial for both Mr. Rubio and Mr. Kasich. If either, or both, of these candidates end up getting "Trumped" in their own home states, they will not only fall significantly further behind in the delegate count, but their credibility as potential contenders will take serious, perhaps fatal, hits. It tends to be viewed as an embarrassment and a statement of weakness when a candidate fails to win in his or her home state, where the voters presumably know them best.
Losses by Mr. Rubio in Florida and Mr. Kasich in Ohio would leave Mr. Trump in the driver's seat and the Republican establishment in a continued state of befuddlement. If both of their two last potential standard-bearers suffer the unkindest cut of all on the Ides of March—a rejection by their own home states' voters—where else do the party's bigwigs have to turn? By many accounts, they loathe Mr. Cruz even more than they do Mr. Trump.
If the Republican establishment is to have any chance whatsoever of stopping Donald Trump, it is imperative that either Mr. Rubio or Mr. Kasich escape the long knives on March 15 and wrest Florida, Ohio, or both from the frontrunner. If only one of them can survive in their home states, the lone survivor will become the establishment favorite. If both fail, then the Republican establishment will be left bleeding out on the steps while Mr. Trump exults to his followers: "I came. I saw. I conquered."
Veni, vedi, vici.
Disclosure: Donald Trump is the father-in-law of Jared Kushner, the publisher of Observer Media.
Cliston Brown is a communications executive and political analyst in the San Francisco Bay Area who previously served as director of communications to a longtime Democratic member of the U.S. House of Representatives in Washington, D.C. Follow him on Facebook at facebook.com/ClistonBrownPolitics, or on Twitter: @ClistonBrown.