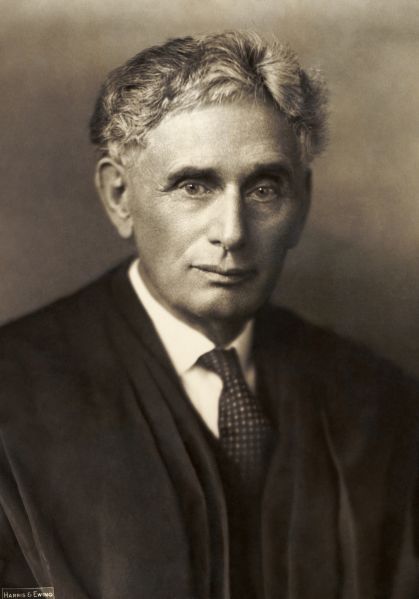 We recently marked the 100th anniversary of Louis D. Brandeis' nomination to the U.S. Supreme Court. In a year of discussion on diversity, this moment deserves notice—Brandeis, who was Jewish, was the first member of an American minority group to be so chosen. Most of all, Brandeis commands our attention today because his opinions still influence our sitting justices and our law. No better example of this can be found than the words that Justice Ruth Bader Ginsburg spoke at a celebratory conference I just moderated at Brandeis University.
Many legal scholars addressed Brandeis' continued relevance, but the real stars of the event were "the Notorious RBG," as Ginsburg biographers Shana Knizhnik and Irin Carmon have lovingly dubbed her, and the man we may now call "the notorious LDB."
Justice Ginsburg described the influence on her own career of the first "Brandeis brief" in Muller v. Oregon, the basis of the Supreme Court's historic decision to uphold Oregon's law regulating the maximum hours that women could be required to work. Ginsburg revealed how this work challenged her during her earliest days as a young attorney fighting for women's rights, teaching her to ground her argument in facts, statistics and social history. While she came to realize that Brandeis' argument in Muller actually limited women's rights, she followed his example on how to write and how to argue. This was precisely the approach that allowed her to prevail before the court in Reed v. Reed in 1971, the first case to extend the reach of the Equal Protection Clause to cases of gender-based discrimination. So many lawyers and justices are limited by their preoccupation with theory and abstraction. For Brandeis and Justice Ginsburg, both brilliant lawyers before becoming influential justices, theory must be grounded in facts.  
Our panel recognized the issues that Brandeis would face today, especially in light of the challenges to privacy presented by technology or threats to national security. Brandeis will forever be linked with the legal protection of privacy, widely accepted today as a fundamental aspect of our legal system. When he and his law partner, Samuel Warren, wrote "The Right to Privacy," in 1890, they essentially created a new right, basing it in its deep legal and philosophical roots, as well as common law. 
Brandeis' role as influential writer went beyond his legal scholarship. Economic events of the past decade have brought renewed interest in his 1914 classic Other People's Money and How the Bankers Use It. The ideas and analysis proposed there had—and still have—a major impact on the discussion of financial regulations and legislation governing the financial industry.
Among the aspects of constitutional law that continue to bear Brandeis' unmistakable stamp are judicial restraint in the face of legislative decision-making and experimentation, and the need for constitutional norms to adjust and adapt to evolving standards and contexts. He dissented in Olmstead v. United States in which the Court held that constitutional protections against unreasonable searches and seizures did not apply to telephone wiretapping. Notably, the Court overturned Olmstead years later.  
Brandeis' judicial brilliance may be most keenly demonstrated in the area of freedom of expression. In Whitney v. California, he wrote a concurring opinion that the answer to "falsehood and fallacies" is "more speech, not enforced silence," a powerful insight in a time of shouting down others more than engaging in true debate. Whereas some, like Oliver Wendell Holmes, Jr., saw the ultimate value of free expression as flowing from a "marketplace of ideas" that would produce the best results, Brandeis saw the value of expression as flowing from the very nature of a political and social community. To participate in public debate is not merely to try to reach the best idea but also to participate in civil society altogether.  
For any one of these aspects of the life of Louis Brandeis—lawyer, scholar, justice—we would remember him today as a figure of insight, creativity and moral courage. His words challenge us still: "If we would guide by the light of reason, we must let our minds be bold."
BESbswyBESbswyBESbswyBESbswyBESbswyBESbswyBESbswyBESbswyBESbswyBESbswyBESbswyBESbswyBESbswyBESbswyBESbswyBESbswyBESbswyBESbswyBESbswyBESbswyBESbswyBESbswyBESbswyBESbswy
Frederick M. Lawrence is a senior research scholar at Yale Law School and the former president of Brandeis University.