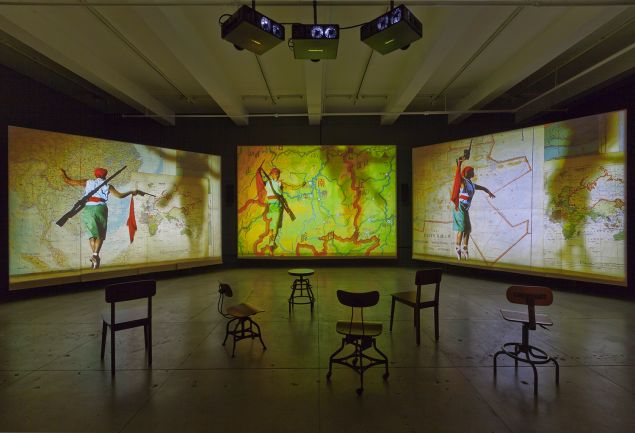 It's hard to find a Contemporary artist with more international recognition than William Kentridge.
At the age of 60, his work has been included three times at the Documenta exhibition in Kassel, Germany, and four times at the Venice Biennale (two of the most distinguished international art exhibitions on the planet). The native South African has also had solo museum exhibitions in New York, Mexico City, London and his hometown of Johannesburg, just to name the most recent.
Yet Mr. Kentridge's art always lives up to the tremendous hype. In fact, what's most jaw-dropping about a Kentridge exhibition—if you've never experienced his drawings, films, animations, operas or other works from his prolific practice—is that no matter how elaborate or labor-intensive its last incarnation was, he always manages to include even more media, styles, collaborators or influences in his next project. It's this restlessness and thirst for complexity that sets Mr. Kentridge apart from most artists working today.

His current show at the Marian Goodman Gallery, up through February 20, is no exception. Goodman's cavernous front gallery space has been sheathed in the larger of Mr. Kentridge's two multi-screen film installations: a giant curvature of eight projection screens titled More Sweetly Play the Dance, which was co-commissioned by the EYE
Filmmuseum in Amsterdam and the Lichtsicht Projection Biennale in Bad
Rothenfelde, Germany.
This 15-minute projection takes the form of a human (and at times non-human) procession—a theme that has infiltrated the artist's work since he began using the medium. It's a luxuriant and trance-like Gesamtkunstwerk, forged almost entirely in black and white. Mr. Kentridge based the piece on a medieval danse macabre, a common artistic trope in pre-Renaissance Europe that celebrated death as the great unifier of all of humanity via a metaphorical march. These "dances of the dead" are necessarily inclusive, as death touches everyone, regardless of class, caste, wealth or culture.
For More Sweetly, Mr. Kentridge enlisted the diverse sounds of a South African brass band and a team of sound and animation engineers in order to create a dizzying pastiche of cultural references for this unique version of the ancient dance, which riffs on Mardi Gras jazz and regalia, Mexican Dia de los Muertos imagery, Catholic funerary marches, '60s protest chants, traditional African dance, college marching band choreography, and military parades, just to name some of the influences present.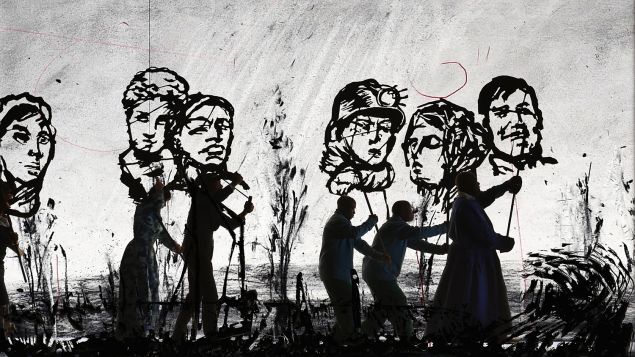 This opus becomes a swirling soup of blended aesthetics that includes a cornucopia of active, linear styles and silhouettes. Hand-cut steel placards, paper animation, filmed dancers and actors, sculptural props and painted/animated backdrops all congregate on Mr. Kentridge's visual stage and yet are resolutely held together by the grisaille
hues the artist favors.
An extension of a procession trope that has clearly worked for Mr. Kentridge in the past (as in his universally lauded 1999 film Shadow Procession), More Sweetly Play the Dance mines familiar territory, but to a fuller effect than ever. And although Mr. Kentridge continues to widen his influence, it's remarkable that the "drawn" quality of this impressive piece is so poignantly retained. After all, the use of drawing, which is often considered the lowliest and therefore the most democratic of art forms, speaks volumes about Mr. Kentridge's quest to shed light on our common cultural ties—as well as the repressive regimes we as a species continue to allow to come to power.
Meanwhile, a second film installation titled Notes Towards a Model Opera, shows Mr. Kentridge breaking away from his general adherence to black and white with a rare—and wary—embrace of color.
The three-screen piece is inspired by the operas Madame Mao started to commission in the mid-1960s during China's Cultural Revolution, which are themselves an interesting mash-up of traditional Eurocentric art forms and communist aesthetics.
Mr. Kentridge again conflates a variety of international dances, including South African traditional movement, Western ballet, brass band dances, African protest marches and martial arts, for this rapturous endeavor, which was beautifully orchestrated by the South African choreographer and longtime Kentridge collaborator Dada Masilo
and her troupe. The rousing symphony score by composer Philip Miller, based on the communist anthem The Internationale and permeated by traditional South African music and chants, is also perfectly attuned to Mr. Kentridge's hodgepodge approach.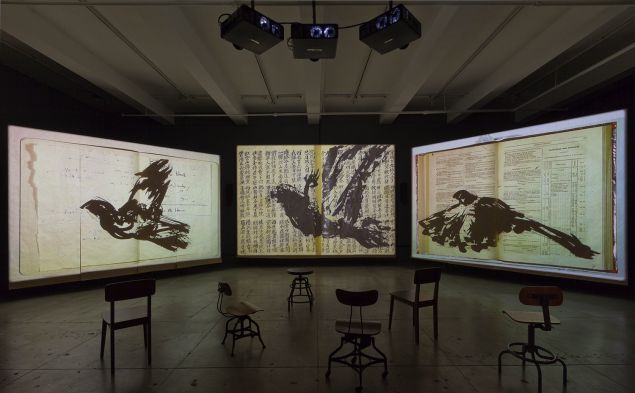 The active sequence of images that flutters across the three screens in Notes Towards a Model Opera must number in the hundreds if not thousands and cuts back and forth between original Kentridge animation (including his signature stop-motion book drawings and collages), filmed dancers and historical images. Altogether, it's an avalanche of sensory information that flips between lurid jolts of color and
frenetic sequences in black and white. Communist red is applied liberally, likely as a symbol of the dangerous pursuit of utopia, but interestingly, all color in Notes Towards a Model Opera seems a stand-in for political interference in one way or another.
Multicolored maps, striated with borders and "restricted zones," flags or a familiar range of militaristic uniforms take on a very different meaning from the liberation that color symbolized to 19th and 20th century Western Modernists.
But this falls in line with Mr. Kentridge's equanimous worldview, which has led to a brand of worldwide popularity that is extremely rare for a visual artist.
And to think it all started with a pencil and paper…