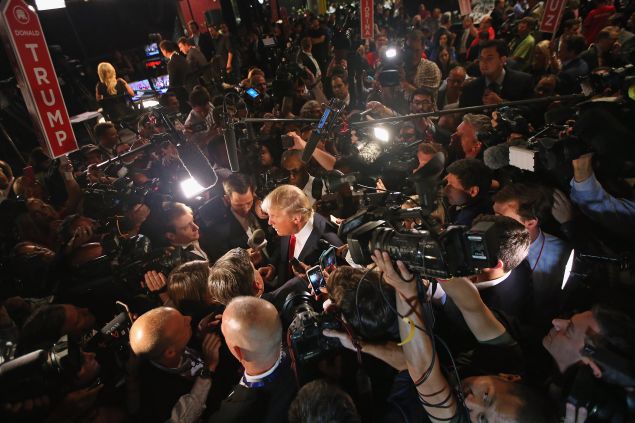 This paper has declined to endorse a candidate in the Republican primary for president because of its unavoidable conflict of interest—our publisher is married to the daughter of Donald Trump.
But listening to WNYC Friday morning, the night after a debate in which Marco Rubio parroted the talking points of New York State Attorney General Eric Schneiderman, something kind of amazing happened. Brian Lehrer's guest, MTV News correspondent and New Republic exile Jamil Smith, declared, "I'm not familiar with the lawsuit, but everyone knows that this Trump University gambit was really just a fraud. If you think that online universities are somehow suspect, this one made [others] look like Oxford University. Rubio expressed it well, if belatedly: [Trump] is a con artist."
Got that? A reporter who "isn't familiar" with the topic miraculously reached the conclusion that it's a "fraud" and that the perpetrator is a "con artist."
Well, this paper is familiar—painfully, intimately familiar—with this particular lawsuit and it is time to revisit one of the most controversial chapters in recent Observer history.
In February 2014, the Observer ran an 8,000-word story about the battle between Eric Schneiderman and Donald Trump, with particular emphasis on the lawsuit Mr. Schneiderman had brought against the Trump Entrepreneur Initiative (TEI), the Donald Trump-endorsed real estate seminars originally called Trump University. The central contention of that story was that New York State Attorney General Eric Schneiderman, who had personally appealed to Donald Trump and members of his family for campaign donations even as the paperwork for this suit was being readied, was grandstanding and the suit was essentially bogus.
The ludicrous way the Trump campaign is covered reveals the utter contempt in which mainstream news outlets hold a substantial portion of the American electorate.
Our story brought a torrent of criticism the Observer's way. It was an early sign, years before a presidential run had taken shape, that the media was united and energized around doing whatever it takes to mock Mr. Trump and belittle any perceived avenues of support.
In the media's unanimous quest to ridicule the Observer, every single reporter missed the central reality of that story. The Observer got it right and everybody else got it wrong. When the Observer wrote that most of the suit would likely be dismissed, that turned out to be correct.
As the Observer reported in a follow-up story, on October 8, 2014, Supreme Court Judge Cynthia Kern ruled for Mr. Trump and denied the attorney general's petition for summary judgment on every claim but one (the least important one). Basically, our original story, which subjected the Observer to intense ridicule and predictable smirks from the entirety of the media class, held that the attorney general's original promise to recover "$40 million" on behalf of defrauded plaintiffs was ridiculous. Not least because he had simply screwed up in filing the case—the petition set the date at May 31, 2013, but TEI had concluded its seminars with nearly all customers before May 31, 2010.
To summarize, Judge Kern's decision reduced the total scope of the attorney general's claims from over 20,000 students and more than $50 million to just 1,000 students and less than $2 million—a reduction of more than 95 percent. Those approximately 1,000 claimants included only 121 from New York State who spent a total of only $105,000. So much for a "$40 million lawsuit." Judge Kern also granted TEI summary judgment dismissing two of the attorney general's claims for violations of NY's Executive Law and violations of federal unfair and deceptive practices laws (16 CFR § 429).
Startlingly, the AG's very aggressive spin doctors turned even this clear miss into victorious headlines, turning first to their cheering section at the Trump-hating Daily News. Sadly for the citizens of New York, the Daily News now fully reflects the senility of its owner. Mort Zuckerman has a two-part vision for the future of journalism: fire all his paper's journalists and create covers that depict Mr. Trump and his supporters as stupid, clowns and Hitler. Not only has the News been wrong on every score (a cover on February 2 declared Mr. Trump "Dead clown walking" as it celebrated him being a "beaten man"), the paper has dispensed with even the appearance of objectivity.
Unsurprisingly, then, back in October 2014, after the near total victory for Mr. Trump, the News headline read "Judge Finds Donald Trump Liable for Running an Unlicensed School." But the proof that they were wrong is that the AG has done zero work—literally has taken no depositions—on behalf of the remaining few "defrauded customers" whose late classes could still fall within the three-year window, or to try to prove common-law fraud rather than statutory fraud. It's very time-consuming and expensive to prove the former and it's an open question whether the people of New York are well-served by someone from California being flown to New York State to give a deposition in search of the return of his tuition money.
Unfortunately for New York taxpayers, Eric Schneiderman isn't one to take his defeat graciously. With the unanimous support of the city's newspapers, who applaud his toughness without actually reading the decisions, the AG appealed Judge Kern's decision. Obviously, that proves it wasn't a win for him, but the appeal gives rise to a very dicey strategy for Mr. Schneiderman's office. If Judge Kern's ruling that the AG has three years to bring a statutory fraud claim is affirmed, then any case the AG has been sitting on is gone.
Legal experts the Observer contacted expected Mr. Schneiderman not to appeal because as embarrassing as it would have been to lose some 90 percent of the case against Trump, at least he would have still been able to go after other pending fraud cases. Now, with one judge already having sided with TEI, Mr. Schneiderman risks all statutory fraud cases that are older than three years being tossed out.
So the Observer was right about the facts of this case from a legal point of view and those who giggled about the ice cream store guy were wrong. That's nice, but it's kind of a technicality. The fact that Mr. Schneiderman was too slow to file doesn't exactly prove that the school was the bastion of higher learning anyone would hope.
After all, what about those attacks by Marco Rubio, echoed in headline after headline, saying that the school was a scam? Well, let's take a look at that.
One of the "proofs" that the school was not quite Oxford, as Mr. Smith put it, is summarized in an attack ad being run by the American Future Fund, a Rubio-supporting PAC that previously attacked Ted Cruz, featuring "Trump University Victims" Bob, Kevin and Sherri. This shocking revelation—that three people out of 10,000 weren't thrilled with the education they received—supposedly buttresses the "sham university" case.
But wait a minute. Bob turns out to be Robert Guillo, who took his first classes from September 25 to September 27 in 2009. He rated all 10 elements of the program "excellent," giving a 5 out of 5 rating to every instructor. He also said he would recommend the courses to a friend. Asked what he would suggest to improve the seminar, Mr. Guillo wrote, "Some slides were not clear; more comfortable chairs." And then he signed up for another seminar. And another. He rated all three classes he took with 5s.
In another ad, Kevin Scott complains that the University "ruined my credit and ruined my life." But Mr. Scott was singing a different tune after taking the classes eight years ago. Here's what he wrote in an email to his instructors: "Hi All, I attended The Trump Entrepreneur Initiative's Fast Track to Foreclosure Investing May 30-June 1st 2008 in NYC and loved it! All of the instructors were great- James, Keith, David, Judy, Nancy, and Jason- are all extremely knowledgeable, and interested in 1 thing- my success!" On his evaluation form, Kevin wrote 5 in all ten categories — except for the three in which he  wrote "5+". For "overall experience," Kevin wrote, "Outstanding!! Very informative. I feel very comfortable." Asked if he'd like to share his story, he said "Yes!!" Small wonder Mr. Schneiderman is not racing to have these "victims" deposed by Mr. Trump's lawyers.
Was there some buyer's remorse among students? No doubt. If those former students feel anything like the members of this editorial board do about Harvard, NYU, University of Chicago and other fancy colleges, opinions about the effectiveness of one's alma mater tend to evolve. But just as the newspapers unanimously misunderstood and misreported Mr. Trump's October 2014 legal victory, they also roundly mocked Mr. Trump's website 98percentapproval.com, which maintained through posting more than 10,000 actual surveys completed by students that the vast majority were satisfied with the instruction they received.
Where were Gawker, The New York Times and everybody else who went into such detail about the Observer being in the tank for Donald Trump once our reporting turned out to be totally correct?
This newspaper takes no position on the excellence of the school itself, because like Jamil Smith and every other reporter who didn't attend any of its classes, we don't know if it provided meaningful value. But unlike those reporters, we know what we don't know.
This newspaper also takes no position on who should be the Republican nominee for president. Because we understand that the close relationship of our publisher to one candidate has made it difficult to assess all candidates' strength fairly. We've run tough news stories on many of the candidates, including Mr. Trump and we're doing our best to report fairly, while accounting for the reality that opinion pieces present a special challenge.
But the ludicrous way this particular candidate is covered—from the click-happy inclusion of his every utterance to Huffington Post's condescending decision to cover his campaign only as an entertainment story—reveals the utter contempt in which mainstream news outlets hold a substantial portion of the American electorate.
When our original Schneiderman story ran, the media had a field day, painting the Observer as carrying water for a favored relative. In a badly disguised fat joke, the august New York Times even tweeted about the flavor of ice cream that the Observer's editor chooses to consume so often that he became friendly with an employee. And yet, the number of news outlets that correctly covered the development nine months later—namely, that everything in our original story was accurate and that most of what we predicted about the lawsuit had come to pass—was precisely zero. Where were Gawker, The New York Times and everybody else who went into such detail about the Observer being in the tank for Donald Trump once our reporting turned out to be totally correct? Apparently, that's not as interesting.
When a presidential candidate like Marco Rubio cites a lawsuit that virtually no longer exists and our city's public radio puts someone on who says, "I know nothing about this except that Donald Trump is a con man," it's time for the Observer once again to endure the self-satisfied snark of our media rivals and call bullshit on the way they've been covering this campaign and, indeed, this individual. This isn't a left or a right thing—the right wing media has been equally crazy in its devotion to derailing the Trump locomotive.
The Observer made a decision when this campaign started not to publish opinion pieces about Donald Trump, positive or negative. No amount of actual independence would be able to overcome the appearance of a conflict. But on this matter, from long before Mr. Trump was a candidate and in a clear case of us getting the story objectively right despite the uniformly sarcastic and superior taunts to which we were subjected, we owe ourselves a little Trump-ian self-satisfaction. Here is to the hope that all presidential candidates, as well as our city's media professionals, will try a little harder to disguise their pathological biases as they cover this candidate, this lawsuit and all of the city's affairs.