Should a Hollywood actress want to dress like a princess from a fairy tale, the Oscars red carpet is an ideal spot to do so. And that's exactly what they did last night. When Alicia Vikander collected her statue for Best Supporting Actress, her billowing yellow Louis Vuitton gown drew comparisons to Belle from The Beauty and the Beast. Meanwhile, both Emily Blunt and Jennifer Jason Leigh opted for ladylike hues of light pink, the former in sparkly Prada and the latter in Marchesa, finished off with a sprinkling of silk flowers.
Even Cate Blanchett's seafoam green Armani Privé gown, with a liberal dose of flower petals, looked as if it was fit for a Disney princess.
Other actresses on the carpet decided to eschew royal gowns for sartorial risks. A prime example was Olivia Wilde, who slipped into a white Valentino Haute Couture number. With a plunging neckline and a pleated skirt, the gown was particularly stunning from the back, with two wings extending from the 31-year-old's shoulders. Ms. Wilde finished off her getup with a diamond studded choker necklace by Neil Lane.
Another daring look was worn by Kate Winslet, who opted for a slick Ralph Lauren strapless gown. The black shiny fabric hugged the star's curves and was a refreshing departure from the frothy frocks that A-listers tend to rely on.
In colors of sapphire and purple, Naomi Watts' Armani Privé column gown was a sparkly, Swarovski crystal-embellished risk that paid off. Rooney Mara can do no wrong when she chooses a Givenchy creation, especially one as intricate and detailed as the one she opted for last night. With rows of buttons, cutouts, embroidery and frilly seams, this pale frock was stunning on the raven haired actress.
Young designers soaked up some of the spotlight at last night's ceremony. Lady Gaga's moving performance garnered a standing ovation from the audience in the Dolby Theater, but her Brandon Maxwell bustier and pant outfit deserves some accolades as well. With an exaggerated hip detail and a romantic sweetheart neckline, the modern white outfit was a perfect fit for the singer. All of which is impressive, as the designer (who is also Ms. Gaga's stylist) rolled out his first fashion collection less than a year ago.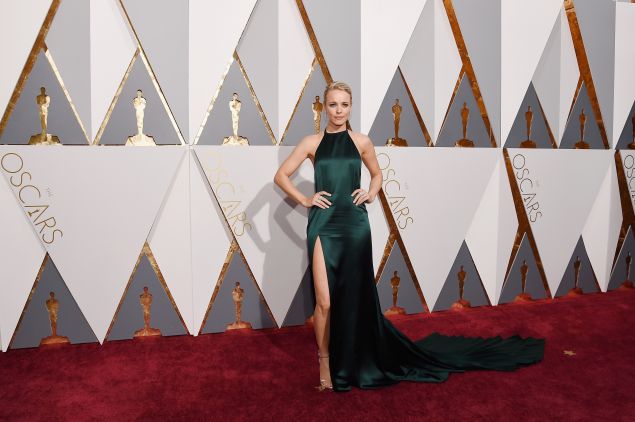 Spotlight's Rachel McAdams donned an emerald green gown by August Getty, a Los Angeles-based designer. His slick silk design showed off the actress' toned body and the designer's burgeoning talent. Sophie Turner donned a mint green gown by Galvan x Opening Ceremony. Galvan is a London-based brand which has been garnering attention for their modern approach to eveningwear since it was founded in 2014. With a square neckline and a thigh-high slit, this gown oozed Old Hollywood glamour, which bode well for the Game of Thrones star.
Following a very red carpet inspired fashion show a few weeks ago, Marchesa designers, Georgina Chapman and Keren Craig, used the Oscars to prove their Hollywood prowess. From Chrissy Teigen's nude gown with blood red embellishments (plus a baby bump) to Isla Fisher's off-the-shoulder dreamy white gown, the label proved their dominance in Hollywood.
The most shockingly popular color spotted on the carpet was deep violet: Reese Witherspoon's Oscar de la Renta gown was nearly the exact same hue as Tina Fey's Atelier Versace getup. A refreshing departure from basic black and red, which has been go-to colors over the past few years, this purple color is flattering on both brunettes and blondes, as seen here.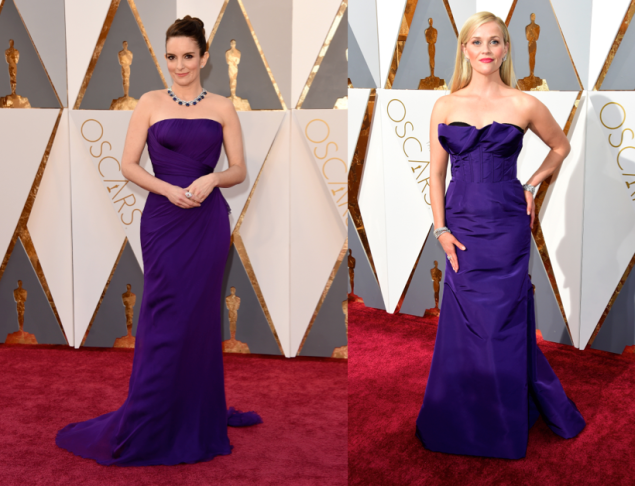 Finally, we'd be remiss not to mention the most fashionable guest on the red carpet: Gucci's Alessandro Michele. Not only did the designer dress Best Actress winner Brie Larson in a stunning ruffled cobalt blue confection, topped off with a sparkling belt, but he dressed Jared Leto, too. The Italian designer defied expectations by popped a red flower on the collar of Mr. Leto's black shirt, in the place of a tie or a bow tie. It matched the red piping on his black suit and catapulted him onto the top of the best dressed pile.
Finn Wittrock in Prada
Julianne Moore in Chanel
Jennifer Lawrence in Dior Couture
Lady Gaga in Brandon Maxwell
Rooney Mara in Givenchy
Naomi Watts in Armani Privé
Charlize Theron in Dior Couture
Jennifer Jason Leigh in Marchesa
Sarah Silverman in Zac Posen and Michael
Emily Blunt in Prada
Margot Robbie in Tom Ford with clutch by The Row
Rachel McAdams in August Getty
Tina Fey in Atelier Versace
Alicia Vikander in Louis Vuitton
Reese Witherspoon in Oscar de la Renta
Jennifer Garner in Atelier Versace
Isla Fisher in Marchesa
Brie Larson in Gucci
Olivia Munn in Stella McCartney
Saoirse Ronan in Calvin Klein Collection
Sophie Turner in Galvan
Olivia Wilde in Valentino Haute Couture
Sofia Vergara in Marchesa
Daisy Ridley in Chanel
Chrissy Teigen in Marchesa
Kerry Washington in Atelier Versace
Heidi Klum in Marchesa
Cate Blanchett in Armani Privé
Kate Winslet in Ralph Lauren
Charlotte Rampling in Armani Privé
Alessandro Michele and Jared Leto in Gucci
John Legend in Paul Smith
Eddie Redmayne in Alexander McQueen
Eniko Parrish in Fausto Puglisi and Kevin Hart in Dolce & Gabbana