The brand Kate Spade is synonymous with silly, cheerful and covetable designs, such as pineapple purses and sparkling high heels. Founded in 1993 by an actual woman named Kate Spade and her husband Andy (also the people behind the men's line, Jack Spade), the founding duo haven't been involved in the wildly successful company since they sold it in 2006.
However, they do still have a penchant for spreading cheer through whimsical accoutrements. The Spades' latest project is the debut of Frances Valentine. This detail-oriented new brand is kicking off with pompom decorated slides, strappy mid-height heels and metallic ladylike stilettos. A select run of handbags will be offered as well, mostly in tote silhouettes.
The creative pair are really focused on bringing their charm back to the market and to prove it, Ms. Spade has legally changed her last name to Valentine. "It kind of makes [me] sound kind of cool, like a rap star or something," she joked to Business of Fashion.
But all jokes aside, she is serious about this new venture.
Elyce Arons was also involved in the founding of Kate Spade back in the '90s and will be re-joining Ms. Valentine and Mr. Spade in this new venture. Another Spade alum, Paola Venturi, has left her footwear-focused role at Prada to launch Frances Valentine.
Cleverly timed to roll out online on February 14, it's an ideal time to opt for a pair of Frances Valentine shoes over a dozen roses. We'll let Ms. Valentine explain why.
What's the story behind the name Frances Valentine? It's a family name. Both are names originated from each of my grandfathers; Frances from my father's side and Valentine is from my mother's side.
What are some important features you wanted to include in this new brand? Details. The geodesic dome heel and the martini glass heel. Hand-sculpted hardware and an unexpected mix of fabrics and finishes. I want there to be a "I have to have it" component to even the simplest design.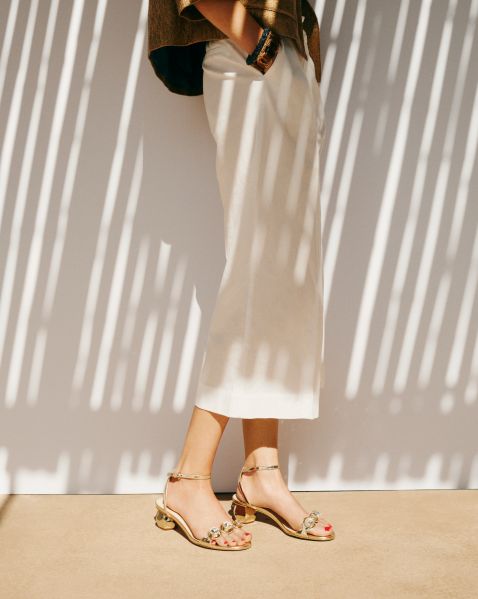 Why did you decide to launch with just shoes and bags? It's no secret that these are two of my favorite categories. I ended up really loving shoes before I left Kate Spade and working with our shoe designer, Paola Venturi. It is such a treat for us to be back together again. We each bring a different sensibility and set of strengths to the process. It's like making sculpture, which is why I also like the idea of possibly doing jewelry someday. We are working on a signature pair of eyewear currently, but at this time, we're in no hurry to expand.
What would you say sets this line apart from others in the market? We designed each shoe as if it were the only shoe we were making. Also, the quality that comes from working with the most amazing factories in Italy. Again, it really is all in the details. This is where my O.C.D. comes in handy.
What are you looking forward to in terms of returning to designing a women's range? Having a good time, collaborating with my best friends, experimenting with new ideas. It is such a lean, nimble and intimate work environment. I love it!