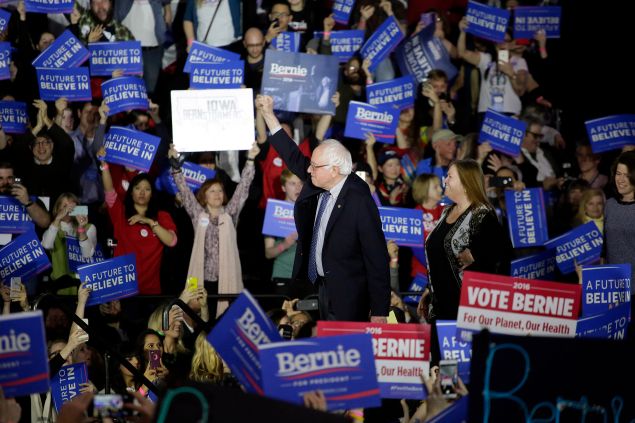 Bernie Sanders is winning the Internet. Tumblr has turned into a giant Bernie Sanders campaign rally, Etsy is full of amazing Bernie Sanders gear and a tattoo of the candidate's face has gone viral—and now tattoo shops all over the country are offering it for free. One thing that has really skyrocketed Bernie Sanders to Internet fame is a certain mega popular hashtag-turned-slogan. We're talking about #FeelTheBern.
It's all over social media, TV, print and online news. It's on T-shirts and all kinds of merchandise. It's everywhere, but how did it start and who first used it? And how did it grow so popular that Bernie Sanders' own campaign eventually adopted it? We tracked down the creator of the hashtag to find out these answers.
It turns out a woman named Winnie Wong created the hashtag, and its success was intentional (although she never imagined it would get this popular). Ms. Wong is an in-demand digital strategist and co-founder of People For Bernie, which is one of the main groups campaigning for Sen. Sanders. She and her team work very closely with the campaign, and a number of their "Super Volunteers" are communicating with the campaign directly everyday. But it was all her and People For Bernie, not the senator and his campaign, who sought to create a hashtag that would get people talking about his revolution. Now, the campaign "embraces it without hesitation," she said.
While she was traveling to the airport to catch a flight to New Hampshire, we chatted with Ms. Wong by phone about the origin, growth and importance behind #FeelTheBern.
How did you come up with #FeelTheBern?
It was in a Facebook conversation between a collective of organizers. It was five or six people popcorning ideas around, being creative and whimsical. #BernDownForWhat was mentioned. We thought, 'what do the kids like?' We wanted something that would carry his name all across the Internet and be more than just a hashtag. The beauty of the Internet is the way you can express yourself in a very democratic way.
How did you get it out there and get others using it? Are you surprised by how much it has caught on?
It was in a tweet. We continued to use it and tell others to use it, and then eventually the campaign adopted it. Then there was a turning point when it appeared on a TV during the first massive Bernie Sanders rally in Wisconsin. Then it took on a life of its own. I don't think any of us thought it would take off so quickly. If you use a hashtag, it carries that opinion across the Internet.
'It's been very gratifying to see teenagers who can't even vote in this election become so excited about electoral politics and civil engagement through the hashtag'
Do you know how Bernie Sanders and his campaign feel about it? Are they surprised by the way it's become a universal anthem for his supporters? Do they see it as a driving force in his campaign?
They embrace it without hesitation. A hashtag should never be the driving force of the campaign—people should be. I would never expect that to happen. You don't build a political campaign off a hashtag. I'm grateful for the Internet and that people are producing opinions there about his platform, policies, his judgement and 40 years of dedicated service. But by no means do I think the hashtag itself is a political revolution. It's a tactic.
What do you think of the fact that there are a ton of people getting Bernie Sanders tattoos?
I think that's a testament to the power of the Internet and how the Internet influences culture. Would I get one on my own face? No. But if they're participating in any way, that's a good thing. Bernie Sanders has repeatedly said this isn't about him. We at People For Bernie agree with that and we're here for justice and equality. For me, it's been very gratifying to see teenagers who can't even vote in this election become so excited about electoral politics and civic engagement through the hashtag. They've been able to discover him, the movement and the issues through the hashtag. It's lasted from May 3 up until now. I just heard a German politician using #FeeltheBernt with a T for his own name.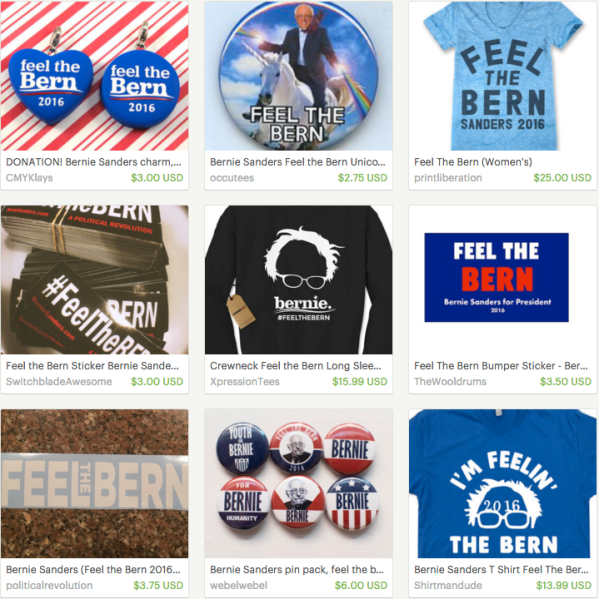 What kind of work do you do with People for Bernie, and what did you work on before this?
I'm a longtime social justice organizer. I started organizing in the late 90s. In Occupy Wall Street, I was a part of the beginning and lasted into the end.  Now, I do have the great fortune of picking and choosing the campaigns I work for. You can say I'm an 'in-demand strategist.' I'm running People for Bernie, running our social media and working with constituent groups like Women for Bernie, African Americans for Bernie and others. I'm doing online organizing and working to roll out our digital campaigns. You could say Bernie Sanders is winning the Internet, and we're helping with that.
Is there anything else you'd like to add?
I want to again emphasize that the story isn't about me. It'd be great if you could just emphasize that it takes a village. It's a story about us. I have to say, to me, that hashtag is complimentary. #NotMeUs
This interview has been edited for length and clarity.