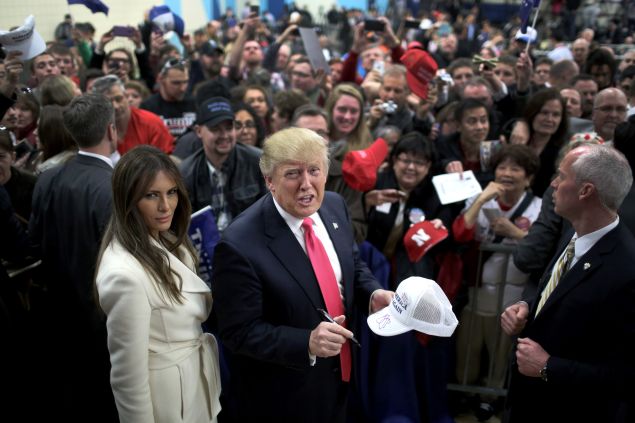 How Smart is Ted Cruz?
Iowa only promises 30 delegates to the Republican candidate, and the results won't actually be official for many months. But it's an optics and expectations game, and Sen. Ted Cruz of Texas has really, really raised expectations for tonight. He brags about his unprecedented field operation, his consolidation of conservatives and his relentless courting of evangelic power brokers in the state. He's the smart pick to win in Iowa. But what if he doesn't? Anything less than a first-place finish in Iowa will mean the bloom is off the rose for Mr. Cruz, a hardliner reviled by the establishment. If Donald Trump wins, it's a boulder rolling downhill, and suddenly Mr. Cruz's dominance in the South is far from a sure thing. In addition to his game of raising expectations in Iowa, it's not clear he's built to win the Republican nomination, despite the predictions of many pundits. He is inflexibly conservative to the point where winning over moderates in delegate-rich states like Florida and Ohio seems like a stretch. Mr. Trump, as we know, is forever adaptable, and even Sen. Marco Rubio of Florida has some wiggle room with Republican voters beyond the far right. We know Mr. Cruz is an Ivy League-educated debate champion, an expert on the Constitution and a cunning pol of Nixonian proportions. Nixon understood how to chart a path to the presidency. Does Mr. Cruz? A big win tonight is a nice start. A loss is devastating.
Where does Bernie Sanders go from here?
Polls shows Sen. Bernie Sanders of Vermont is neck-and-neck with Hillary Clinton in Iowa. Pre-caucus polls, even those coming in the days before Election Night, are not always reliable, and it's possible they will miss the mark again. Like Mr. Cruz, Mr. Sanders, once a long-shot insurgent, has raised the stakes for tonight. His supporters are pumped for a win. The logic of his campaign depends on running the table in Iowa and New Hampshire, where the Democratic electorate should be friendly to a self-professed democratic socialist from a rural state, and using that momentum to make up ground with the nonwhite voters who will play a much larger role in subsequent states. If tonight is too close to call, or Mr. Sanders barely loses, his supporters can spin this as a win and keep fighting, hoping for a New Hampshire landslide to build that all important and often ineffable momentum. If Ms. Clinton is the outright winner, it's the beginning of the end for Mr. Sanders' political revolution. If he can't beat Ms. Clinton in lily white Iowa, what hope does he have?
Can we believe the Donald Trump hype?
Win or lose, Mr. Trump will spin tonight as a win, because that's who he is. But after the endless polls, the insults, the adulation and the bluster, tonight will begin to show what the Trump campaign really is. Can he actually bring Iowans out to caucus, when only about one out of five voters participates at all and the fickle weather, set to drop snow on the area later today, can play a decisive role? Will this electorate, more than half evangelical, really pick a socially liberal New York billionaire over a menu of arch-conservatives? What get-out-the-vote operation is Planet Trump cobbling together? No pundit has the answer. Mr. Trump's trend lines in Iowa polls are encouraging; he leads now and has gained ground on Mr. Cruz over the past few weeks. If Mr. Trump wins the Hawkeye State, he may very well be on his way to becoming the Republican nominee. A close second finish to Mr. Cruz wouldn't hurt. Anything less, and the air will start to come out of the balloon, and everyone outside of Mr. Trump will wonder if this whole movement was a mirage.
Disclosure: Donald Trump is the father-in-law of Jared Kushner, the publisher of Obsever Media.